ACTION-REACTION ART EXHIBITION OPENING @ Westminster Music Library on the 24th November at 6pm . Showcasing emerging international talent
About this event
Marianie Morazzani, founder of MM-art consult, presents Action-Reaction, a unique and engaging exhibition, bringing eight influential artists to Westminster.
Action-Reaction is the first in an independent series unveiling works from eight carefully chosen artists from around the world.
The artists have created a limited-edition collection to be featured in this historic space: a show of transformative and experiential works blending design with art through sculpture, paintings, drawings, NFTs, design and jewellery. This show gives the NFT a physical presentation and showcases it as a work of art, extracting the artwork from its habitat of the mobile device .It provides a more physical experience of the work and shows potential collectors what it really looks like to live with digital art.

Marianie's personal choice of artists and their pieces is informed by her love of contemporary art, design and fashion. She believes in building cross-cultural understanding and creating stronger ties through global partnerships in the arts.
The works presented embody a common philosophy of bouncing back wherever the artists are placed by choice or by force.
Renatta Fernandez is multidisciplinary artist from Venezuela, currently living in LondonHer artistic expression is powered through her investment in manual processes interacting with materials. As a futurist her multidimensional approach has established her as a creator of a new visual language and dialogue that exists between light and movement , artistic expression and technology.Her wide repertoire takes us from the development of sculptural works to those of digital expression, completing the show with an NFT.
Philippe Ferrandis is a French creator of haute couture costume jewellery who has worked with Parisian fashion houses such as Pierre Balmain, Nina Ricci, Hubert de Givenchy and Oscar de la Renta.
Virna Pasquinelli is a milliner from Italy, based in Surrey, a sculptor and prop designer .She works in various mediums and incorporates her unusual fusion of beauty, fashion and art. She has made very sassy giant birds for Elle magazine and created giant pompoms for Katy Perry's dancers. She has been featured in Vogue Italia, Officiel magazine ,Pap, Collectible Dry and The Kunts.
Var Sahakyan from Armenia, is a visual artist and 3D poet. He merges spoken poetry and VR art and has an ongoing art fair which consists of different pavilions made of installations, paintings and sculptures. It brings the 'museum experience' in the form of a collectible NFT to audiences. 
Charlie Robinson is a fine artist from the UK who has lived and worked around the world and exhibited in Italy, China, Japan, the UK and the USA. His oil paintings seem to come to life as one approaches them – most are in private collections around the world.
Philippe Leleu, a Franco-Belgium sculptor, creates unique handcrafted interior and exterior sculptures from recycled metals and bicycle chains. His passion for sculpture is shown through his unique artwork. He enjoys the thrill of creating ideas and the fulfillment of bringing these pieces to life. He has exhibited widely and his work is held extensively in collections throughout the EU.
Ivet Tobias is a Spanish jewellery designer and goldsmith based in Barcelona. She specialises in traditional goldsmithing methods which she combines with a passion for design, craftsmanship, gemology and metallurgy. With over thirty years' experience, Ivet has been immersed in design from a young age – her parents set up the brand which she would later name Ivet Bijoux she has been dressing the elite in Spain ever since. Ivet has also worked in fashion and has collaborated with Pronovias and El Corte Ingles.
Horacio Melendez, from Venezuela, is a painter of geometric abstract art navigating between Caracas, London and Paris .He spent the recent lockdowns self- quarantined in his Caracas studio. There he spent time asking questions of his inner self and reawakening his creative energy. He is the newest member of the group. Horacio's art is about sensations and feelings. His work has been shown in his native Caracas, Venezuela and at private collections in New York, Caracas and Paris.
Details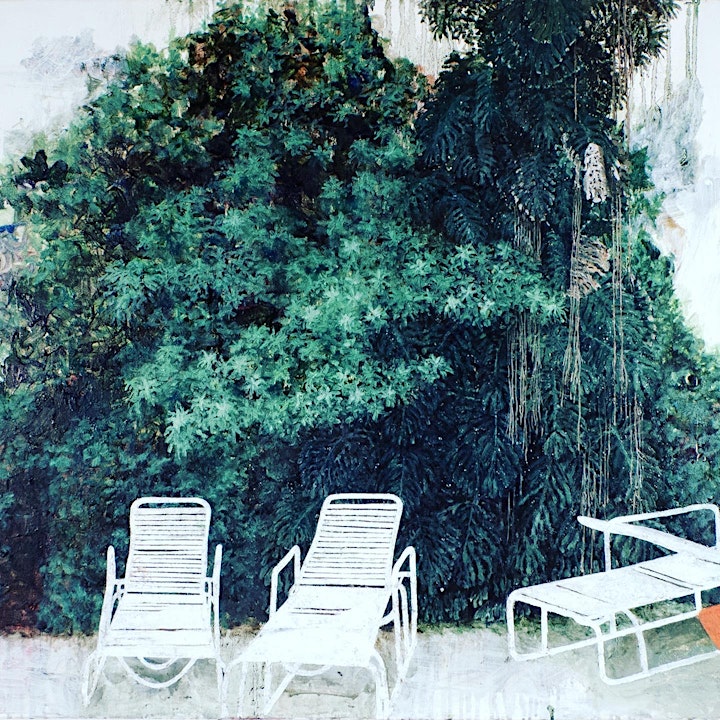 "Camouflage" Acrylic on canvas by Renatta Fernandez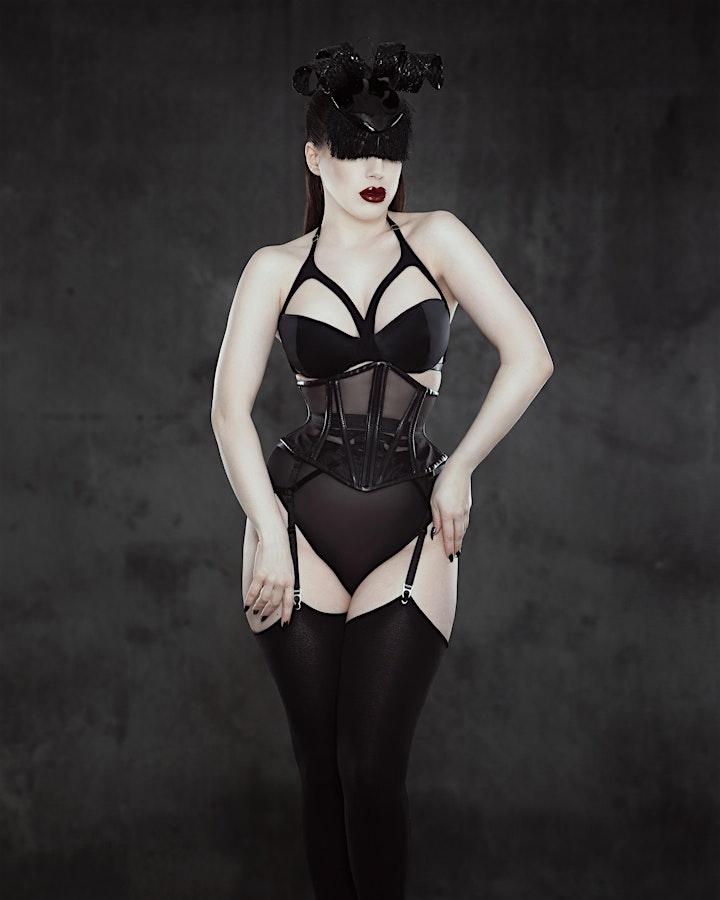 Millinery by Verni Pasquirelli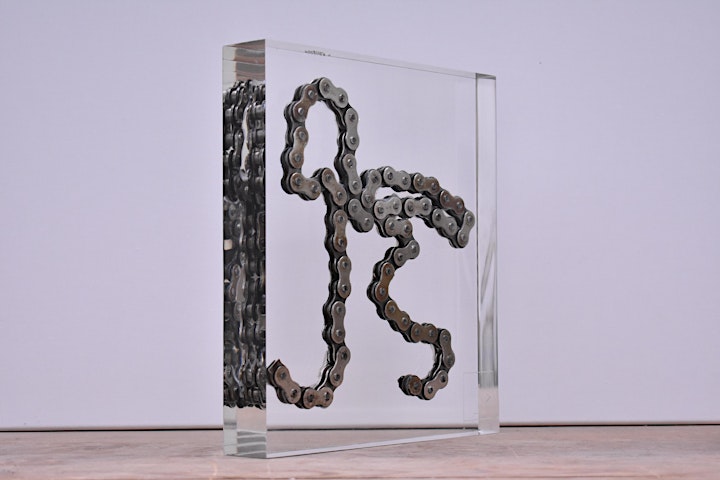 "Boxithèque" Bicycle chain sculpture in acrylic case by Philippe Leleu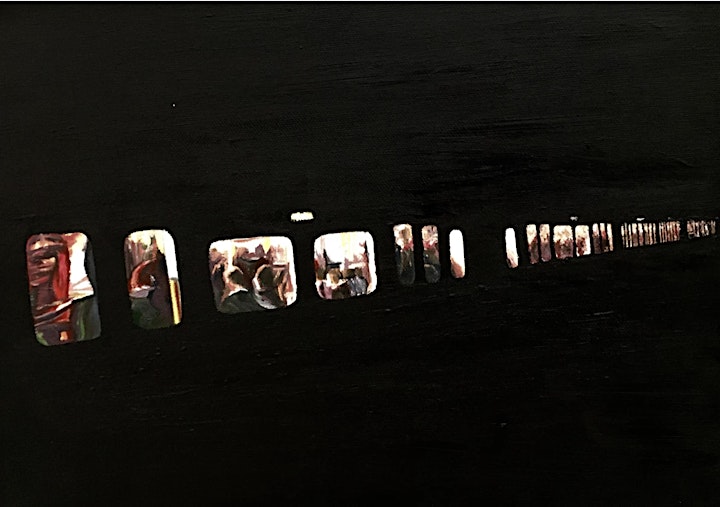 "Commuters " Oil on Canvas by Charlie Robinson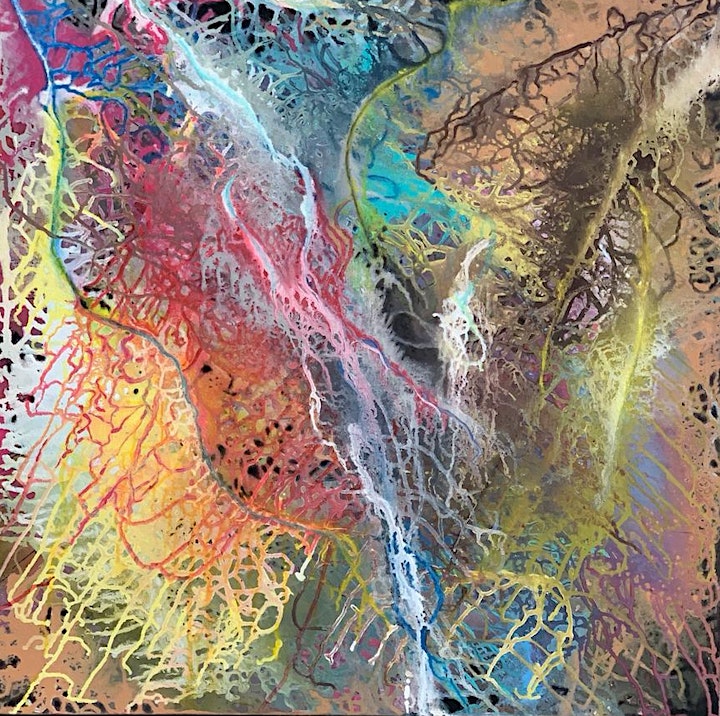 " Jardines" acrylic on canvas by Horacio Melendez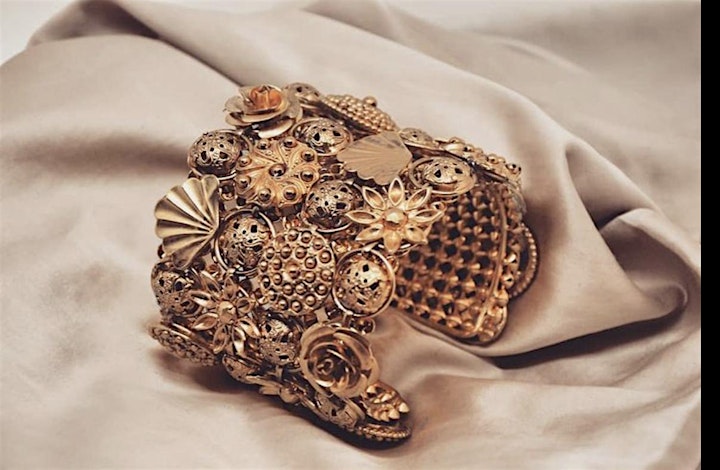 Gold plated bracelet by Ivet Tovias for Ivet Bijoux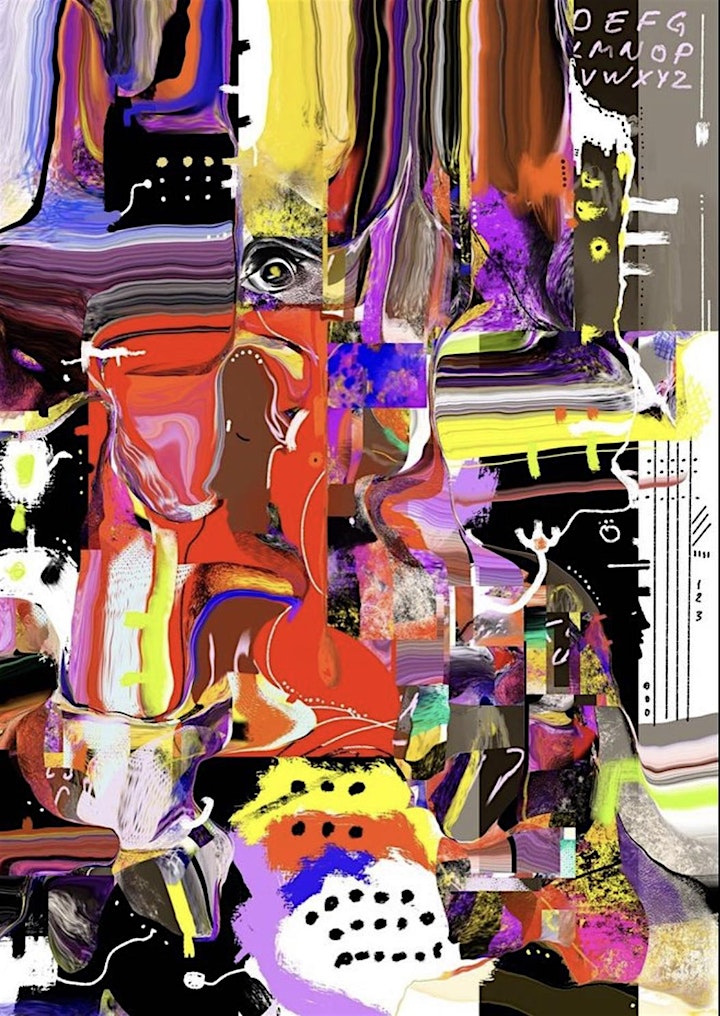 NFT for ACTION REACTION by Vartist