Description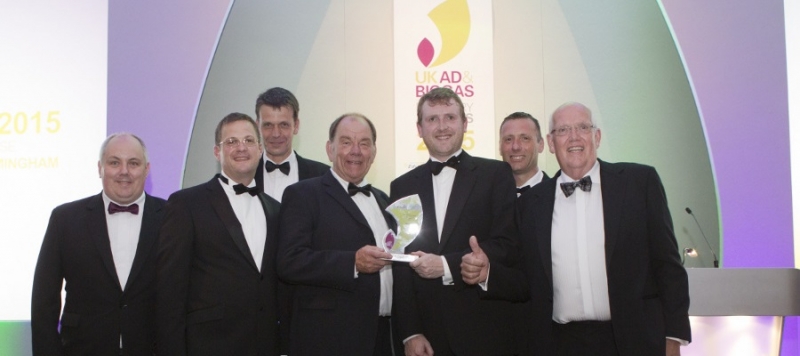 The closing date for entries has passed – and we've had a record response!
With over 40% more entries than in 2015, this year's ceremony will reflect the truly exciting time in our burgeoning industry.
Make sure you are there to join your colleagues from across the globe to celebrate the many successes of the past year.
Tickets for the gala dinner and sponsorship opportunities are still available - contact Terry Ash, +44 (0)203 567 0769 for more details.
We hope you can join us at the AD & Biogas world's biggest party.


For more information, visit our website: http://adbioresources.org/uk-ad-biogas-2016/industry-awards-2016/


---

Awards night programme
19:00 Networking and drinks reception
20:00 Welcome address
20:15 Dinner
21:30 Comedian
22:00 Awards ceremony
23:00 Networking drinks
Dress code: Black Tie dinner
---

AD & BIOGAS INDUSTRY AWARDS 2016 – THE SHORTLIST
1. Innovation in sewage treatment through AD
Landia
Symbiona SA
Veolia UK & Ireland
Weltec Biopower (UK)Ltd
2. Best food waste collection system
BASF SE
Bio Collectors
DS Smith & Tesco
SWR & Edinburgh Airport
3. Best process optimisation
Eco Sustainable Solutions with Landia
FM Bioenergy
Green Creative
HRS Heat Exchangers
Pentair Haffmans
Uniflare Limited
4. Making the most of digestate
Altaca Energy
Fattoria Garofalo
HRS Heat Exchangers
Muntons
Vogelsang
5. Making the most of biogas
Biogest
Clearfleau
Edina Group with Guy & Wright Farm
Limejump & Malaby Biogas
Pentair Haffmans
Uniflare Limited
6. AD hero of the year
Sponsored by Future Biogas
Dr Ulrike Etheridge, Biotrix Asia Company Limited
Les Gornall, Capita PROjEN
Rich Clothier, Wyke Farms
Stuart Bennett, Heat and Power Services Limited
7. AD team of the year
Agrivert
Edina Group
Iona Capital
Landia/Edina/Biodome Asia/Uniflare
RUR3 Environmental Ltd
Uniflare Limited

8. Best on-farm AD plant
Sponsored by Vogelsang
ComBigaS with Landia
Edina Group with Springvale Farm
Foresight Group
Old Court Farm with AD4Energy

9. Best food waste AD plant
Sponsored by Weltec (UK) Ltd
Agrivert
Bio Collectors
Clearfleau
Edina Group with Biffa
Xergi Ltd & Willem Biogas
10. Best food & drink industry AD project
Clearfleau Ltd
Muntons
Weltec Biopower (UK) Ltd
Wyke farms
11. Best AD support (Technical)
Capita PROjEN
Energyst Rental Solutions
Eurovacuum Products Ltd
FM Bioenergy
Livelab
Uniflare Limited
12. Best AD support (Legal/Accounting/Consulting)
Capita PROjEN
Cranfield University
RUR3 Environmental Ltd
Stephens Scown LLP
13. Research Project Award
WRAP
International Awards
14. Best international agricultural plant
CIB-Consorzio Italiano Biogas e Gassificazione with Agripower Company
Cooperative la Speranza
Xergi A/S
15. Best international municipal plant
Host
16. Best international commercial plant
Altaca Energy
Biotrix Asia Company Limited
Landia, Edina, Biodome Asia and Uniflare with Richgro AD Plant
Symbiona SA
Weltec Biopower (UK) Ltd
17. Best international micro-scale plant
Biogest