Adapting to climate change: simple, low cost solutions
About this Event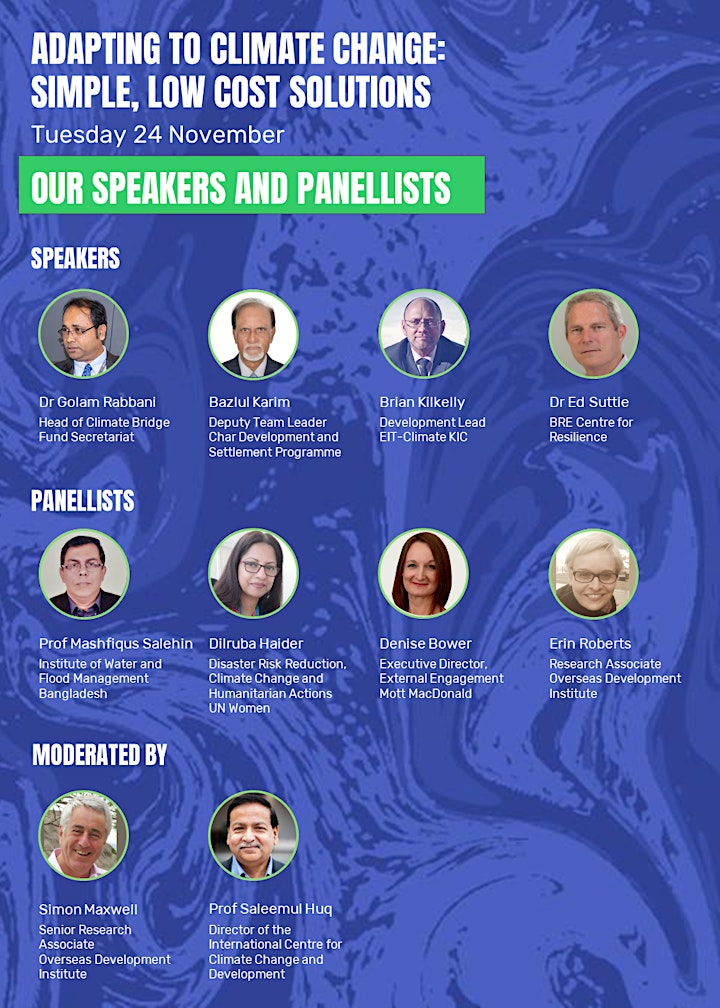 Find the full programme and speaker bios at the bottom of the page.
As one of the world's most vulnerable countries to the impacts of climate change, Bangladesh has experienced first-hand the devastating impact it can have on people, the environment and the economy. The country has become a global leader on adapting to a changing climate and since 2016 has invested more than $6 billion dollars into adaptation activities. The UK's climate is also changing. Its ten warmest years on record have all occurred since 1990 and the country is increasingly vulnerable to flooding and coastal change, water shortages, food insecurity, pests and disease.
This session will feature four exciting and innovative approaches from the UK and Bangladesh. Experts from each project will give an overview of their work followed by a panel discussion and questions from the audience.
This event is part of the UK-Bangladesh Climate Partnership Forum virtual series which is building momentum on the journey to COP26. Visit our page to find out about other events in the series.
If you are unable to attend this event but would like to receive updates about the series, sign up for updates
About the UK-Bangladesh Climate Partnership Forum virtual series
This virtual series creates an opportunity to advance the climate agenda in the journey towards COP26 and beyond by bringing together experts and leaders from Bangladesh and the UK.
It will help to identify innovative ideas, partnerships and initiatives between Bangladesh and the UK, and further strengthen collaboration between the two countries by catalysing climate action and building a community of practice.
Each event will be structured around one of four key COP26 themes: adaptation and resilience, nature, clean energy and finance, and will feature a select panel of experts from Bangladesh and the UK, providing an opportunity to share knowledge and experience on tackling climate change.
COP26
The UK will host the 26th UN Climate Change Conference of the Parties (COP26) in Glasgow in November 2021. The climate talks will be the biggest international summit the UK has ever hosted; bringing together over 30,000 delegates including heads of state, climate experts and campaigners to agree coordinated action to tackle climate change. In its role as president of the Climate Vulnerable Forum, Bangladesh will be representing more 1.2 billion people living in 48 of the world's most climate vulnerable countries at COP26.
Programme
Opening remarks from Judith Herbertson, Director of Development, UK Foreign, Commonwealth and Development Office
Case studies
Addressing the adverse impacts of climate change in urban areas of Bangladesh - Dr. Golam Rabbani, Head of Climate Bridge Fund Secretariat
Resilient char land coastal communities: Char Development and Settlement Project - Mr. Bazlul Karim, Deputy Team Leader (Development), CDSP-B
Engaging communities in climate resilient housing development: the Edinburgh experience - Brian Kilkelly Development Lead, EIT- Climate KIC
Improving the flood resilience of existing housing stock in the UK - Dr Ed Suttie, BRE Centre for Resilience
Panellists
Professor Salehin, Institute of Water and Flood Management, Bangladesh University Of Engineering and Technology
Dilruba Haider, Programme Specialist on Disaster Risk Reduction, Climate Change and Humanitarian Actions, UN Women
Denise Bower, Executive Director, External Engagement, Mott MacDonald
Erin Roberts, ODI Research Associate
Moderated by
Professor Saleemul Huq and Simon Maxwell
Md. Golam Rabbani is a seasoned climate change specialist. Over the years, he has managed a variety of projects in the field of environment, climate change resilience, adaptation and disaster risk management. His expertise is in climate risk assessment, adaptation policy and institutional analysis, climate finance, climate change negotiation, and coordination with donors and development partners.
Dr Rabbani holds a PhD on climate change adaptation, and two Master's Degrees in Environmental Science (University of New South Wales, Australia) and in Fisheries (University of Dhaka). His works/contribution to research have been well acknowledged and published by different international journals/Book Publisher including Springer, Journal of Global Warming, Journal of Water and Climate Change, Routledge, Emerald, Earthscan, Sage, MDPI and others.
Bazlul Karim is responsible for supervising, monitoring and supporting all related activities of senior national consultants, mid-level consultants and field staff to implement CDSP-B activities. He supported the preparation of the Feasibility Study for CDSP-V and has visited remote chars including Dhal Char, Teliar Char, Sabuj Char, Char Kolatali, Char Mozammel, Ghasiar Char, Moulavir Char etc. located in Chittagong, Noakhali, Lakshmipur, Bhola and Patuakhali. Mr. Karim was also responsible for supervising and monitoring the activities of the Forest Department in implementing CDSP-IV and proposed the CDSP-V area. He also directly supervised the four partner NGOs with around 300 staff covering micro-credit, WatSan, WASH, legal and human rights, climate change and disaster management, homestead agriculture, value chain development, fisheries, and poultry and livestock. He is a member of Project Management committee and observer of Inter-ministerial Steering Committee.
Before CDSP-IV he was the Senior Agronomist/Agricultural Expert for the Feasibility study of Sureshwar FCDI project of BWDB and Feasibility Studies and Detailed Design of the Sub-projects under the Small Scale Water Resource Development Project and Rubber Dam Project of LGED. From 2001 to 2009, Mr. Karim was the Joint Director (Seed Marketing/ Seed Processing/ Fertilizer Marketing) of BADC under the Ministry of Agriculture. Before that he held several important positions in BADC since 1976 in different regions of Bangladesh. Mr. Karim has an M.Sc.Ag. in Agronomy from Bangladesh Agricultural University Mymensingh, and B.Sc.Ag. Hons in Agronomy from Bangladesh Agricultural University Mymensingh.
Brian Kilkelly is Development Lead at EIT Climate-KIC, the EU's largest public private partnership addressing climate change through innovation to build a low carbon economy. Working with colleagues and partners across Europe, he is passionate about bringing business, civic, and public leaders together to discover ways to improve the lives of citizens and the planet through knowledge sharing and innovation. He is currently supporting a mission to convene a global consortium of cities, businesses, experts, and funders to build an ambitious new programme to dramatically accelerate the transformation of cities to reach carbon neutrality by 2030.
Dr Ed Suttie is Director of Strategic Advisory, BRE. He leads a team delivering research and consultancy programmes on sustainability, circular economy, health and wellbeing, resilience and material sustainability for industry, UK Government, the European Commission and International agencies. He is responsible for coordinating BRE's work on Property Flood Resilience and has worked with the wider construction industry for 25 years on innovative products, resource efficiency and service life prediction. He was part of the team that delivered the timber procurement policy for the London 2012 Olympic and Paralympic Games and leads pioneering office research on biophilic design. He has published widely in the field of construction, sits on the Executive Committee of Grown in Britain and Low Carbon Devon and contributes extensively to British and European Standards.
Professor Salehin is a professor of hydrology, with more than 25 years of experience in research on large basin scale (GBM) hydrology, coastal hydrogeology and saline water intrusion, disaster vulnerability and risk analysis, climate change adaptation, socio-eco-technical approaches to water management, integrated analysis of physical and human systems, and physical process-water security-livelihood dynamics. He has led and co-led Bangladeshi research consortiums in several large international collaborative projects (e.g. REACH, ESPA Deltas, DECCMA, UKRI Living Deltas Hub) and has a major interest in transboundary water management. He has served in several government expert committees, linked to the Bangladesh Delta Plan, Sustainable Development Goal 6, and transboundary water management. He has been the key resource person in numerous training programmes on integrated water resources management (IWRM) and water diplomacy/ transboundary issues, organized by different government agencies. Prof. Salehin teaches post-graduate courses on Advanced Watershed Hydrology, Groundwater Resource Assessment, IWRM, Interdisciplinary Field Research Methodology, and Integrated Flood Risk Management.
Dilruba Haider is an expert in the field of Disaster Risk Reduction, Climate Change, Humanitarian Actions and Gender, working in these fields for 27 years; worked at DFID as the Disaster Management focal point for ten years till 2004; then joined UNDP as the Assistant Resident Representative for Disaster Risk Reduction. Currently, she is heading the Climate Change, Disaster Risk Reduction and Humanitarian portfolio of UN Women Bangladesh.
She supported introducing the Master's programme at BRAC University on disaster management and was a part-time lecturer there on community-based disaster management till 2010. She also worked at FCDO HQ in the UK in 2003; at UN Women HQ at New York and Geneva, and at Myanmar UN Women office, and in Bhutan on a special assignment with ITU in 2010.
She was instrumental in setting up the national level disaster response coordination system called Disaster Emergency Response (DER) group in 2001; design of the flagship DRR programme of Bangladesh: CDMP on behalf of DFID; and integrated DRR in the country's first Interim Poverty Reduction Strategy Paper (PRSP) in 2003. She has made a significant contribution on integrating gender aspects in the Climate Change chapter of the 7th five-year plan, and the Revised SOD 2019, on behalf of UN Women.
She was also a media personality doing newscasting in Bangladesh Television from 1992 to 2004, and anchoring talk shows on various social issues.
Professor Denise Bower OBE joined the Mott MacDonald Executive Board as Group external engagement director in January 2020. She is responsible for client and partner relationships, thought leadership activity and driving improvements in the delivery of major projects. Denise is responsible for Mott MacDonald's corporate commitments on global issues and works with external organisations that are bringing about transformative action on climate change. Denise sits on the steering committee of the Coalition for Climate Resilient Investment (CCRI), which is a flagship initiative for COP 26 in the UK.
Denise has had an impressive career in the infrastructure industry. She is very well known through her role as the executive director of the Major Projects Association and as Professor in the School of Civil Engineering at the University of Leeds. Denise was a long-standing member of the Infrastructure Client Group and has worked closely with the Infrastructure and Projects Authority to improve major project preparation and delivery. She has worked with numerous sponsor and client organisations, helping to shape major projects and programmes.
Erin Roberts, a Research Associate in ODI's Risk and Resilience Programme, has been working in the global climate policy space for over eight years and has worked on national climate policy in both South Asia and Africa. She coordinated research in Bangladesh to enhance understanding of how loss and damage could be better addressed in a national context which was part of a global project aimed at shaping the Loss and Damage discussions under the United Nations Framework Convention on Climate Change (UNFCCC). Her PhD research focused on the role of policy entrepreneurship in the evolution of Loss and Damage policies in Bangladesh. She has also worked for the African Climate Policy Centre to identify entry points for building resilience in the African Small Island Developing States and has been a technical advisor to the Africa Adaptation Initiative. She has advised both the Least Developed Countries and the African Group of Negotiators in the adaptation and Loss and Damage negotiations under the UNFCCC.
Prof. Saleemul Huq is the Director of the International Centre for Climate Change and Development (ICCCAD) at Independent University, Bangladesh (IUB) since 2009 and Senior Fellow at the International Institute for Environment & Development (IIED) in London. He is also Senior Advisor on Locally Led Action, Global Centre on Adaptation (GCA) and Advisor of Climate Change Programme at Brac. Before that Dr Huq was the Director of the Climate Change Programme at IIED and founding Executive Director at the Bangladesh Centre for Advanced Studies (BCAS). He has worked extensively in the inter-linkages between climate change (both mitigation as well as adaptation) and sustainable development, from the perspective of the developing countries, with special emphasis on least developed countries (LDCs). He has published numerous articles in scientific and popular journals, was a lead author of the chapter on Adaptation and Sustainable Development in the third assessment report of the Intergovernmental Panel on Climate Change (IPCC), and was one of the coordinating lead authors of 'Inter-relationships between adaptation and mitigation' in the IPCC's Fourth Assessment Report (2007). He has been named among the "World's 100 Most Influential People in Climate Policy for 2019" for making a positive difference by The Apolitical, a London-based public servants' networking group.
Simon Maxwell is an economist who began his career working in Kenya and India for the UN Development Programme, and then in Bolivia for the UK aid programme. He was a Fellow of the Institute of Development Studies in Sussex from 1981-1997, and was Director of the Overseas Development Institute from 1997-2009. Since 2009, he has inter alia been Executive Chair of the Climate and Development Knowledge Network (2010-17), and Specialist Adviser to the International Development Select Committee of the UK House of Commons (2010-17). He is currently on the Steering Committee of the annual UN Environment Emissions Gap Report. Simon is a past President of the Development Studies Association of the UK and Ireland. In 2007, he was awarded a CBE for services to international development. He writes extensively on development policy. In January 2016, Simon delivered the Anniversary Lecture of the Centre for Policy Dialogue in Dhaka, on the topic of 'Climate Compatible Development: Pathway or Pipedream'. For further information, see www.simonmaxwell.net.