Adapting Work in a Crisis | Addasu Gwaith mewn Argyfwng
About this Event
THIS SESSION WILL BE DELIVERED IN ENGLISH ONLINE. Welsh documents are available upon request.
MI FYDD Y SESIWN HON YN CAEL EI GYNNAL YN SAESNEG AR-LEIN. Mae yna ddogfennau Gymraeg ar gael os oes angen.
(Please scroll down for English)
----------------------------------------
Covid-19 a'ch Busnes - Addasu i weithio drwy'r Argyfwng COVID
Sesiwn Holi ac Ateb gyda busnes ynglŷn â sut maent yn ymdopi ag Argyfwng y Coronafeirws
Mae hon yn sesiwn gyfweld fyw gyda Julia Houlston Clark, Prif Weithredwr a'r Cyfarwyddwr a sefydlodd, Partneriaeth Dulliau Adferol Cymru.
Beth fydd cynnwys y cwrs?
Yn y sesiwn hon, byddwn yn dysgu pa rwystrau y mae WRAP wedi'u hwynebu o ganlyniad i'r achosion o COVID a sut mae'r busnes wedi llwyddo i'w goresgyn. Ar ôl y cyfweliad, bydd cyfle i'r cyfranogwyr ofyn cwestiynau i Julia.
Cefndir y Siaradwr
Mae Julia wedi gweithio ym maes arweinyddiaeth a rheolaeth yn y sectorau gwirfoddol, cyhoeddus a phreifat, gan gynnwys 12 mlynedd yn y gwasanaeth carchardai.
Mae Partneriaeth Dulliau Adferol Cymru (WRAP-www.restorativewales.org.uk) yn fenter gymdeithasol Gymreig lwyddiannus, yn gwmni sy'n buddsoddi mewn cymunedau, ac yn cydweithio gyda nifer o randdeiliaid er mwyn cynnig gwasanaethau, hyfforddiant ac ymgynghoriaeth ar sgiliau meithrin ac atgyweirio perthnasoedd ar draws sectorau, gan gynnwys ym meysydd tai, addysg, gwasanaethau teulu a chymuned, cyfiawnder troseddol ac o fewn unrhyw fusnes. _________________________________________________________________________________________
Covid-19 and Your Business - Adapting to work through the COVID Crisis
A Q&A session with a business on how they are managing to navigate through the Coronavirus Crisis
This is a live interview session with Julia Houlston Clark, Chief Executive and founding Director of Wales Restorative Approaches Partnership.
What will the event cover?
In this session, we will learn what barriers WRAP has faced due to the COVID outbreak and how the business has managed to overcome them. After the interview, there will be an opportunity for participants to ask Julia questions.
About the speaker
Julia has worked in leadership and management in the voluntary, public and private sectors, including for 12 years in the prison service.
Wales Restorative Approaches Partnership (WRAP - www.restorativewales.org.uk) is a successful Welsh social enterprise, community interest company and multi-stakeholder co-operative offering services, training and consultancy in relationship building and repairing skills across sectors, including in housing, education, family and community services, criminal justice and within any business.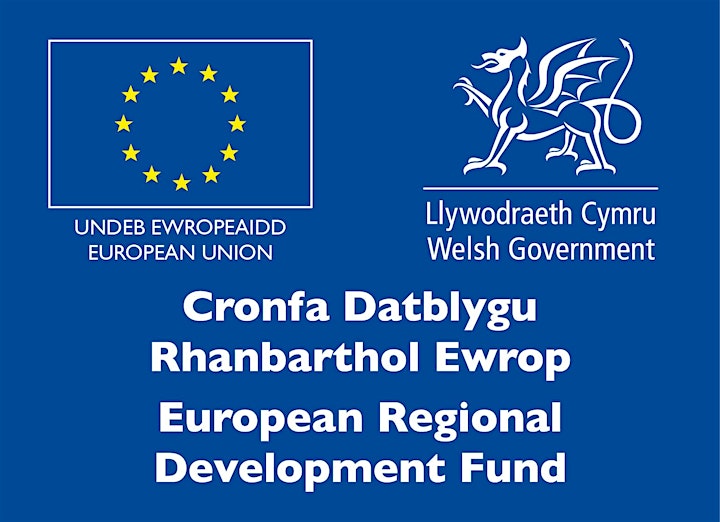 Mae Hybiau Menter Ffocws yn darparu gofod arloesol i ddeori a sbarduno busnesau newydd a'r rhai sy'n ehangu. Mae Hwb Menter Ffocws y Drenewydd a Hwb Menter Ffocws Caerfyrddin yn cael eu hariannu'n rhannol gan Gronfa Datblygu Rhanbarthol Ewrop trwy Lywodraeth Cymru
Mae'r digwyddiadau a ddarperir neu a gynhelir gan raglen Hybiau Menter Ffocws Llywodraeth Cymru am ddim ac yn agored i bobl o bob oedran, ond rhaid archebu lle ymlaen llaw. Mae'r niferoedd yn brin a disgwyliwn alw mawr am lefydd, felly archebwch yn gynnar i ddiogelu'ch lle.
Focus Enterprise Hubs are an innovative space to incubate and accelerate new, and growing businesses. Focus Newtown and Focus Carmarthen Enterprise Hubs are part funded by the European Regional Development Fund through the Welsh Government
Events delivered or hosted by the Focus Enterprise Hubs programme for the Welsh Government are free and open to all ages but must be booked in advance. Please be advised that numbers are limited and we expect high demand for places, so book early to secure your place.