ADAPTIVE LEADERSHIP FOR EXTRAORDINARY TIMES: HOW COACHING CAN CONTRIBUTE
Adaptive leadership for extraordinary times: How coaching can contribute - COACHING AT WORK ONLINE ANNUAL CONFERENCE
About this event
CONFERENCE DETAILS SO FAR
DAY 1 - 25th November 2020
DAY 2 - 26th November 2020
A two-day virtual conference which offers Masterclasses on 25th November and Keynote and Invited Speakers on 26th November.
NB: Tickets are to be purchased separately here for each Conference Masterclass (25th Nov) and the Conference Keynotes & Invited Speakers (26th Nov).
Sessions will be offered on topics including working with transitions, organisations as living systems, diversity & inclusion, decolonising leadership and mindful compassionate leadership.
Speakers will include:
Sally-Anne Airey
Katherine Chowdry (BTP) & Salma Shah
Sheila Panchal
Richard Boyatzis
David Peterson (Google)
Prof. Stephen Palmer
Dr. Siobhain O'Riordan
Case studies include from organisations including British Transport Police, NatWestMarkets & Coaching through COVID.
CONFERENCE SCHEDULE
For more details as and when we have them, please see our conference website here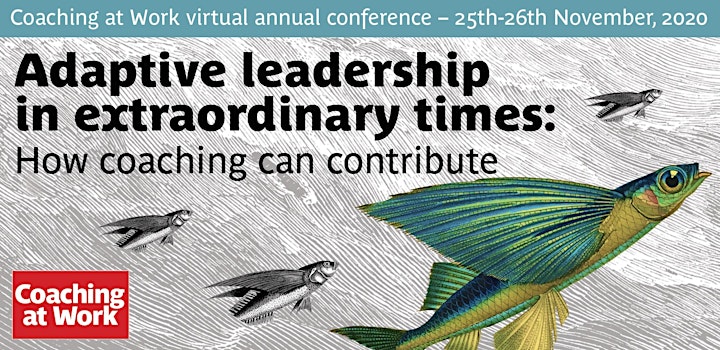 Re: Conference and Coronavirus (COVID-19): latest information and advice
Due to the current circumstances, we have moved all our events for 2020 online. If you have any questions regarding this, then please contact us.
Best wishes
Coaching at Work Team
Organiser of ADAPTIVE LEADERSHIP FOR EXTRAORDINARY TIMES: HOW COACHING CAN CONTRIBUTE