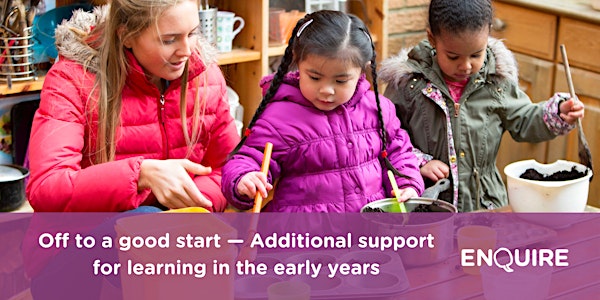 Additional support for learning in the early years: Parents/carers webinar
Off to a good start - Additional support for learning in the early years
About this event
Enquire offer advice on the rights children living in Scotland have to support with their learning . Our advice and information helps families feel more informed and included when decisions are being made about their child's education and support.
Knowing your child's rights to support from an early age can help make sure they get the best start to their learning.
In this webinar Hannah and Sharon from the Enquire Helpline will provide parents and carers with important information about additional support for learning in the early years including:
- your child's rights to support in nursery
- what steps you can take if you feel your child needs support
- how you and your child's nursery can work together to plan your child's needs
- steps you can take if you are worried about your child's support
This event is primarily aimed at parents and carers but may be of interest to those supporting them.
Closed Captioning and Live Transcription
Zoom enables Close Captioning and Live Transcription. Once you have joined the Zoom, you can access this by:Click the "CC Live Transcript" button
Click one of the following:
Show Subtitles – Displays captioning on the bottom of the video. You can also select Hide Subtitle once subtitles are selected to hide them.
View Full Transcript – Opens a panel/pop-up and displays captions in real-time with both the speaker's name and time stamp.
System requirements
This session will be delivered using Zoom.
Please note that some organisations have additional security settings that may prevent you from accessing the webinar on a work device. Before the webinar starts, please check that your organisation permits access to the platforms. If they don't provide access, we encourage you to use a personal device, if possible, as we are unable to provide refunds when there are issues with participant's IT which prevent them from accessing a webinar.
Accessibility
If you have any particular access requirements. For example you require a BSL interpreter, please contact hgray@childreninscotland.org.uk