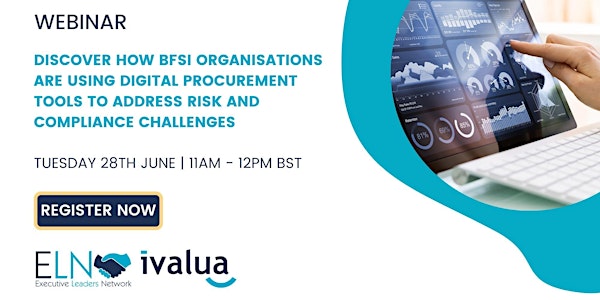 Addressing Risk and Compliance Challenges using Digital Procurement Tools
Learn how BFSI organisations are using digital procurement tools to address challenges such as Supplier Risk and Contract Compliance.
About this event
The banking, financial services, and insurance sector (BFSI) has unique challenges for procurement and vendor management teams due to its highly regulated nature. The pressure to deliver results around areas such as supplier risk are significantly increased due to the high degree of regulation that is applied to the sector and the guidelines from the Prudential Regulation Authority and European Banking Authority are challenging due to the wide scope of impact.
This webinar will help attendees in delving deeper into the impact of these challenges in the procurement and vendor management area, along with hearing from peers on how they have dealt with these issues. Feedback on how digital technology can be utilised in this area will also be discussed, providing real life examples of how organisations have utilised these tools and what has been the impact in their organisations.
Join this webinar to discover:
 How to work with the challenges of procurement in a highly regulated industry around risk and compliance, such as EBA/PRA compliance
 How companies in the financial services sector have met these challenges and what their experience has been
 How digital technologies can be applied in this area to deliver benefits such as freeing up resources from low value tasks to focus on areas of added value
Stephen Cleminson, Alliances Director at Ivalua
Stephen Cleminson works closely, capturing Ivalua partners' views on the current needs of the source to pay market. Combining this with over 12 years' experience working for S2P vendors, he identifies where Ivalua can deliver the most value.