Adepteq SharePoint Training - Milton Keynes
Ends on Wed, 16 Nov 2016, 16:00 GMT
Description
SharePoint Training & Discovery Days - 16th November 2016
---
Milton Keynes - Kents Hill Park - (9:00 Registration) 9:30 to 16:00 
---
We're back with our hands on SharePoint training, this time in Milton Keynes.
Got SharePoint as part of Office 365 and unsure what to do with it or how it works?
Want to get more from your existing SharePoint solutions, freshen them up and promote usage?
Considering an Intranet, Extranet, Document Management Solution, Project Sites, Electronic Processes or Contact Manager? All these can be achieved with SharePoint, utilising the out of the box tools to create a central hub for your organisation.
We have designed this event to demonstrate how to maximise your SharePoint investment and give you the skills to undertake key tasks within your organisation.
---
Boost the adoption of SharePoint within your organisation by having trained employees.
Bring home-working and collaborative opportunities to your business. Raise productivity by teaching your employees how to create, manage and maintain content within SharePoint.
PREVIOUS FEEDBACK: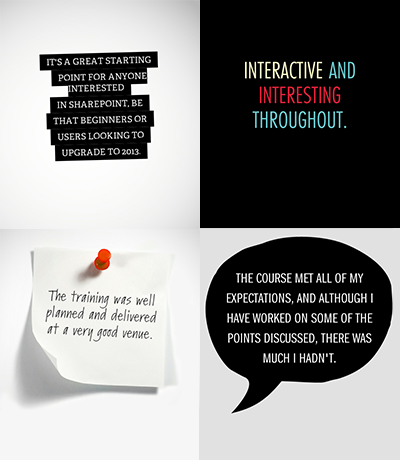 ---
THROUGH OUR TRAINING YOUR TEAMS WILL:
Improve accuracy and quality of content throughout your SharePoint environment
Give your teams the ability to perform a wider scope of tasks using SharePoint
Increase your employees motivation & improve adoption
Reduce recruitment cost by internal promotion of skilled staff
Faster task execution & knowledge transfer between colleagues
Cut SharePoint administration time in-house and amongst teams
*All attendees will be provided with a detailed user guide after the event which will help them utilise their new skillset. 
---
TOPICS INCLUDE
SharePoint Discovery - How are other organisations using SharePoint and what were the benefits
Basic Understanding & Overview of SharePoint
Creating Sites
Creating Document Libraries
Creating Documents
Managing Documents
Creating Lists
Managing Lists 
Creating Pages
Adding Content to Pages
Administration & Rights Management
---

EMAILS FROM US
By registering for this event you are agreeing to receive email communications from Adepteq Ltd. You will be able to opt-out of receiving further emails at any time.
QUERIES & QUESTIONS
If you have any queries please contact us on events@adepteq.com or telephone 0800 6444 365 to check availability, arrange or cancel additional training days or to speak to one of SharePoint consultants.


---