Description

Join us for a special half-day symposium of the 32nd ADI International Conference in April 2017.
Wednesday 26 April 2017
Attend in person or watch online
This free pre-conference event will showcase dementia-friendly initiatives from around the globe and provides an opportunity to collaborate, debate and network with others working to build a dementia-friendly world. It will also help to inform the development of a WHO dementia-friendly framework.
The concept of "dementia friendly" is starting to capture the imagination of consumers, policy makers and researchers around the world and is recognised in national dementia policies and the draft WHO-led Global Action Plan on Dementia under development. At one level the concept of dementia friendly is simple - to work for the common goal of a better life for people with dementia and their families. But it is much more than this. The framework of dementia friendly has the power to change the way we think about living with dementia.
Key themes
Showcasing dementia-friendly initiatives

Identifying support needed

Evaluating dementia-friendly initiatives

Networking & sharing

Global dementia movement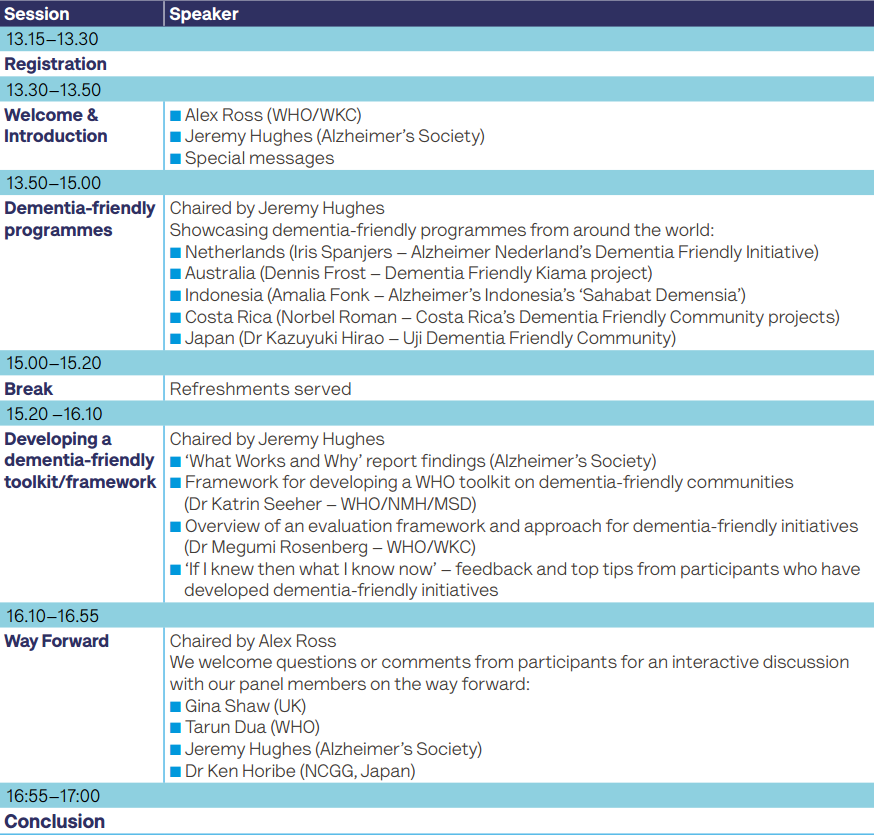 View the programme in English and Japanese.
Who should attend
Attendance is free to online participants and global delegates attending the 32nd ADI International Conference. People involved in designing, implementing and monitoring dementia-friendly and awareness raising initiatives are particularly encouraged to attend. It will also be of interest to clinicians, care professionals, researchers, scientists, government representatives, civil society, WHO, media, people with dementia and their supporters.
Online participants: Click here for the event time in your country.