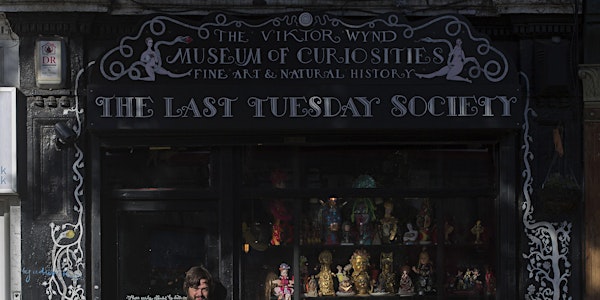 Admission - Viktor Wynd Museum of Curiosities, Fine Art & UnNatural History
Admission Ticket - come and see Fairies, Mermaids, Taxidermy, Dead People, Erotica, Magickal Items, Artworks and more
About this event
Please Book Your Tickets online to guarantee admission from 8th july
However due to the plague we are not very busy so there should be plenty of tickets available on the door, especially on Sundays and weekday afternoons when you might get the whole museum to yourself if we are unlucky.
Admission is £10.
Concessions - £6 -
1/ Please arrive within 15 minutes of your slot
2/ Admission is for thirty minutes, when busy
3/ Concession tickets are for those unable to afford full price - whilst there are many wealthy students & pensioners there are also plenty of poor adults and we want everyone to be able to visit
4/ Concession tickets are also available to people with pre-existing bar reservations from here We advise you to visit the museum after you have had your drink as you will appreciate it more.
5/ Discounted £5 / £2.50 concessions admission available to all on Thursdays
6/ Locals living within walking distance with proof of address may buy £6 tickets on the door
7/ Under 18s are allowed in before 5pm
8/ Admission includes a free cup of tea on request
9/ Accessibility, unfortunately, due to the historic nature of the building, access to the museum is via a narrow spiral staircase and there is no wheelchair access, If you have any questions regarding accessibility, please contact ali@absintheparlour.com.
Last admission to the Museum is at 10pm.
Online tickets are fully refundable up to 24 hours before, via eventbrite, we regret that they can not be changed or refunded after this
Organiser of Admission - Viktor Wynd Museum of Curiosities, Fine Art & UnNatural History
The Viktor Wynd Musem of Curiosities, Fine Art & UnNatural History is a contemporary Wunderkabinnet stuffed with natural and unnatural wonders, from Dodo Bones & Extinct Bird Feathers to Two Headed Lambs, Piglets & Kittens; Old Master Etchings, Occult Paintings, Taxidermy, Magical Soap, Giant Crabs, Strange Creatures of the Deep, Broken Children's Toys, Entomology, Fairies, Mermaids, Unicorns, Giants, Human Hair, Erotica and more. Please note this museum will not appeal to all and some may find the contents disturbing or even upsetting. We are a very small museum, we are not for everyone.