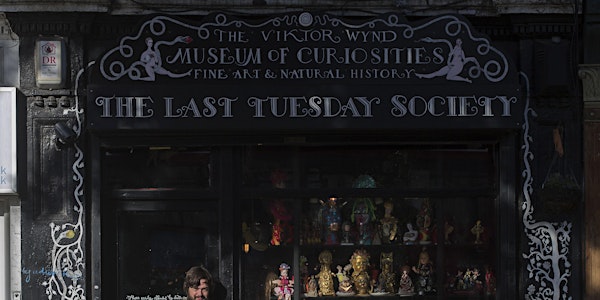 Admission - Viktor Wynd Museum of Curiosities, Fine Art & UnNatural History
Location
The Last Tuesday Society / Viktor Wynd's Museum of Curiosities
11 Mare Street
London
E8 4RP
United Kingdom
Refund policy
Refunds up to 1 day before event
Admission Ticket - come and see Fairies, Mermaids, Taxidermy, Dead People, Erotica, Magickal Items, Artworks and more
About this event
Come see Dead Animals, Dead People, Erotica, Broken Children's Toys, The World's Largest Crab, Entomology, Monsters, Surrealism, The Occult, Conchology. Divination, Dead People's Hair Art, Ex Votos, Preserved Front Bottoms, Bezoars, Voodoo Fetishes, Sex, Congolese Masks, Spirit Masks. New Guinea Artefacts, Santa Muerte, Austin Osman Spare, Mr.Wynd's Bottom, Animal & Celebrity Poo, Magick Wee, Real Fairies, Freaks, Creatures of The Night, Dead Dandies, Enormous Eggs, Relics of Extinct Birds, Mermaids, Osteology, Skulls, Shrunken Heads, Dead Babies, Poetry & Romance
Admission is £10.
Concessions - £6 -
1/ Please arrive within 15 minutes of your slot
2/ Admission is for thirty minutes
3/ Concession tickets are for those unable to afford full price - whilst there are many wealthy students & pensioners there are also plenty of poor adults and we want everyone to be able to visit
4/ Concession tickets are also available to people with pre-existing bar reservations . We advise you to visit the museum after you have had your drink as you will appreciate it more.
5/ Discounted £5 / £2.50 concessions admission available to all on Thursdays
6/ Locals living within walking distance with proof of address may buy £6 tickets on the door
7/ Due to The Adult Nature of Some of the exhibits - Dead People / Erotica etc - under 18's are only allowed in when accompanied by a parent/guardian before 5pm
8/ Admission includes a free cup of tea on request
9/ Accessibility, unfortunately, due to the historic nature of the building, access to the museum is via a narrow spiral staircase and there is no wheelchair access, If you have any questions regarding accessibility, please contact ali@absintheparlour.com.
Last admission to the Museum is at 10pm.
Online tickets are fully refundable up to 24 hours before, via eventbrite, we regret that they can not be changed or refunded after this