Sales Have Ended
Ticket sales have ended
Unfortunately tickets for this training session are no longer available. However we run this training on regular basis so please see Eventbrite or our website www.cut-it.tv for details of the next available course. Or contact us directly via email : training@cut-it.tv or by phone tel: +44 (0) 845 644 6962
Event Information
Refund Policy
Contact the organiser to request a refund.
Eventbrite's fee is nonrefundable.
Sales Have Ended
Ticket sales have ended
Unfortunately tickets for this training session are no longer available. However we run this training on regular basis so please see Eventbrite or our website www.cut-it.tv for details of the next available course. Or contact us directly via email : training@cut-it.tv or by phone tel: +44 (0) 845 644 6962
Adobe After Effects basic training. 2 day hands-on training. Cut It Training. Cost £349 + VAT
About this Event
Get up to speed fast with Adobe After Effects. Learn the basic concepts of working in After Effects to create exciting motion graphics and visual effects. This course will give you a good grounding in the fundamentals of After Effects, and the confidence to use it in a professional environment.
COURSE OUTLINE
Day 1
Setting up a project
Using the Project window
Importing Media
Creating a New Composition
Composition Settings
Amending Composition Settings
Adding media to a composition
Layers
Using layers
Layer order
Turning layer visibility on and off
Soloing layers
Hiding layers
Locking Layers
Working with layers over time
Using the Timeline
Trimming layers
Animating layers independently
Using Text Layers
Using Shape layers
The Transform properties
Using Blend Modes
Animating Scale, position, Rotation Anchor Point, Opacity
Keyframe basics
Adding Keyframes,
Deleting Keyframes,
Moving Keyframes,
Amending Keyframe Values
Keyframe interpolation basics
Copying & pasting Keyframes
Adding Effects
Amending Effects
Effects Controls Tab
Keyframing & Animating effects
Adding Text
Amending & Formatting Text
Adding Text animation pre-sets
Retiming Text animation pre-sets
Using Layer styles
Adding Graphics
Turning a layer into a 3D layer
Moving and rotating in 3D
Understanding and creating Pre-Comps
Using Pre-Comps
Using a Track Matte
Using Alpha channels
Looping video footage
Rendering & exporting a final movie
Optimising for social media or Broadcast
Day 2
Round tripping with Adobe Premiere Pro
Importing Compositions into Premiere Pro
Dynamic Link
Exporting from Premiere Pro to After Effects
Importing layers from Photoshop
Importing Layered Illustrator Files
Turning Illustrator Files into editable vector graphics
Making Photoshop Text editable
Making Photoshop Layer Styles editable
Creating a path
Animating shapes along a Path
Auto-Orient
More about key frames
Further principles of key framing
Copying and pasting key frames
Key frame assistants
Time reverse key framing
Simultaneously editing multiple key frames
Using Parent and Child layers
Adding Motion Blur
Introduction to using mattes
Making layers react interactively
Motion Tracking
Shot stabilisation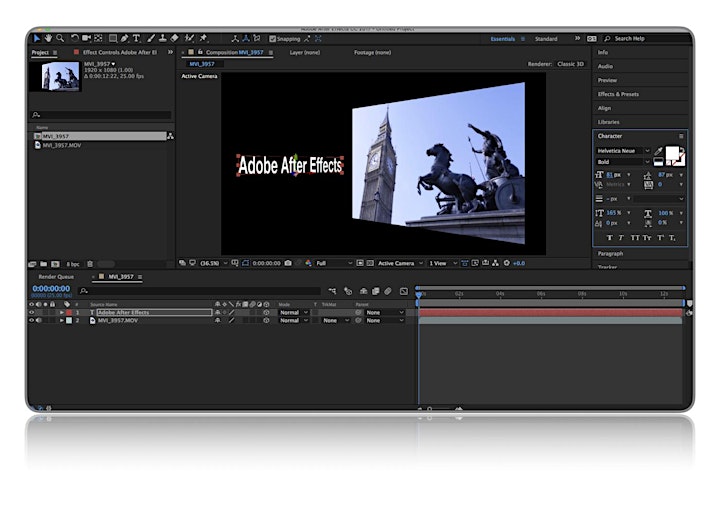 Date and Time
Location
Refund Policy
Contact the organiser to request a refund.
Eventbrite's fee is nonrefundable.