Sales Have Ended
Ticket sales have ended
Unfortunately tickets for this training session are no longer available. However we run this training on regular basis so please see Eventbrite or our website www.cut-it.tv for details of the next available course. Or contact us directly via email : training@cut-it.tv or by phone tel: +44 (0) 845 644 6962
Event Information
Refund Policy
Contact the organiser to request a refund.
Eventbrite's fee is nonrefundable.
Sales Have Ended
Ticket sales have ended
Unfortunately tickets for this training session are no longer available. However we run this training on regular basis so please see Eventbrite or our website www.cut-it.tv for details of the next available course. Or contact us directly via email : training@cut-it.tv or by phone tel: +44 (0) 845 644 6962
Adobe After Effects Intermediate training. 2 day hands-on training. Cut It Training. Cost £349 + VAT
About this Event
Take your knowledge of Adobe After Effects to the next level with our 2 day hands on Adobe After Effects intermediate training course. Covering areas such as 3D composition, Kinetic Text & Particles. Learn new skills, increase your knowledge and enhance your creativity. The emphasis throughout this training is on hands on practical exercises
COURSE OUTLINE
Day 1
Advanced Keyframe animation
Adding keyframes
Adjusting Keyframe interpolation
Easy Ease In, Easy Ease Out, Easy Ease
Hold,
Bezier Interpolation
Auto Bezier and Continuous Bezier Interpolation
Using the Keyframe Graph to Customise Keyframe interpolation.
Using Shape Animators
Applying Multiple animators
Using repeaters to create a pattern
Creating custom animations using animators
Creating Kinetic Text
Using text animation presets
Customising text animation presets
Saving bespoke text animation presests
Create a Track Matte Wipe
How to play video through text and graphics
Time remapping
Using the Time Warp Effect
Speed changes
Freeze frame
Using parent layers
Adding basic expressions
Linking parameters
Day 2
Creating Outline Text
Animating along a path
Drawing an outline on & off
Using Precomps
Using Null Objects to control animations
Rotoscoping
Using animation presets - backgrounds
Color Correction & Grading
Using the Lumetri Color Effect
3D Tracking
3D Extrude + Ray Trace Mode
Creating a 3D scene
3D views
Extruding Text and Graphics
Creating Cameras
Animating cameras
Creating Lights
Render options
Q & A Session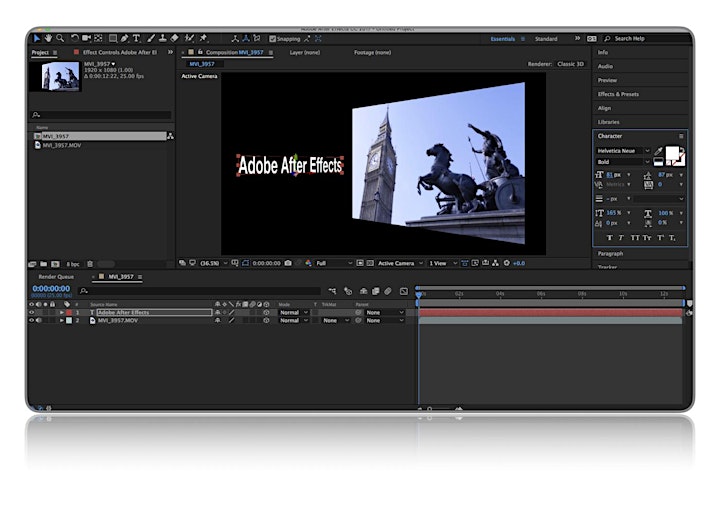 Date and Time
Location
Refund Policy
Contact the organiser to request a refund.
Eventbrite's fee is nonrefundable.