This is an Individual Taster Session for 1 person in Adobe InDesign
About this Event
Individual Taster Session for 1 person
Adobe InDesign is regarded as the industry standard application for producing single and multi page documents such as posters, menus, CVs, price lists, brochures, magazines, newsletters, social media artwork, and much more. This taster session will serve as an introductory to the capabilities of the programme. It is for one person only. Please note the date shown above an be changed to a mutually convenient date. 
 The session will be tailored towards your individual learning requirements and therefore could serve as a "refresher" for those who have a basic knowledge of the programme but wish to target the session for learning specific areas of the program.  
To give you an idea of some of the topics we can cover, take a look at the content of my 1 day introductory course (below).   Typically in a 2hr session we will be able to cover an introduction to the Workspace, working with Text & Images.
Introduction to the Workspace
Create a new document
Controlling the workspace
Customising the workspace
Screen layout and window arrangements
Navigation and zoom shortcuts
Guides, grid and ruler
Switching between normal & preview mode 
Learn Palette
 Design considerations
Brief introduction into colour harmonies
Brief introduction into typography
Brief explanation into typographic hierarchy 
Working with Text 
Creating and resizing text frames, correcting overflow text
Exploring Text options via the options bar
Exploring Text options via the character Panel
Adjusting Tracking, Kerning and Leading
Adding and deleting strokes on text 
Adding and deleting strokes on text 
Applying colour to Text and Text frame
Changing the shacking order of elements
Using the Align Palette
Using the 'Text Frame Options' to change the appearance of text within a frame
Using the 'placeholder text' feature  
Adjust paragraph formatting using both the options bar and the paragraph panel
Adjust Character formatting using both the options bar and the Character panel
Working with images
Importing images
Resizing images
Adjusting frame fitting options
Rotating frames and frame contents 
Changing opacity of images
 Working with graphic elements  
Creating shapes; rectangle, Square, Ellipse and Circle
Using the pen tool
Adding, deleting and converting anchor points  
Adding 'photoshop' effects to shapes 
Adding type to a path
Aligning & distributing graphic elements
Changing the shack order of graphic elements
Working with Layers
Working with colour 
Adding & deleting colour fills and strokes to objects   
Explore the stroke panel features
Create and save a custom colour using the colour picker panel
Adding colour swatches from libraries, e.g. Pantone colours
Selecting and saving colour swatches using the Eyedropper Tool
Selecting and saving colour swatches using the 'Colour Theme Tool'
Adjusting tints and opacity
Creating gradient fills
Working with multiple page documents  (Newsletter creation)
Document set-up; facing pages, inside margin, bleed, etc.
How to create text boxes, re-sizing, link boxes, manage over-set text
Turning on/off Text frame threads
How to import text from Word keeping formatting
Working with rulers, changing document measurements
Turning on/off hidden characters
Explore text wrap features
Explore 'Text frame options' to create columns, inset text and vertical alignment 
Working with Master page elements. Adding & working with multiple master pages
Creating and editing paragraph and character styles
 Preparing Documents 
Pre-flight document (checking & correcting errors)
Package document (Archiving)
How to create a pdf for web
How to create a pdf for print (crop marks, resolution, etc)
How to create Hyper-text link
Please note, we will only be able to cover the basics and target your learning based on what you wish to get out of the session. Of course further sessions can be scheduled at the end of the session as required. 
Requirements   
This workshop is suitable for anyone with basic PC or Mac skills who wishes to learn InDesign from scratch or wants to improve their existing knowledge of the program.  You will need a laptop with the programme installed or contact me prior to the date to request the loan of a laptop. 
Alternative dates
Contact Caroline on 07944 267113 to discuss your requirements and arrange a suitable alternative date and time.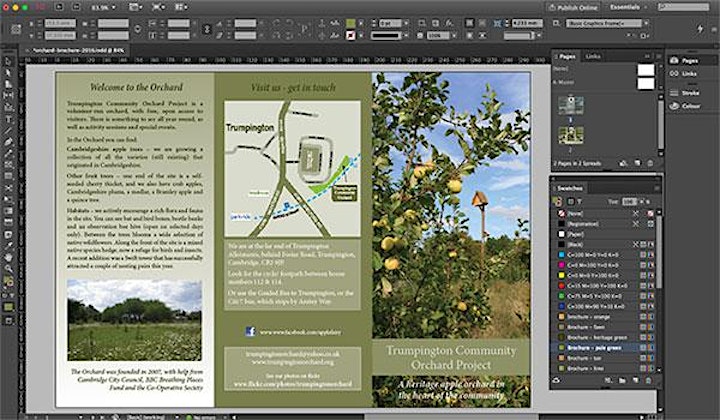 Coronavirus Update 4th July 2020
This one to one training will be offered following government guidelines of social distancing of 2 metres apart using two side by side large screen iMac computers or ideally the participant should bring their laptop computer with Adobe InDesign installed. All surfaces including the keyboard and mouse will be sanitised before commencement of the lesson.
I am currently offering all training in my large airy conversatory at home located on Cambridge Road near Scotdales in Great Shelford.
If prefered this session can be carried out online using Zoom or similiar.
Please do contact me on 07944 267113 to disucss any concerns or requirements.