Our annual ExChange Wales adoption lecture, focusing this year on adoption in Scotland and studies on siblings in care
About this event
ADOPTION LECTURE
Dr Gillian Henderson is one of the leading researchers at the Scottish Children's Reporter Administration (SCRA), working on multiple projects as the Information & Research Manager. With a background in medical research, followed by stints at UK and Scottish Governments and volunteering as a panel member at children's hearings, Gillian has now worked within SCRA for 16 years. SCRA works with children, families and professionals within the Children's Hearings System and related court proceedings, supporting the wellbeing of children most at risk. They collaborate on a range of policy-focused research in this area, including child sexual exploitation and children in care, and the age of criminal responsibility. Gillian has worked closely with Dr Christine Jones at the University of Strathclyde to produce pioneering research on sibling relationships in fostering and adoptive families. This work produced the multi-agency partnership 'Stand Up for Siblings', an ambitious collaboration between third sector organisations, academics and SCRA to influence law, policy, and practice and highlight this critical factor in the wellbeing of children and young people in care.
Lecture outline:
Dr Henderson will give a brief overview of the Children's Hearings System and permanence and adoption in Scotland. She will then focus on findings relevant to siblings in care from two studies: 1. 'Assessment and support of the sibling relationships of long-term fostered and adopted children' – with Dr Christine Jones from Strathclyde University, and funded by the Sir Halley Stewart Trust; 2. SCRA research on 'Complexity in the lives of looked after children and their families in Scotland: 2003 to 2016' - with Dr Ruth Woods from Robert Gordon University. Dr Henderson will discuss the:
1. Effect of sibling birth order on interventions and permanence outcomes for children in care
2. Extent of estrangement from siblings experienced by children in care, and the impact of this on them
3. Implications of the trend of earlier intervention and removal of children into permanence on family fragmentation and sibling relationships.
The lecture will conclude with how this research led to the Stand Up For Siblings partnership and its success in influencing law and practice change in Scotland.
**This event is free of charge. Registration is essential. Failure to attend or provide 2 working days' notice of cancellation will result in a £30 cancellation fee charge to a delegate's employers. To successfully register you must include your EMPLOYER'S FULL ADDRESS (your own if self-employed) and your LINE MANAGER'S EMAIL ADDRESS.***
DARLITH MABWYSIADU
Dr Gillian Anderson yw un o ymchwilwyr blaenllaw y Scottish Children's Reporter Administration (SCRA), yn gweithio ar brosiectau niferus fel Rheolwr Gwybodaeth ac Ymchwil. Gyda chefndir mewn ymchwil feddygol, ac yna cyfnodau yn Llywodraethau'r DU a'r Alban a gwirfoddoli fel aelod panel mewn gwrandawiadau plant, mae Gillian bellach wedi gweithio yn SCRA ers 16 mlynedd. Mae SCRA yn gweithio gyda phlant, teuluoedd a gweithwyr proffesiynol yn y System Gwrandawiadau Plant ac achosion llys cysylltiedig, yn cefnogi llesiant plant sydd yn y perygl mwyaf. Maen nhw'n cydweithio ar amrywiaeth o ymchwil sy'n canolbwyntio ar bolisi yn y maes hwn, gan gynnwys cam-fanteisio ar blant yn rhywiol a phlant mewn gofal ac oed cyfrifoldeb troseddol. Mae Gillian wedi cydweithio'n agos gyda Dr Christine Jones ym Mhrifysgol Ystrad Clud i gynhyrchu ymchwil arloesol ar berthynas siblingiaid mewn teuluoedd maeth a mabwysiadu. Cynhyrchodd y gwaith hwn y bartneriaeth amlasiantaethol 'Stand Up for Siblings', sy'n brosiect cydweithredol uchelgeisiol rhwng cyrff trydydd sector, academyddion a SCRA i ddylanwadu ar gyfraith, polisi ac ymarfer ac amlygu'r ffactor hanfodol hwn yn llesiant plant a phobl ifanc mewn gofal.
Amlinelliad o'r ddarlith:
Bydd Dr Henderson yn cynnig trosolwg cryno o'r System Gwrandawiadau Plant a sefydlogrwydd a mabwysiadu yn yr Alban. Yna bydd yn canolbwyntio ar ganfyddiadau sy'n berthnasol i siblingiaid mewn dwy astudiaeth: 1. 'Assessment and support of the sibling relationships of long-term fostered and adopted children' – gyda Dr Christine Jones o Brifysgol Ystrad Clud a gyllidwyd gan Ymddiriedolaeth Syr Halley Stewart; 2. Ymchwil SCRA ar 'Complexity in the lives of looked after children and their families in Scotland: 2003 to 2016' - gyda Dr Ruth Woods o Brifysgol Robert Gordon. Bydd Dr Henderson yn trafod:
1. Effaith trefn geni siblingiaid ar ymyriadau a chanlyniadau sefydlogrwydd i blant mewn gofal
2. Graddfa'r dieithrio oddi wrth siblingiaid a brofwyd gan blant mewn gofal, ac effaith hyn arnyn nhw
3. Goblygiadau'r tueddiad i ymyrryd yn gynharach a thynnu plant i sefydlogrwydd ar ymrannu teuluol a pherthnasoedd siblingiaid.
Bydd y ddarlith yn gorffen gyda sut yr arweiniodd yr ymchwil at bartneriaeth Stand Up For Siblings a'i llwyddiant yn dylanwadu ar newid yn y gyfraith ac ymarfer yn yr Alban.
***Mae'r digwyddiad hwn yn rhad ac am ddim. Mae cofrestru'n hanfodol. Bydd methu dod neu roi rhybudd o ganslo ddau ddiwrnod gwaith ymlaen llaw yn arwain at ffi canslo o £30 i gyflogwyr y cynrychiolydd. Er mwyn cofrestru'n llwyddiannus, mae'n rhaid i chi gynnwys CYFEIRIAD LLAWN EICH CYFLOGWR (eich enw chi os ydych yn hunangyflogedig) a CHYFEIRIAD EBOST EICH RHEOLWR LLINELL.***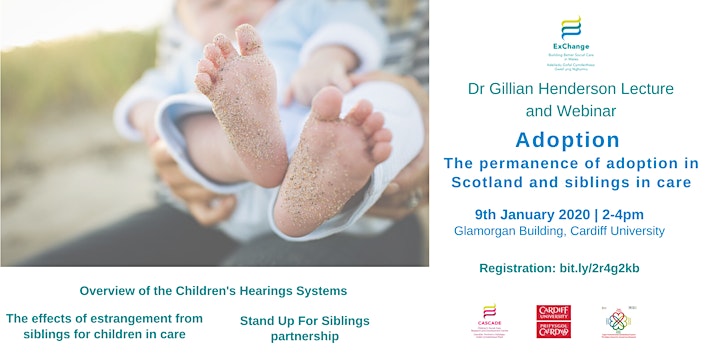 Organiser of Adoption Lecture: The permanence of adoption in Scotland & siblings in care
ExChange is an all-Wales network that brings together workers, researchers and those who use services to share experiences and expertise and learn from one another. Our aim is to improve social work and social care services by creating dialogue and ongoing relationships between people with different types of expertise.
We believe that research has most impact when it is part of an ongoing dialogue between researchers, practitioners and those with direct experiences of services.  As such our focus is on bringing leading researchers into direct contact with workers, managers and those who use services so that we can learn from one another. In our first year we are running a programme of more than 20 events across Wales, from large national conferences to small seminars with leading experts.
ExChange was set up by the Cascade Centre at Cardiff University, but we are working closely with Swansea, Bangor and we hope other universities across Wales. Almost every local authority in Wales is a member, as well as key charities and other organisations. We hope this will allow us to provide a range of opportunities for discussion and collaboration with an ongoing focus on ensuring that our research makes a difference. If you would like more information or to be involved then do email us: contact@exchangewales.org.
---
Rhwydwaith Cymru gyfan yw ExChange, a'i nod yw dod â gweithwyr, ymchwilwyr a'r rheini sy'n defnyddio gwasanaethau ynghyd i rannu profiadau ac arbenigedd, ac i ddysgu o'i gilydd. Ein nod yw gwella gwaith cymdeithasol a gwasanaethau gofal cymdeithasol drwy sbarduno trafodaeth a meithrin perthnasau parhaus rhwng pobl â gwahanol mathau o arbenigedd.
Ein cred yw bod gwaith ymchwil yn cael mwy o effaith pan fo'n rhan o drafodaeth barhaus rhwng ymchwilwyr, ymarferwyr, a'r rhai sydd â phrofiadau uniongyrchol o ddefnyddio gwasanaethau.  Rydym felly yn canolbwyntio ar ddod ag ymchwilwyr blaenllaw i gysylltiad uniongyrchol â gweithwyr, rheolwyr, a'r rhai sy'n defnyddio gwasanaethau, er mwyn i ni allu dysgu o'n gilydd. Yn ystod ein blwyddyn gyntaf, rydym yn rhedeg rhaglen o fwy na 20 o ddigwyddiadau ledled Cymru, a hynny'n cynnwys cynadleddau mawr a seminarau bach gydag arbenigwyr blaenllaw.
Sefydlwyd ExChange gan y Ganolfan Cascade ym Mhrifysgol Caerdydd, ond rydym yn cydweithio'n agos â phrifysgolion Abertawe a Bangor, a gobeithiwn wneud hynny â phrifysgolion eraill ledled Cymru hefyd. Mae bron pob awdurdod lleol yng Nghymru yn aelod, yn ogystal ag elusennau allweddol a sefydliadau eraill. Gobeithiwn y bydd hyn yn ein galluogi i roi amrywiaeth o gyfleoedd i drafod a chydweithio, a hynny gan ganolbwyntio'n barhaus ar sicrhau bod ein gwaith ymchwil yn gwneud gwahaniaeth. Os hoffech ragor o wybodaeth, neu i gymryd rhan, cysylltwch â ni drwy ebost: contact@exchangewales.org.