Description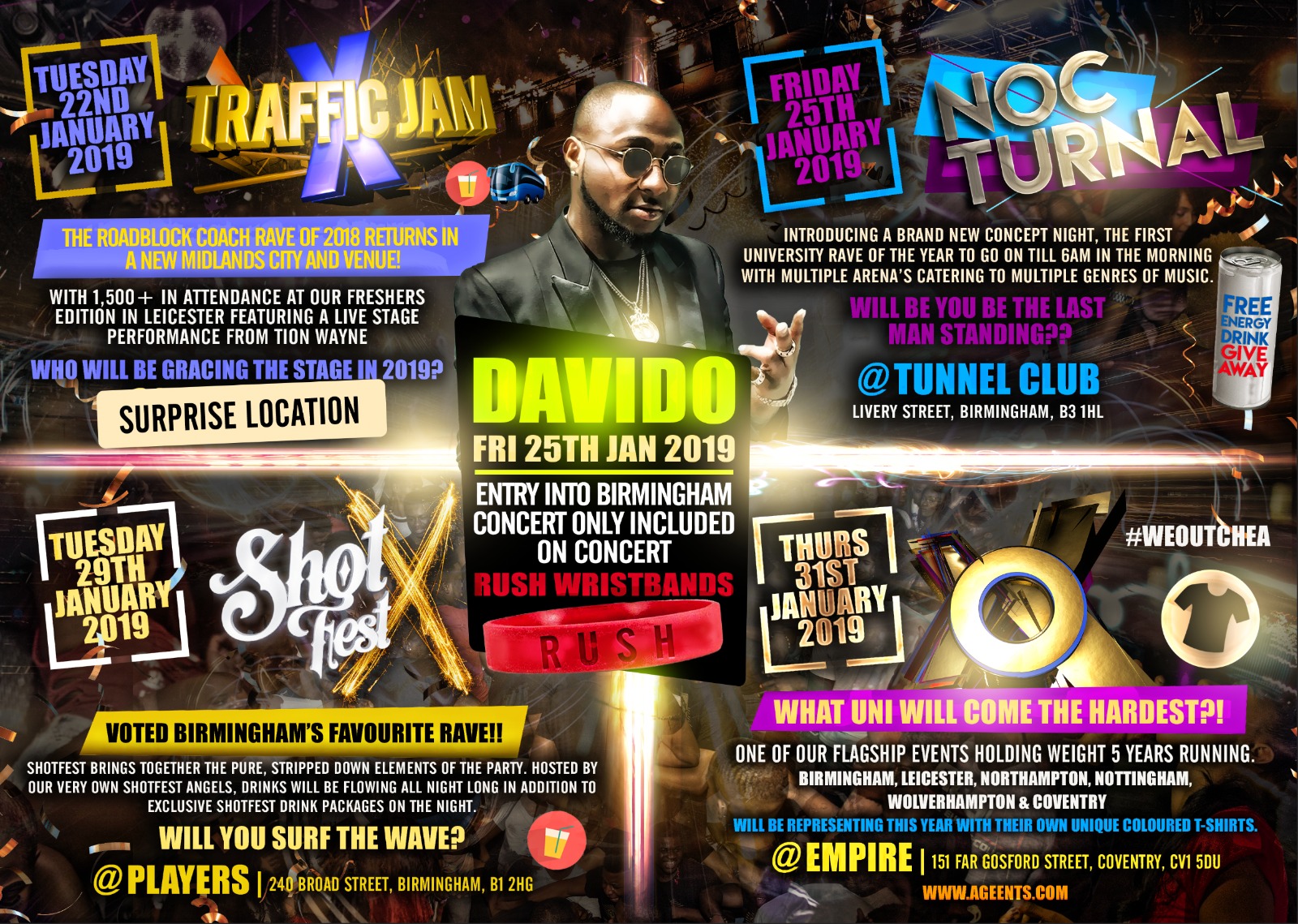 ---
The ultimate end of exams rush!! This is by far Birmingham's best combination of Urban events all at an affordable price jam packed with some of the most popular nightlife brands! Will you make it to the end of this Adrenaline Rush!

Tuesday 22nd January // Traffic Jam X (Leicester)


Friday 25th January // Davido Concert (Birmingham/Wolverhampton)

Friday 25th January // Nocturnal (Birmingham)

Tuesday 29th January // Shotfest (Birmingham)

Thursday 31st January // Outchea X (Coventry)
Please be aware that entry into Davido's Birmingham concert will only be valid for those purchasing Concert Rush Wristbands.
---
5 Events | 4 Days | 3 cities | 2 weeks | 1 wristband
Countdown to the rush of your life! Join over 5000+ attendees at what promises to be the midlands biggest refresher package
!! CAUTION ‼
Limited number of packages available so grab them quickly before they sell out!
---
TERMS AND CONDITIONS FOR GENERAL TICKET PURCHASES:
1. This ticket entitles the ticket holder to a single entrance until 01:00, after which a surcharge will be required.
2. It is advised to arrive 22:00 to avoid queuing times.
3. On arrival to the club bring your e-mail confirmation and the card used to purchase the tickets or wristband holders should have their wristbands worn and presented at the door.. Once you reach the front of the queue your information will be checked off by the door host for entrance.
4. The ticket holder must adhere to the venues entrance guidelines (age "over 18s" No trainers or sportswear)
5. Failure to adhere to these guidelines may result in refusal of admission.
6. Entertainment and acts may be subject to change.
7. Refunds will not be issued if the ticket holder is refused admission for failure to adhere to the venues entrance guidelines.
8. Refunds will only be issues should the event be cancelled