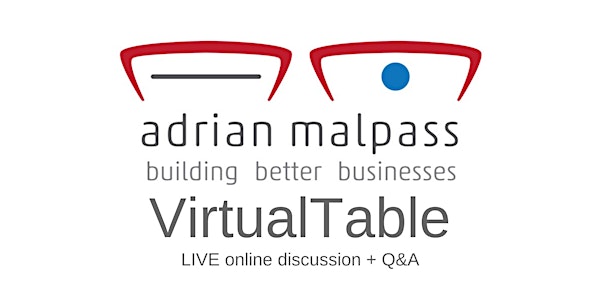 Adrian Malpass' #VirtualTable: "Managing business's big squeeze" (online)
Adrian Malpass' #VirtualTable: "Managing business's big squeeze" (online)
About this event
*** FULLY BOOKED ***
Please join my priority waiting list
(click on 'Register' above)
WELCOME to Adrian Malpass' #VirtualTable
In this online series we are looking at the key business topics of our times.
#VirtualTable 10: "Managing business's big squeeze"
Are we in the eye of the storm?...
Soaring energy and fuel costs. Inflation (which could lead to higher interest rates, increasing cost pressures further). Supply chain issues in terms of both pricing and availability. Distribution and delivery limitations. Pressure to increase wages. Furlough ending. Rising Employer's National Insurance. Rising Corporation Tax (for some). Higher domestic costs such as food, energy, Council Tax and National Insurance. Challenges to physical and mental health. Adapting to leading and managing remote workers. Customers increasing their expectations while seeking lower costs. An imbalanced economic recovery....and so it goes on.
Add in the challenges of leadership, strategy, management, and supporting your team, customers, and suppliers, in an environment of economic uncertainty, and it seems we are in one of the most challenging times for leadership and management that the business community has ever known.
The simple question is how is business going to manage its way through this 'big squeeze'? Certainly, each business will have needs that are as unique as the people within it, so solutions will have to be highly flexible and robust. Adapting to this changing world in a timely and effective way will also be key. Therefore, learning together as a business community is going to provide improved opportunities for a successful outcome.
So, how is your business adapting and what are you learning? What have you already learned from others in our business community? How is your business thinking changing? How are you developing your decision-making and processes?
In this #VirtualTable event, we shall be discussing what business learning Directors, managers and business owners are gaining, how it is helping them maximise their resilience, efficiency, and effectiveness, while keeping their 'plates spinning' and managing this 'big squeeze'. As always, there is plenty to consider, and no doubt a topic we shall be returning to!
Aimed at SME Directors and senior managers (although open to anyone in business), these events will be held in a confidential online environment, where all those attending are encouraged to participate with the aim of delivering improved understanding and clarity. There will also be plenty of opportunity for Q&A.
Each #VirtualTable event will be a maximum of 60 minutes.
In order to ensure this event is delivered to the highest quality (given the limitations of an online event), numbers attending are limited.
Of course, if you have any queries, please get in touch.
Event details:
Date: Tuesday 11 May, 2021
Time: 10am (finishing no later than 11am)
Venue: online via Zoom
PLEASE NOTE:
This event will take place using Zoom.
The Zoom meeting invitation shall be sent to the email addresses of those attending approximately 30 minutes prior to the event starting.
N.B.: MEETING CONFIDENTIALITY
All information discussed during this event is for the use of those attending only.
Such information should be treated as confidential.
Attendees are permitted to accurately and appropriately share the information provided, and are asked to credit both the Organiser (Adrian Malpass) in each share or post - thank you.
After taking advice regarding GDPR/Data Protection, attendees are asked not to share screen shots of this event.
Your attendance of this meeting confirms your acceptance of this.
See you there!
Adrian Malpass
Executive coach & mentor. Board adviser
October 2021
Your receipt:
A receipt for your booking is attached to the confirmation email from Eventbrite
******************************
Online advance ticket sales only. Admission STRICTLY LIMITED to ticket holders ONLY.
Tickets are not reservable or transferable to other events.
Returns and refunds:
Please note - if there is a charge, refund requests can only be accommodated in the event of this event being sold out and the returned ticket being sold. Please note that from 25 June, 2019 Eventbrite no longer refunds the Eventbrite fee.
Your Data / GDPR:
If you purchase a ticket or join the waiting list for this event I will add your details to my Adrian Malpass: building better businesses (b³) confidential mailing list, which is used exclusively to distribute my regular b³ newsletter and let you know about b³ news and events.
I will never pass on any of your details for any reason without your expressed permission (unless required to do so by Law), and you may unsubscribe from the list at any time (don't worry, I won't be offended).
© Copyright Adrian Malpass, 2021. All rights reserved. The exclusive rights to the content of this event, the logo above and all other details relating to Adrian Malpass are duly asserted.