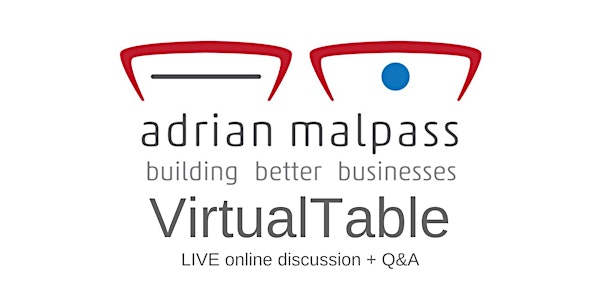 Adrian Malpass' #VirtualTable: Managing people and teams remotely (online)
Adrian Malpass' #VirtualTable: Managing people and teams remotely (online)
About this event
*** FULLY BOOKED - please join the waiting list ***
(N.B.: due to exceptional demand, a second event date has been announced for this topic - those on the waiting list for this event will be given priority)
WELCOME to Adrian Malpass' #VirtualTable
In this new online series we shall be looking at the key business topics of our times.
The topic for this VirtualTable is:
Managing people and teams remotely
Depending on which of the recent surveys you choose, at least 60% of workers have expressed a desire to work from home more often post lockdown.
With that in mind, in this #VirtualTable event, we shall be discussing the challenges facing Directors, managers and business owners in managing their teams and people remotely, and looking to identify which important elements to consider in doing so successfully. It is clear we now live in a rapidly changing business landscape, and delivering flexibility for our workforce is likely to be a significant art of our business future. As always, there is plenty to consider, and no doubt a topic we shall be returning to!
Aimed at SME Directors and senior managers (although open to anyone in business), these events will be held in a confidential online environment, where all those attending are encouraged to participate with the aim of delivering improved understanding and clarity. There will also be plenty of opportunity for Q&A.
Each event will be a maximum of 60 minutes.
In order to ensure this event is delivered to the highest quality (given the limitations of an online event), numbers attending are limited.
Of course, if you have any queries, please get in touch.
Event details:
Date: Tuesday 25 August, 2020
Time: 10am (finishing no later than 11am)
Venue: online via Zoom
PLEASE NOTE:
This event will take place using Zoom.
The Zoom meeting invitation shall be sent to the email addresses of those attending approximately 30 minutes prior to the event starting.
N.B.: MEETING CONFIDENTIALITY
All information discussed during this event is for the use of those attending only.
Such information should be treated as confidential.
Attendees are permitted to accurately and appropriately share the information provided, and are asked to credit both the Organiser (Adrian Malpass) in each share or post - thank you.
After taking advice regarding GDPR/Data Protection, attendees are asked not to share screen shots of this event.
Your attendance of this meeting confirms your acceptance of this.
See you there!
Adrian Malpass
Executive coach & mentor. Board adviser
July 2020
Your receipt:
A receipt for your booking is attached to the confirmation email from Eventbrite
******************************
Online advance ticket sales only. Admission STRICTLY LIMITED to ticket holders ONLY.
Tickets are not reservable or transferable to other events.
Returns and refunds:
Please note - if there is a charge, refund requests can only be accommodated in the event of this event being sold out and the returned ticket being sold. Please note that from 25 June, 2019 Eventbrite no longer refunds the Eventbrite fee.
Your Data / GDPR:
If you purchase a ticket or join the waiting list for this event I will add your details to my Adrian Malpass: building better businesses (b³) confidential mailing list, which is used exclusively to distribute my regular b³ newsletter and let you know about b³ news and events.
I will never pass on any of your details for any reason without your expressed permission (unless required to do so by Law), and you may unsubscribe from the list at any time (don't worry, I won't be offended).
© Copyright Adrian Malpass, 2020. All rights reserved. The exclusive rights to the content of this event, the logo above and all other details relating to Adrian Malpass are duly asserted.