Adrian Sommeling Composite Series Feat. Ronald Koster / Rome 2014

Friday, 7 November 2014 at 14:30

-

Sunday, 9 November 2014 at 17:30 (CET)
Event Details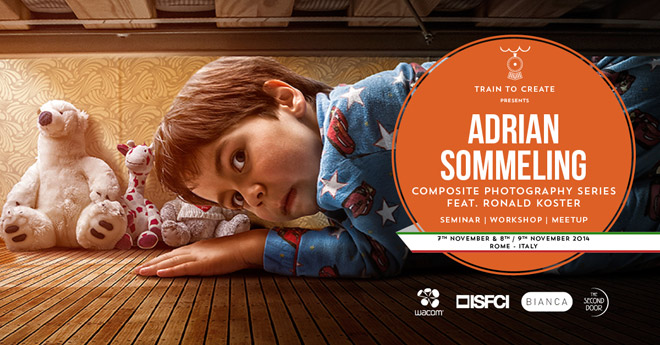 Train to Create & ISFCI are thrilled to announce our upcoming set of events featuring digital artist Adrian Sommeling and Ronald Koster. Based in the Netherlands, Adrian Sommeling will be joining us in Rome for two one-day intensive workshops where he will walk you through his creative process and techniques. Along with Adrian, Ronald Koster will guide you through the lighting set-ups and techniques that will help you to create surreal and stunning images that will enhance your portfolio while improving your skills.
Seminar
Light Games - 
7th November 2014
Meet and Greet-  Meet and Talk to Adrian Someling, Roland
Ronald Koster and Train to Create Team.
Try and Learn
 -  New Wacom devices with the Claudio Lodi 
Award winning photographer duo Winkler+Noah
Creating a five-point lighting setup for a scene by Ronald Koster
(The Seminar is free to attend for all the workshop attendees)
Composite Workshops 
Workshop limited to only 15 attendees per day 8th or 9th November 2014 (Pick a date)  


Seminar
Seminar Date: Friday 7th November 2014 / from 14:30 to 18:30 
Address: ISFCI Via degli Ausoni, 1 (San Lorenzo) Roma
Train to Create in partnership with the Istituto Superiore di Fotografia e Comunicazione Integrata, Bianca Events and sponsored by Wacom presents the seminar: "Light Games" Creating a 5-point lighting setup for a scene.
The Seminar is an inspiring open event happening on the Friday evening before the weekend workshops. It is designed to serve as a stand alone opportunity for a wider number of aspiring photographers and as a precursor to all those attending the Master Class weekend. Adrian Sommeling will meet apartecipants and talk with them about his work  based on composition techniques. In the following session, Ronald Koster will discuss the different types of lighting set ups as well as the importance of them in the art of creative composite. Ronald will demonstrate live how to use flash lights in different set ups, from a simple one flash light set up to more complex lighting set ups involving 4 or 5 flash lights.Once the seminar is completed, a Q&A session will be opened for all participants.
The seminar is by no means a prerequisite to attend the workshop but serves as an added bonus.
Please note that this Seminar is FREE for the students ISFCI and for those who have booked and paid for the Adrian Sommeling Workshop. For those interested in attending the seminar only, it is possible to reserve the ticket here. The Ronald Koster talk will be in english with the support of Train to Create Italian speaker.
Workshop 
Saturday 8th OR Sunday the 8th of November (Please pick one date only) 8:30 am to 6 pm
Workshop Location:  ISFCI Via degli Ausoni, 1 (San Lorenzo),  Rome
Workshops Limited to only 15 attendees per day
A practiced workshop leader, Adrian will impart with participants his insight, experience and techniques for creating unusual, eye-catching images. With the help of Ronald, Adrian will share his methods for both shooting and blending images in post-production.
Though he has only been professional for 3 years, Sommeling has an impressive Facebook fans list and a reputation that commands respect. He has been featured in Photography Monthly, Zoom NL, Digital Photo, Photo Answers and more!
The workshop language is english

with the support of Train to Create Italian speaking tutor.
Adrian Sommeling
Adrian approaches his pieces like photorealistic paintings, sketching out each one before taking to his camera.  As a result he creates striking, unusual and powerful images that are sure to induce a double take.  Heavily inspired by his young son and youthfulness in general, Sommeling creates pieces that capture the beauty and wonder of childlike imagination. This workshop will teach you how to recreate his style while adding your own personal touch.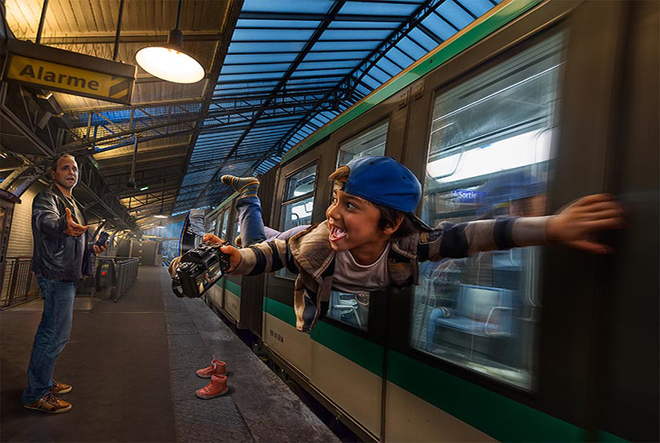 Ronald Koster
Ronald Koster is a part time professional photographer with a passion for autonomous work. For his autonomous work he "picks" his models largely from the streets. The handling of his models with his working method he dubs as "Gorilla Style". Ronald has in the past recent years worked hard to nail a own a recognizable consistent style of portraits. His photographs have perfected their respect not by finishing endless in post-processing, but mainly by clever use of flash.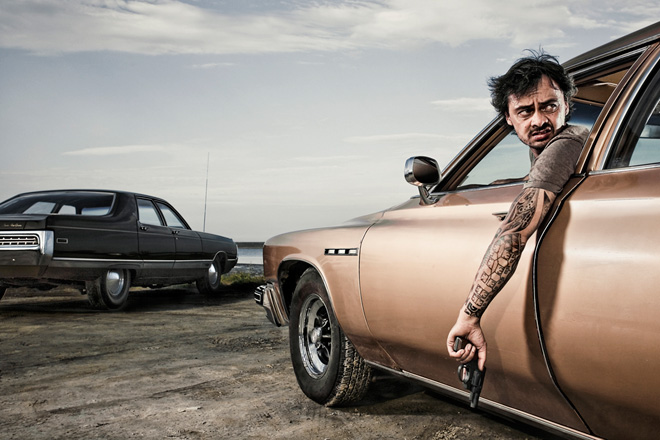 The Locations:
L'istituto di Fotografia Superiore e Comunicazione Integrata, founded in 1985 in the historic district of San Lorenzo, is the point of reference in the formation of photography in Rome.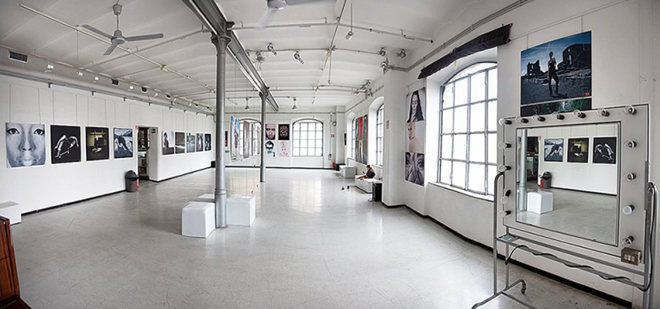 Address: ISFCI Via degli Ausoni, 1 (San Lorenzo) Roma
Each one-day intensive workshop will go as follows:
Saturday 8th OR Sunday the 9th of November (Please pick one date only) 8:30 am to 6 pm
Meet and greet! Adrian will explain what's behind his own photographic style and go over related topics, such as sharing photos and using social media and other websites.

The group will then go the Location in order to shoot a background photo. Adrian will explain what to look for in a background image, his techniques and methods and the importance of important aspects such as lighting and shadows.

Then participants will begin shooting the models in the workshop location. The models for this shoot will be the amazing Jen Brooks and one or two of your fellow photographers! Adrian and Ronald will go through the lighting, which will be done with a studio light and one or two speedlights.

Lunch will be provided.

Post-processing! Here Adrian & Train to Create Team will instruct how to blend the photos together. Participants will learn how to set somebody free from the background, how to use dodge and burn, how to create shadows and much more.

At the end, all the participants will get a brochure to take home that contains all the steps they learned during the workshop. Combined with their hands on experience and guidance from Adrian, they wont ever forget the process! They will also receive a photoshop file of Adrian's composite photo 'Sea of Green' with all the layers in it to use as a guide.
What you need:
Personal camera

Lenses

Speedlight (optional)

Own Laptop

Photoshop CS4+ installed (The workflow will work with every major version of Photoshop)
Please note:
A Wacom tablet will be provided for your use during the workshop.
Free Meet Up:
Meet Up Date: 7th November 2014 
/ from 18:30 to 20:00
Meet Up Location:  
To be announced 
Train to Create is celebrating the "Adrian Sommeling Composite Series Feat. Ronald Koster" with another FREE Meet up, an invitation to all  creatives! Train to create Meet up is the right place to share your ideas and experiences about topics like Photography, Video, Make-Up, Styling, Design, Mood and Concept. It is an open invitation for everyone to participate in an open creative exploration.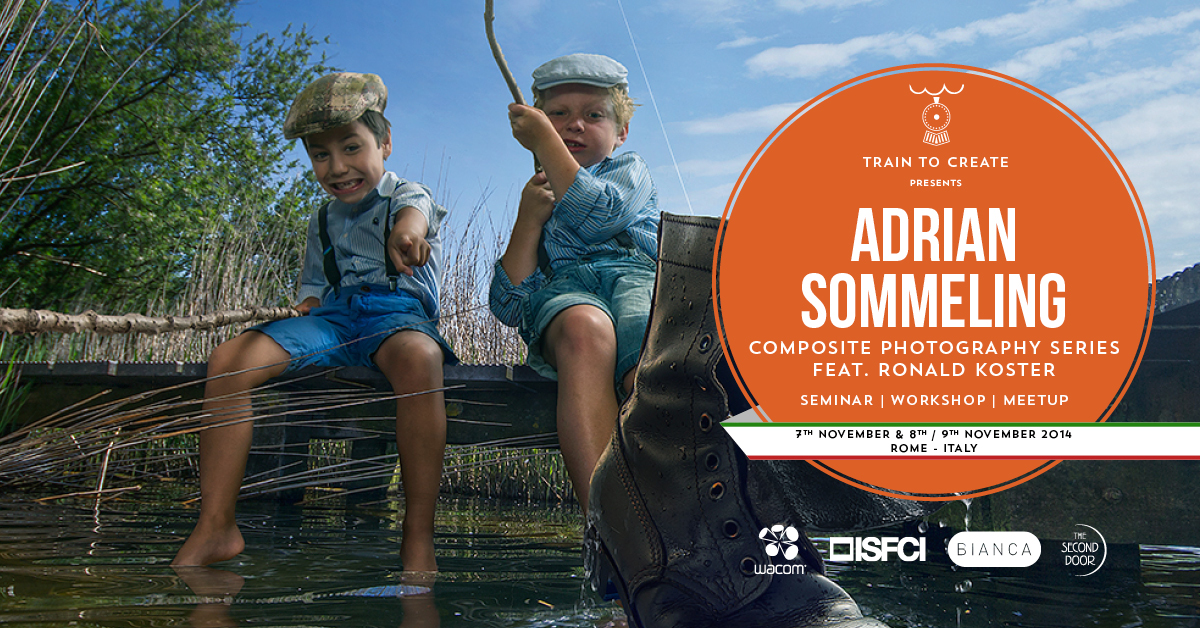 Refund Policy:
1. There is a 14-day cooling off period following the purchase of the ticket where you will receive a full refund minus a 5% administration fee.
2. 14-day after the purchase of the workshop you are entitled a 50% refund.
3. Cancelations made 14 days prior to the event's date are non refundable.
4. You can transfer your ticket to third parties at any time by informing us in writing at tickets@traintocreate.com
5. No refund will be made for non-attendance of the event
Cancelation Policy:
Train to Create reserves the right to cancel, reschedule or change the location and the time of an event due to unforeseen circumstances. If Train to Create cancels an event, registrants will be offered a full refund.
Do you have questions about Adrian Sommeling Composite Series Feat. Ronald Koster / Rome 2014?
Contact Train To Create
When & Where

ISFCI - Istituto Superiore di Fotografia e Comunicazione Integrata
Via degli Ausoni 1
00185 Rome
Italy


Friday, 7 November 2014 at 14:30

-

Sunday, 9 November 2014 at 17:30 (CET)
Add to my calendar
Organiser
Train To Create
Train to Create is an invitation. A team of photography passionate people that facilitates visual creativity through workshops, conferences and networking.
Train to Create calls at London to connect all passengers interested in expressing their vision through photography, filmmaking and digital arts.
Welcome on board!
We believe in the importance of the creative impulse in human beings. Our mission is to provide opportunities to build on that impulse.
This is what we do:
We create an environment for the sharing of knowledge and expertise.
We maintain a network of lasting collaborations with international artists.
We organise a range of activities, from tailored laboratories to conferences, for the professional and amateur photographers, filmmakers and digital artist interested in developing their skills.
Our gatherings are opportunities for practical training within a professional environment. They are hosted by established artists and photography authors, each of them focusing on their particular area of expertise.
Whether you are a passionate amateur, a semi-professional or a professional photographer, you will have the opportunity to complete the process of a professional shooting, starting from the concept to the final retouching.
In an inspiring setting within London, your creativity will be encouraged by working with models and using the costumes, scenery and lighting equipment of a professional studio. It is a fun and inspiring atmosphere where all the participants are challenged to go through the barriers of their perceived limitations and freely experiment their ideas.
Adrian Sommeling Composite Series Feat. Ronald Koster / Rome 2014