ADS Santa Fun Run, Charity 5k Dorney Lake, Eton, Windsor 25th November 2018
Description
Online registrations have now closed to allow for admin...
but don't worry, you can register, pay and collect your suit ahead of the event at Lok'n'Store, Stafferton Way, Maidenhead, SL6 1AB
We will be there from 10am to 4pm on Fri 16th, Sat 17th and Fri 23rd, Sat 24th November.
Please pay by cash as we won't have a card machine.
Prices are;
Adult Team of 5 or more - £18 per person
Family Team (2 Adults, 2 Children) - £44
Adults - £20
Children £4
We Ho-Ho-Hope to see you there!

Fun for all the Family!
Raising money to support LOCAL People with Dementia,
their Carers & Families
in Windsor, Ascot, Maidenhead, Slough, Langley & all points between.
Sponsored by Supported by
Generous Donations and support from: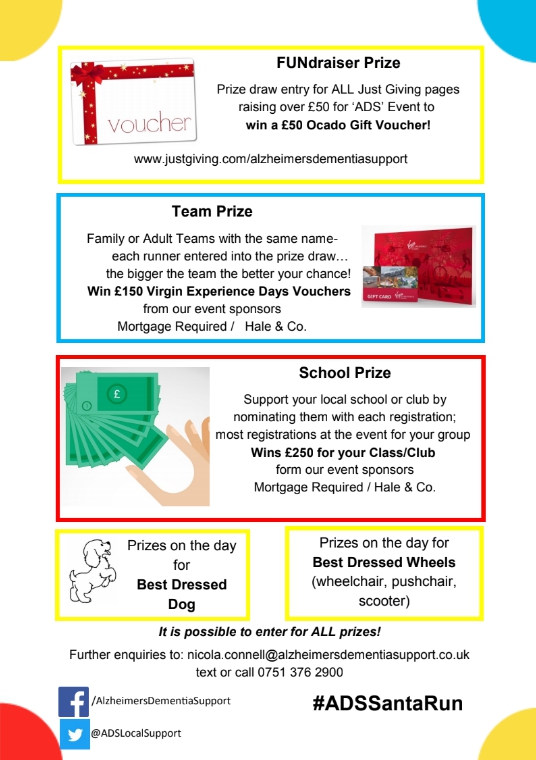 ---
What is it?
It's a 5k Run (walk, wheel or jog) which is approx 3.1 miles once round Dorney Lake. Please encourage as many people to take part or sponsor you as you can.

Run for fun and raise money for Alzheimers Dementia Support 'ADS', c

hallenge your colleagues or simply smash your personal best .
Dogs on leads and kids on scooters/pushchairs/
wheelchairs welcome with responsible owners & guardians please – see T's & C's.
What you will get for your registration:
Adult
FUNdraising pack to download

Full Santa Suit

Exclusive Supporters Nylon Drawstring Bag full of Goodies

Bottle of water

Runners Medal

Certificate

Dog Treats
Child
FUNdraising pack

to download

Santa Hat

Bottle of Water

Runners Medal

Kids Goody Bag

filled with festive activities & treats!
Medals AND Prizes will be awarded for the following categories and we would like to invite our winners to stay for our official award ceremony on site at 3pm:
Fastest Time (Male & Female Runners 1st & 2nd only)

Best Dressed Wheels (pushchair, wheelchair or scooter)

Best Dressed Dog
All 'ADS' Santa Fun Run Just Giving fundraising pages with donations over £50 will be entered into a free Prize Draw !
What else is happening?
Our event will be opened by an array of local dignitaries and special guests who will be joining in the fun!
We will have a flash mob dance warm up and a Christmas sing-song before the race is started by our VIP guests. Post race you will be awarded your finishing medal, certificate & Goody Bag as a thank you for your amazing efforts. All activities will be held outdoors prior to the run.
Where does the money go?
Alzheimers Dementia Support 'ADS' is a charity which offers constructive practical guidance and a wide range of services to help people in the local community whose lives are directly or indirectly affected by Dementia.
We strive to make a difference by helping those affected cope better whilst giving them the opportunity to experience a little joy and laughter in their difficult lives.
'ADS' have one simple aim - to directly provide a much wider and consistanly developing range of services and support specifically geared to meet the current needs of individuals affected by Alzheimer's disease here within our local community, both for People with Dementia and also their Carers in equal measure.
Thank you for your support - All of the funds raised by 'ADS' are solely utilised locally to support these local people.
---
FAQs
Where do I collect my Santa Suit/Hat & Race Number ?

You MUST collect your suit from our Collection Point at Lok'n'Store on Friday/Saturday 16th/17th November or Friday/Saturday 23rd/24th November .
How can I FUNdraise for Alzheimers Dementia Support 'ADS'?
Donations of ALL sizes are very gratefully received which is why we do not have a minimum donation pledge for our event....so here's how you can do it:
Make an additional donation when you purchase your ticket

Text HOHO33 £3 to 70070 to donate through Just Text Giving

Set up a Just Giving page, either individually or as a team https://www.justgiving.com/alzheimersdementiasupport/donate - pages with £50 or more of donations will be entered into a free Prize Draw

Download a manual sponsorship and FUNDraising rescources from our website

http://www.alzheimersdementiasupport.co.uk/fundraising/

Send a cheque made payable to Alzheimers Dementia Support, Unit 113, 5 High Street, Maidenhead, SL6 1JN

Be proactive - Ask if your workplace match employee FUNdraiaing, make donations or can donate a prize...Volunteer for 'ADS'...Ask for permission to display our Santa Fun Run poster at your place of work/local shop/school/ front garden.... colour in or design a Santa picture and 'auction' it off to your family...bake some mince pies for donations at work...bring us your spare foreign coins...donate on the day...purchase additional Goody Bags for your friends...you get the idea!
The event is open from 1pm and with the warm up at 1.30pm starters orders at 1.45pm. Event closes at 4pm
What is the refund policy?
All registration fees are non-refundable or transferable.
The organisers reserve the right to cancel the event due to exceptional circumstances…for example very severe weather or some other emergency that may effect safety. Under these circumstances regrettably no refunds can be given
as the costs to the charity will have been incurred.
The track around Dorney is not officially measured but is an appoximate 5k distance.
There will be a visible race clock donated for the the event by Maidenhead Athletic Club 'MAC' and volunteers from 'MAC' will be taking the times of the first and second fastest Male & Femal ONLYy. No Number No Time - your race number must be clearly displayed on your chest for a time to be noted.
Disabled Access:
Disabled parking is at the side of the Boat House with lift access to first floor. We welcome wheelchair Santas.
Prize Draws:
The Grand Prize Draws for Just Giving Pages, School Prize & Team Prize will be drawn or presented at Alzheimers Dementia Support 'ADS' Charity Shop at 75 High Street, Maidenhead SL6 1JF at 12noon on Friday 30th November - you are welcome to join us!
On site:
Please do not park on the grass verges - car parking is free and there will be marshals to guide you.

Please do not leave children or dogs unaccompanied (please clean up after your dogs).

Please be aware that there are no cloak room or storage facilities at the venue (Eton College Rowing Lake, Dorney). The

Venue or Organisers ('ADS') can in no way be held responsible for any injury or illness incurred during, or as a result of the event, or for any property lost, stolen or damaged.

All participants must follow instructions given by the race officials, volunteers, medical people etc...

All participants must conduct themselves in a professional and courteous manner.

A fun run number will be provided to each participant which they must wear prominently and they should write their name and address and state any special medical conditions they may have on the reverse side

Participants are asked to wear the Santa suits provided but do so at their own risk.

Baby joggers, strollers and wheelchairs etc, where safe to do so, are permitted on the course as are pets as long as they are under control and cause no damage or risk to other participants. Those with wheeled equipment and pets are asked to start the race at the official start time only but from the back of the group of fun runners.

The Official start time is the only time fun runners should take to the course and all are requested to take part in a short 'warm-up' 10 minutes prior to the official start time.

First Aiders/Medical support will be available and all participants agree to accept, what is deemed to be, appropriate treatment and advice should any illness/injury occur.
---

We Ho-Ho-Hope to see you there!
Further enquiries to: nicola.connell@alzheimersdementiasupport.co.uk
text or call 0751 376 2900 or visit www.AlzheimersDementiaSupport.co.uk/Contact-Us for our current Privacy Notice