Description
Applied Digital Technologies in Head & Neck Reconstruction
Dr Dominic Eggbeer and Peter Evans, on behalf of the ADT Foundation (UK Group) invite you to attend the 2017 conference in Cardiff on 17th-18th February.
Learn how advanced digital technologies can be effectively implemented to improve healthcare outcomes.
Hear from industry experts, engage with your peers in workshops, and discover the latest research at the only specialist head and neck conference for people interested in applying technologies.
The conference offers participants a hands-on approach; it is a unique chance to test the latest technologies for yourself.
Conference Partners
The conference is made possible thanks to the kind support of the following organisations.

Interested in sponsoring? Find out more here.
---
Conference Programme
Want to showcase your work? You can submit your presentation or poster abstract here.
The final programme will be announced in January.
Please follow the @ADT_Foundation Twitter feed to keep up to date with speaker announcements and wider ADT Foundation information in the meantime.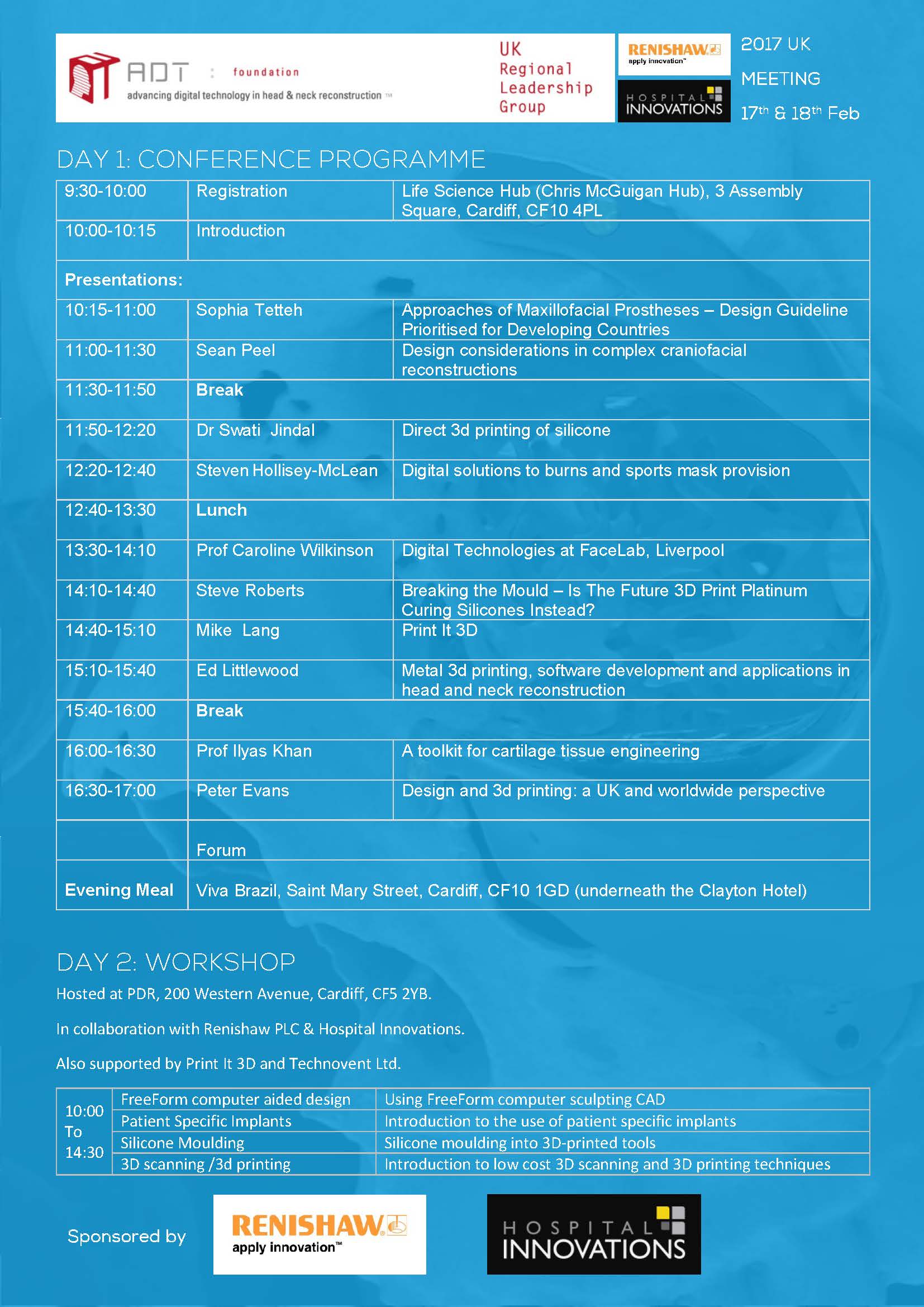 Conference Venues
PLEASE NOTE THE DAY TWO VENUE CHANGE. Day two will now be hosted at PDR, Western Avenue, Cardiff, CF5 2YB.
To give delegates the best possible learning and networking experience the conference is split across two venues.
Day 1 - Life Sciences Hub
3 Assembly Square, Cardiff Bay, CF10 4PL
The conference day will be held at the fantastic Life Science Hub in Cardiff Bay. The Hub is the centre of healthcare innovation in Wales and the perfect venue for our event.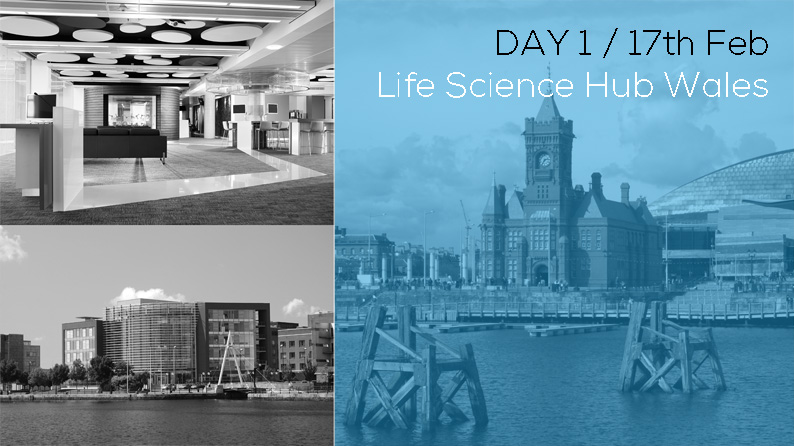 Friday night - Conference Dinner
Make the most of your time at the ADT UK Conference and join us for a networking dinner on the Friday night. Join your peers for a sit-down dinner in one of Cardiff's finest restaurants (Venue TBC) and continue the discussion after day one.
The dinner is included within the ticket price (excluding student ticket).
Day 2 - PDR
PDR, Cardiff Metropolitan University, CF5 2YB
The workshop day will take place on-location at PDR's research and development centre. Supported by Renishaw, this will be a fantastic opportunity to use the latest technologies at this interactive session.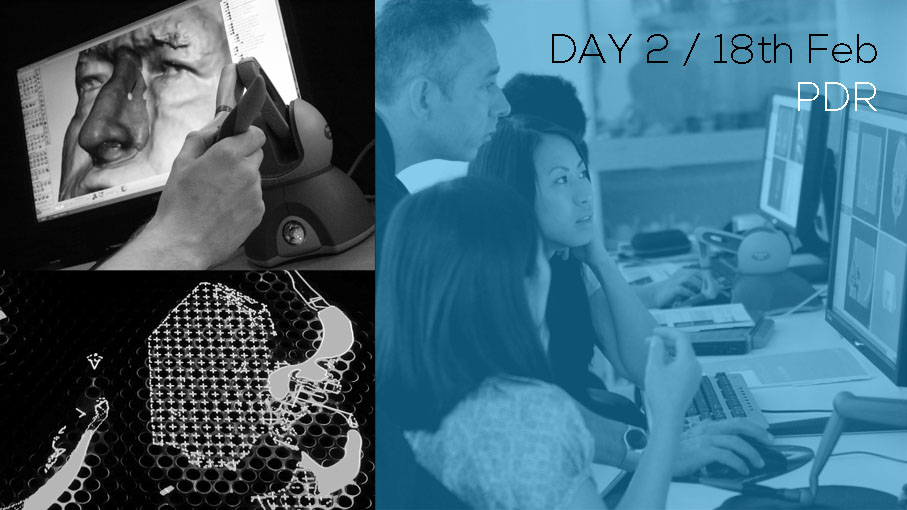 Hotels
The Life Sciences Hub Wales is based in Cardiff Bay, which is home to a number of attractions.
There are a number of luxury and budget hotels available in Cardiff Bay. These include: St. David's Hotel, Travel Lodge & Holiday Inn Express.

The Workshop will be held at PDR, Cardiff Met. Uni, CF5 2YB.

There are a number of hotels in Cardiff centre. Weather depending, PDR is located approximately 30 mins walk through a park/playing fields or 10 mins taxi ride north of the city centre. Alternatively, the organisers can arrange a lift for participants from the Holiday Inn on J32 of the M4 or Cardiff centre.
Room availability is limited, so please book in advance.
---


About The Organisers
ADT Foundation
The ADT Foundation was created to help identify and explore the future role of innovative digital technologies in reconstruction of the head and neck. The ADT Foundation is a corporation founded in Canada, July 14, 2010 by the Canada Corporation Act. The missions of the ADT Foundation are:
To advance education by improving the quality of knowledge in the fields of medicine related to head and neck reconstruction; and to organise and present conferences, workshops and symposia for professional development related to head and neck reconstruction, including the conference known as "Advanced Digital Technologies in Head and Neck Reconstruction".
ADT Global 2017 Conference
The global ADT conference brings together surgeons, researchers, industry and a broad range of other specialists from across the world every 3 years. The 6th conference is being hosted in Amiens, France from the 31st May – 3rd June 2017.
Visit www.adt-conference.com for further details and to book your place.
ADT UK Group
This UK conference is organised by the Surgical & Prosthetic Design team at PDR International Centre for design and Research, Cardiff Metropolitan University and the Maxillofacial Unit at Morriston Hospital, Swansea.
Since 1998, the Surgical & Prosthetic Design team at PDR has undertaken parallel developments of academic, application-led research, enterprise and education in head and neck reconstruction. As a result of its continued collaboration with the UK NHS and its associated research, the team was awarded the highly prestigious Queen's Anniversary Prize for Higher and Further Education in 2016.
The Maxillofacial Unit at Morriston Hospital is a UK pioneer in the application of advanced digital technologies for craniofacial implants and prosthetic reconstruction. It was one of the first in the UK to introduce the use of digital technologies into routine clinical practice.


Conference Chairs

---
Sponsorship Opportunities
Ensure that your organisation is represented at the ADT UK Conference by taking up one of our exciting sponsorship opportunities. Download our sponsor pack for more information.
If you would like to discuss opportunities further please contact Lucinda on: +44 (0) 29 2041 7024
---


Convince your boss
Use our PDF information pack to convince your boss that you need to attend this conference.
---