START TICKING OFF YOUR BUCKET LIST 1 Day 2 Fantastic Activities includes buffet lunch
About this event
Morning
Ghyll Scrambling
Also known as Canyoning or Gorge Walking is one of the finest outdoor activities you could wish to experience in the Lake District. Suitable for everyone from beginners through to adrenaline hunters Ghyll scrambling involves travelling up or down a mountain stream with plenty of short climbs, slides and jumps to ensure you are truly wet by the end of the activity.
No previous experience is necessary as your experienced instructor will guide you through a rocky mountain river, swimming in bubbling pools, scrambling up rocky climbs, jumping into deep clear pools and walking through flowing rapids.
Location
Church Beck in Coniston has fast become just as popular - and for good reason, its great fun!
This aquatic ghyll scramble is a hidden playground situated walking distance from Coniston. Inside these gentle canyon walls. You will find a natural playground in amongst the crystal clear waters.
This ghyll has many sections which include rock scrambling up, canyoning down, waterfalls, plunge pools to swim in, a rockslide and various sized jumps both big and small.
Afternoon
Mindful Canoe:
Canoeing on this idyllic lake is perfect for a laidback calming experience in the afternoon. Just sit back and take in the scenery while we make sure you end the day on a high.
Location:
Coniston Water is the fifth largest lake in the Lake District, five miles long and 184ft at maximum depth, and the Old Man of Coniston mountain towers above it on the western shore. It has three small islands and is owned by the National Trust.
Canoes:
We can fit 2/3 people in a single canoe. On a windy day we insert a wooden spar to create a catamaran which makes it even more stable, to fit 6 people comfortably.
Enjoy and take advantage of soaking up being present in the moment!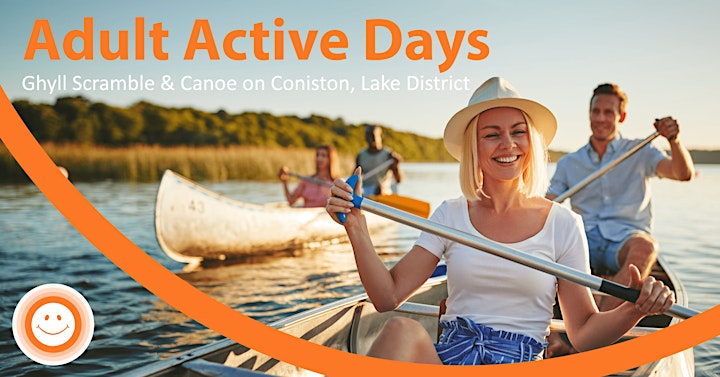 Suitable for: Suitable for adults, family groups and anyone up for an adventure.
Lunch: It's a hot and cold buffet style affair. Vegan and Gluten Free on request.
Facilities: Sports Bar & Terrace, changing facilities, hot showers, Toilets.
Car Parking: Car Parking is Free when you book with us.
Fitness Level: Moderate
Mood Elevation Level: High
Pleasure Level: High
Duration per Activity: Approximately 2hrs to 2.5hrs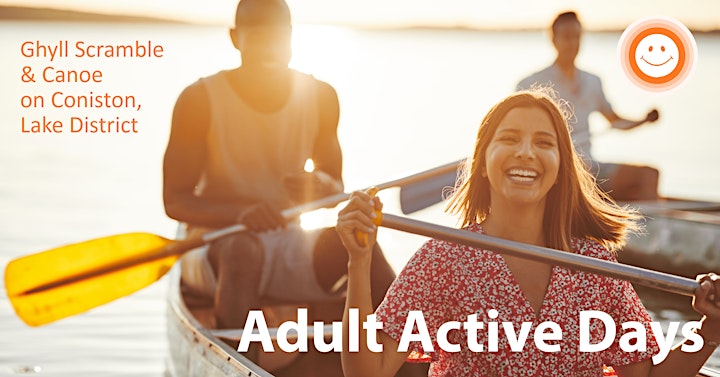 Itinerary:
• Meet at 9.30am
• Get on the wetsuits.
• Safety briefing
• Start walking to Church Beck Ghyll.
• Ghyll Scrambling activity duration ( 2 to 2.5 hours)
• Lunch 12.30pm till 1.30pm
• Canoe – Safety Briefing
• Mindful Canoeing on Lake Coniston, Activity duration (2 to 2.5 hrs)
• Approximately 4pm finish.
Important! What you need to bring:
• A pair of sturdy trainers or walking boots to go into the ghyll with. These need to be able to lace up so that they stay on in the moving water. Shoes that have a decent grip because some rocks are slippy.
• Please be aware that lightweight water shoes, flip flops or sandals are not appropriate.
• Arrive in a Swimming costume or pair of shorts to go under the wetsuit.
• Gloves - Are a good idea for the colder months of the year.
• Spare warm clothing (fleece tops are a good idea)
• Towels
• Spare footwear to change into.
• Any personal medications you may require, including Asthma inhalers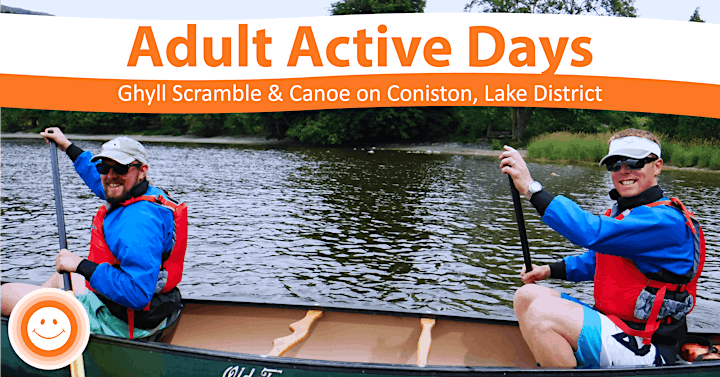 What we provide:
We provide all specialist safety equipment, insurance and instruction from qualified, friendly guides who are local to the area.
• Helmet
• Buoyancy aid
• Quality Wetsuit (Please see below)
• Group safety equipment to include - group shelter, 1st Aid kit.
• Jackets - on cooler days or upon request
What to leave behind in the car or accommodation:
• Mobile phone
• Cameras, video cameras
• Any valuables including Jewellery, watches, wallets, purses
• Any smoking / vaping devices
Organiser of Adult Active Day Ghyll Scrambling & Mindful Canoe
Family Active Days
Live in the Moment!
We want people to be able to achieve their aspirational goals and start ticketing off things on their bucket list. We can arrange all different activities for individuals, families, groups and corporate to enjoy the outdoors and get that much needed present time.