Location
SK1 1SP
Outside The Plaza
Stockport
Stockport
SK1 1SP
United Kingdom
ADULT GIFT VOUCHER FOR FLECKY BENNETT'S THE STOCKPORT GHOST WALK
About this event
We all love weird, wonderful and ghostly stories!
And when the stories are based upon well documented accounts, witness statements and Flecky's own personal experiences, they then take on a new life (and Death) of their own.
Allow FleckyBennett to welcome you onto his award winning Stockport Ghost Walk, a firm favourite with Locals, tourist and weirdos, since 2018.
Join your ghost host Flecky Bennett
for a performance in the oldest part of Stockport.
image Follow Flecky Bennett
up the red sandstone cliff
and into Stockport Old Town.
The performance starts outside the wonderful Plaza Theatre,
and then Flecky will guide you
Up the steps and down to the depths!
As you rise 256 feet above sea level expect to listen to
history, strange and funny stories, and ghosts!
From Mad Hatters to Haunted Taverns, Devils, Dancehalls and Dungeons
Flecky is described as the Ghost Walker Extraordinaire by Visit Manchester and with a completely unique style. He will entrance you with his dark humour and passion for his subject.
Expect 120 minutes (including 30 minute interval)
of spooky fun in the company of Flecky!
STRICTLY ADULT (18+) ONLY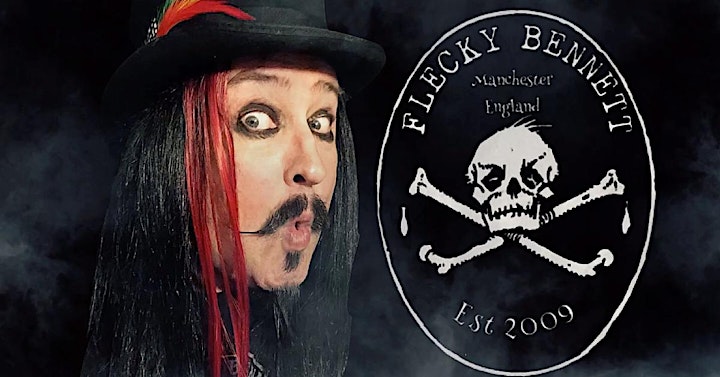 Show how much you love or hate someone with a Flecky Bennett Gift Voucher.
Each Voucher is valid for one adult on any public performance of -
Flecky Bennett's The Stockport Ghost Walk.
(excludes "Special" performances)
INSTRUCTIONS FOR SENDER & REDEEMER.
SENDER-
The Gift Voucher couldn't be easier or more convenient, simply purchase, print it or email it as the perfect present for any occasion!
REDEEMER-
To redeem just simply email fleckybennett@hotmail.co.uk to be offered a choice of a public performance of Flecky Bennett's The Stockport Ghost Walk, and once confirmed, your gift voucher will be applied to the performance.
Vouchers are valid for 12 months from date of purchase
STRICTLY ADULT (18+) ONLY