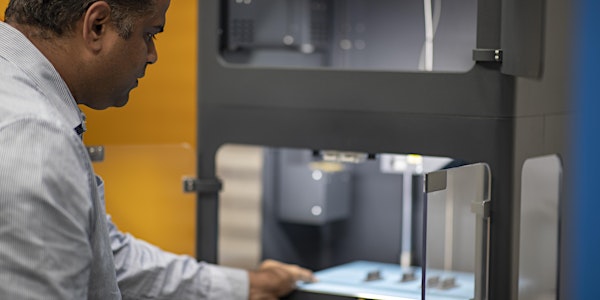 Advanced Additive Manufacturing Workshop: 26 – 27 July 2022
Location
Space Park Leicester
92 Corporation Road
Leicester
LE4 5SP
United Kingdom
Space Park Leicester is offering two-day free best practice workshops to enhance innovators knowledge of Additive Manufacturing/3D Printing.
About this event
Space Park Leicester is offering free best practice workshops, funded by the University of Leicester and the European Regional Development Fund, to enhance innovators knowledge of Additive Manufacturing/3D Printing technology implementation.
Workshops are delivered by experts from the University of Leicester STAR Accelerator. STAR help businesses, entrepreneurs and SMEs learn how to deliver new and innovative products, components and tooling across all manufacturing sectors including space. STAR helps entrepreneurs and SMEs access free product development tools and technology resources.
What's included in the course?
• Main principles and benefits of Additive Manufacturing in polymers, metals, ceramics, composites and wax
• Complete Additive Manufacturing workflow from design to manufacture
• Technologies and their applications
• Understanding of materials
• Design rules for Additive Manufacturing
• Finishing, inspection and quality assurance
• Standards and product certification
• Cost factors and equipment selection
• The future of Additive Manufacturing
Following the course you may be eligible to access further free product development tools, technology resources and support to progress your new products.
Advanced Additive Manufacturing Workshops are open to East Midlands based start-ups, entrepreneurs and SMEs.