Description
Our Coaches tell us this is the most profound and transformational work they have done.
Do you work with clients who experience any of the following?
Difficulty making decisions or not knowing if the choices they make are right for them?

Conflict between their thoughts, feelings and actions and are unsure of what to do about it?

Unable to act upon or sabotaging their dreams, goals or plans and unsure of why?

Unwanted behaviours and habits and difficulty creating new ones?

Feelings of disempowerment due to stress, frustration, and the struggle to balance life?

Or do they simply want to achieve more, feel they are fulfilling their potential?
If so, joining us for this 4 day course will provide you with additional knowledge, tools and the latest techniques to assist with all of the above - not only for your clients, but also for yourself.
This training is strategic for professional coaches, counsellors, trainers, educators, leaders, managers and mentors who work with others. It leads to an ability to produce effective results that can only be achieved when the head, heart and gut are aligned and working together. It creates and satisfies a curiosity about the latest findings in neuroscientific research and the impact of this on learning, development and coaching.
Accelerate your coaching effectiveness using these new powerful techniques and become one of the leaders in this globally emerging, innovative field. You will learn to tap into the power of your client's innate intuition of their heart and gut, and how the latest methodologies such as mBIT, can streamline your coaching process for fast, deep, generative and repeatable results.
At the same time you will gain immediate access to a global (28 countries) professional network and collaborative community of coaches.
mBIT Coach Certification Course
Four days of exhilarating training where you will learn:
To live and practice with greater insight, intuition and intention

To manage stress and challenging situations and how to apply that with others

To help yourself and others make lasting behavioural change

The latest neuroscience research behind ancient wisdom

Deep insights into how we produce internal conflict and how this can be resolved

To recognise and interpret the languages of your heart, gut and head and how this can leader to greater wisdom in all aspects of life, including relationships

To optimise your decision making and action taking
Come join us for this unique opportunity to enhance your skills.
This London course is run by Lisa Kabouridis and Dara Caryotis, two of the first mBIT Coach trainers in the UK.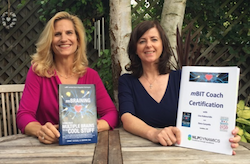 Lisa – lisa@puzzlefitconsulting.com
Dara - dara@sciote.co.uk
What people are saying
'The mBIT training has been very informative, fascinating and insightful. It provides scientific background to its theory, which is a great buy-in for some clients. The material and experiential exercises are very valuable and by the end of it you can go away and use them with your clients straight away. You also get access to this warm community of Coaches and Trainers and you get support on any doubts you might still have. Would strongly recommend it!'Dan Sorace – Coach
'I found the mBIT training course exceptionally well delivered by Dara and Lisa, the skills you learn are mind blowing. For me personally, I aligned much more than I thought I would. I can see the practical uses in my coaching business, working in corporates, with entrepreneurs, to make an impact on their lives, their companies, and beyond. These techniques can change your life.' Steven Haggerty, Business Coach and Speaker
'The course is absolutely excellent. They say 'physician heal thyself', well now they actually can. I work as a GP, and as a GP I am forever helping everybody else out, and making decisions, sometimes life threatening decisions, on the spot. Now, with mBraining I can actually make decisions based on alignment, selfless decisions, decision that are not going to harm myself. I can see it being very helpful for physicians dealing with stress, not just to help their patients but also to help themselves. I have thoroughly enjoyed this course and I would love to see my fellow colleagues come on a course like this'. Anita M, GP
To view a video testimonial click here.
mBraining
"You have to master not only the art of listening to your head,
you must also master listening to your heart
and listening to your gut."
Carly Fiorina
The latest research from the fields of neuroscience, positive psychology and behavioural modelling supports and validates ancient teachings that we have at least 3 separate intelligences or 'brains' operating in our bodies. For some people reading this, the idea of us having three brains may be challenging thinking. These 'brains' can also be considered as three complex neural networks or intelligences that form connections, retain memories and influence our decisions and behaviours.
These intelligences are in our head, our heart and our gut. We are intuitively aware of this and now neuroscience research is proving that the neurological make-up of the heart and gut is similar to that of our head brain.

Thinking about where some of your best decisions come from, is it your head, or do you 'go with your heart' or have you 'followed your gut instinct'?
When one or more of our brains are not aligned, it can lead to internal conflict, stress, bad decision making and unhappiness. mBraining is the process of aligning our three brains to bring about ecological goal-oriented outcomes.
If you happen to be NLP trained you will also discover that mBraining expands the NLP model by scientifically building upon what you already know about the cognitive brain, and addressing and integrating the emotional and somatic brains. Complete humane alignment is achieved and conflict is resolved using multiple Brain Integration Techniques (mBIT).
Tap into the intelligence in your heart and gut, learn how to align this with the intelligence in your head for greater wisdom in decision making and action taking to transform and evolve your world.
Watch interview with co-creator Grant Soosalu.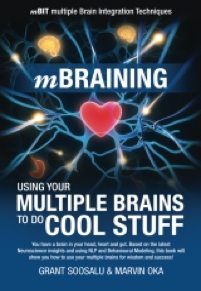 Learn to use your multiple brains to do cool and amazing things in your life!