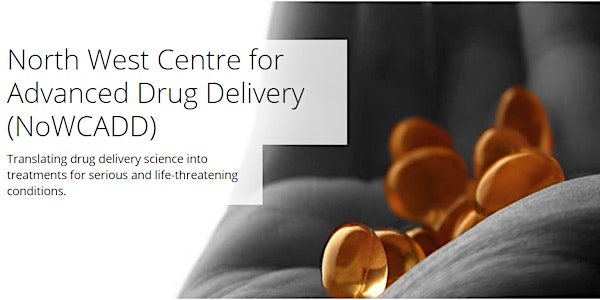 Advanced Drug Delivery: crossing the interdisciplinary divide
Description
The North West Centre for Advanced Drug Delivery (NoWCADD) established in 2014 is a collaboration between The University of Manchester and AstraZeneca focussed on the discovery, translation and development of the next generation of advanced drug delivery technologies. This covers a broad spectrum of pharmaceutical technologies including systems for targeting tumours, formulations to promote delivery of drugs into cells and long acting dosage forms for injection. As part of this collaboration we have established strong local, national and international links across industry and academia. As we aim to progress our collaboration to the next level, we are looking for new opportunities to widen our network and build newer and more wide-ranging collaborations.
This meeting aims to share successes from the NoWCADD scientific programme, whilst also providing a platform for our collaborators to disseminate their science. The longer-term objective is to catalyse relationships and establish exciting collaborations with a view to identifying newer and better drug delivery technologies.
The meeting is scheduled to take place on September 20th, 2019 at The Barnes Wallis Building, University of Manchester and will involve a range of high profile industrial and academic speakers from AstraZeneca, The University of Manchester, Centre for Process Innovation and Uppsala University.
Detailed programme is now available below. A poster session will also be held with attendees having the opportunity to present their research. Due to limited poster boards available, please Email to Dr Yu Lu at yu.lu@manchester.ac.uk if you wish to present a poster so we can keep track of the total number of posters. Please also let us know if you have any dietary requirement and we will do our best to provide accordingly.
NoWCADD website: http://www.nowcadd.manchester.ac.uk/
Organiser of Advanced Drug Delivery: crossing the interdisciplinary divide
The North West Centre for Advanced Drug Delivery (NoWCADD) is a translational science centre based at The University of Manchester. We are funded through a collaboration with AstraZeneca's Pharmaceutical Technology and Development (PT&D) and Pharmaceutical Sciences and departments.