Sales Have Ended
Ticket sales have ended
Registration to the 2019 Advanced ELENA Course is now closed. You have the possibility to be included in the waiting list. Should you have any question, please contact Sofia Bonatti at sbonatti@ecre.org
Event Information
Refund policy
Refunds up to 30 days before event
Eventbrite's fee is nonrefundable.
Sales Have Ended
Ticket sales have ended
Registration to the 2019 Advanced ELENA Course is now closed. You have the possibility to be included in the waiting list. Should you have any question, please contact Sofia Bonatti at sbonatti@ecre.org
'Asylum in Europe: ensuring protection and fundamental rights compliance' 30-31/10/ 2020
About this event
The 2020 Advanced ELENA course on 'Asylum in Europe: ensuring protection and fundamental rights compliance' will take place on Friday 30 October and Saturday 31 October 2020.
Given the growing concerns around COVID-19 and the uncertainty of the restrictions in Marseille, we've made the difficult decision to cancel the in-person component of the ELENA Course 2020. This is not a decision we have taken lightly due to the importance of this opportunity to share vital knowledge however, the health and safety of all the speakers and participants in the ELENA Course is of utmost concern to ECRE.
For the first time, the ELENA Course will take place online!
Participants will have the excellent opportunity to explore the latest developments on asylum and migration law with other practitioners, academics and decision-makers from all over Europe.
This year's course will offer an in-depth analysis of the latest developments in the CJEU and ECtHR jurisprudence. It will include sessions dedicated respectively to the current challenges of women's protection and gender-based asylum claims; a panel discussion on the State of emergency and the rule of law in the area of asylum; and an analysis of the implications of biometric and data sharing measures on fundamental rights. Additional sessions will now include discussions on the new EU Pact on Migration and Asylum and addressing statelessness and non-discrimination.
Online participants will also receive a certificate of participation.
Conference programme
The 2020 Advanced ELENA Course is honored to announce the participation of a number of distinguished speakers, including Lorraine Schembri Orland, Judge at the European Court of Human Rights; Louise Hooper, Barrister at the Garden Court Chambers; Nina Murray, Head of Policy & Research, European Network on Statelessness and Gábor Gyulai, Refugee Programme Director, Hungarian Helsinki Committee.
A draft agenda of the course is available on ECRE's website .
Conference details
Online participants will be involved actively in course and a moderator will allow them to ask questions to the speakers through a chat tool. In order to follow the online version of the course, all you need is a computer and a good internet connection. Technical assistance will be available during the entire course and instructions for the use of the video platform will be provided a few days in advance of the course.
Registration Fees
ONLINE PARTICIPATION:
• 240 EUR
To book your place, click on the green 'Register' button (at the top of your screen). Interested participants should register by 10 October 2020 at the latest to secure a place.
Cancellation Policy
Cancellation is possible with a full refund (except for the Eventbrite service fee) until 30 September 2020. Unfortunately, refunds can not be provided if cancellations are made after this date except in case of force majeure (including Covid-19, if it corresponds to a case of force majeure).
Participants registered for the in-person event can attend the online course and receive a refund for the price difference in the tickets or alternatively, receive a full refund. Please email Seána Carty (scarty@ecre.org) expressing your preference.
Please note that refunds include the ELENA Course Fee ONLY. We will be unable to reimburse travel expenses incurred.
Do you have questions about the ELENA course? If so, please contact Sofia Bonatti sbonatti@ecre.org for content related queries and Seana Carty scarty@ecre.org for practical queries.
Photo: (CC) Jean et Coco, September 2016.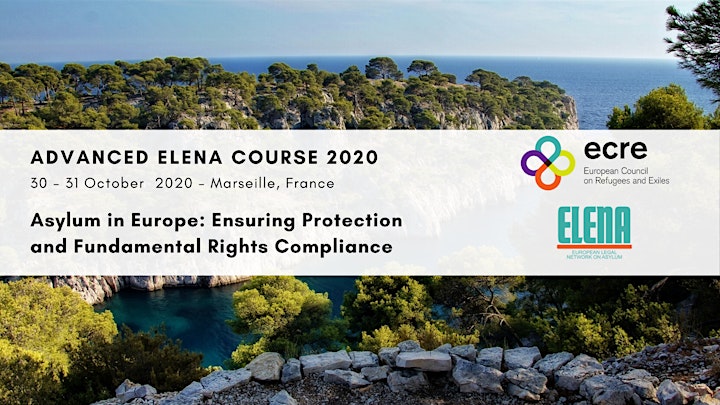 Date and time
Location
Refund policy
Refunds up to 30 days before event
Eventbrite's fee is nonrefundable.
Organiser of Advanced ELENA Course 2020 Online