Discount Comedy Checkout - Advanced Improvisation Course - 3 Sundays
About this event
COURSE DATES FOR 2021!
Discount Comedy Checkout - Advanced Improvisation Course -
Meeting every Sunday for 3 Sundays - 1pm - 6pm on the following dates:-
NOVEMBER 7TH, 14TH, 21ST
Running for over 14 years The Discount Comedy Checkout have become one of the biggest UK improv groups with constant shows throughout each year in a variety of venues. Now we bring our knowledge to you with our selection of courses. Taught by members of the troupe you will learn how to bring improvisation comedy to the stage and perform in your first show.
About the Advanced Course : Aimed at those who have completed our Beginners Course this Advanced one develops skills you learned and expands on them to include character development and long form improvisation, with a showcase on the last day. We pride ourselves on a friendly, funny atmosphere where everyone has a great time and develops together. If you have any questions please do ask away as that's what we are here for!
All courses take place upstairs in our leeds based show room at The Fenton.
Facebook @comedycheckout
www.comedycheckout.com
If you have any questions regarding the courses please don't hesitate to contact Chris Lumb - info@comedycheckout.com or call 07749661928
More information, terms and conditions and safety:-
We will continually monitor the COVID 19 situation and update students about this. We with have measures in place in the venue which comply with the latest government rules and safety. It is our priority for all students safety and comfort at all times. In the event of the UK going back into lockdown we would either offer to continue the sessions online or agree as a group to wait until it is safe to carry on with in person classes.
COURSE GUIDELINES :-
• Collaborate with your scene partner unless it is unsafe or demeaning to do so.
• Work together as a team. This is now your group so support each other on stage and off stage
• Respect physical and sexual boundaries – we employ a NO TOUCHING RULE.
• If at any time you want to stop a scene or exercise just say STOP and you can without having to tell us why.
• If you want to sit out of anything please also tell us – we want everyone to be comfortable.
• Risky subject matter will try to be avoided and we will aim to enforce this especially at the showcase show. Try to keep things light. The advanced course is for dark material!
• Don't suffer in silence if you have questions or need anything explaining again – that's what we are here for.
• The Discount Comedy Checkout reserves the right to remove anyone from the course who we deem to be disrupting the class for any reason at our discretion.
• Hate speech or discrimination will not be tolerated.
We reserve the right to remove anyone from our courses at anytime. We have this rule to protect our students and staff at all times.
Purchasing a ticket reserves your place on the course. It is also our indication you have read all of the above terms and conditions.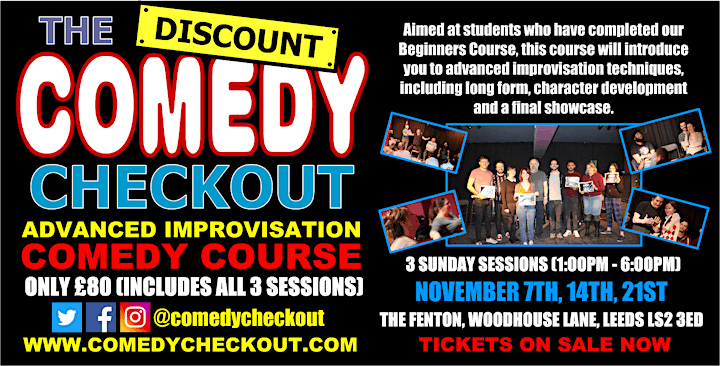 Organiser of Advanced Improvisation Comedy Course - November - Leeds (3 Sundays)