Event Information
Location
Friends' Meeting House
6 Mount Street
Manchester
M2 5NS
United Kingdom
Advanced Interview Techniques fully-funded course, by interview author Chris Delaney. Increase job offers by improving interview confidence
About this event
Advanced Interview Techniques and Presentations Skills
Advanced your career by mastering the job interview.
We have helped thousands of career professionals pass job interviews.
Author and career advisor Chris Delaney will host a full day job interview workshop to help career professionals increase job offers, based on his new book 'What is your interview identity'.
The course will cover the 4 key areas to create a successful job interview outcome:
Identifying the job criteria
Be a self-promoter
Communicate with confidence
Public Speaking and Presentations
Delaney will share his 20 years of experience to help you improve your job interview performance.
Identify the job criteria
Learn how to predict the job interview questions
Learn how to structure any interview answer
Learn how the take advantage of the structured job interview
Be a self-promoter
Learn how language can impact the interview outcome
Learn how the interviewer perceives you - take the interview identity test
Learn how to sell yourself with each interview answer
Communicate with confidence
Overcome interview anxiety quickly
Increase communication confidence in face-to-face and virtual job interviews
Build rapport with interviewers to increase likeability
Public Speaking and Presentations
Learn how to create a presentation off the cuff (required for many high-level job interviews)
Master key public speaking skills to create a powerful interview presentation
Become confident at speaking in front of a panel of interviewers
Chris will share research on the job interview process and explain the hidden psychology in play that neither the applicant nor the interviewer is aware of, and how you can use this knowledge to your advantage.
Understand:
How unconscious bias affects the interview scorecard
What 'what is beautiful is good' bias is
Why a structured interview is better placed to predict job performance over an unstructured job interview.
Chris will use live demonstrations to help increase confidence (using his experience as a qualified hypnotherpaist), give feedback during mock interviews and help individuals shape and craft high-scoring job interview answers.
Finally, you will get the chance to ask questions to help you pass your job interview.
This course covers everything you need to know to pass your next job interview.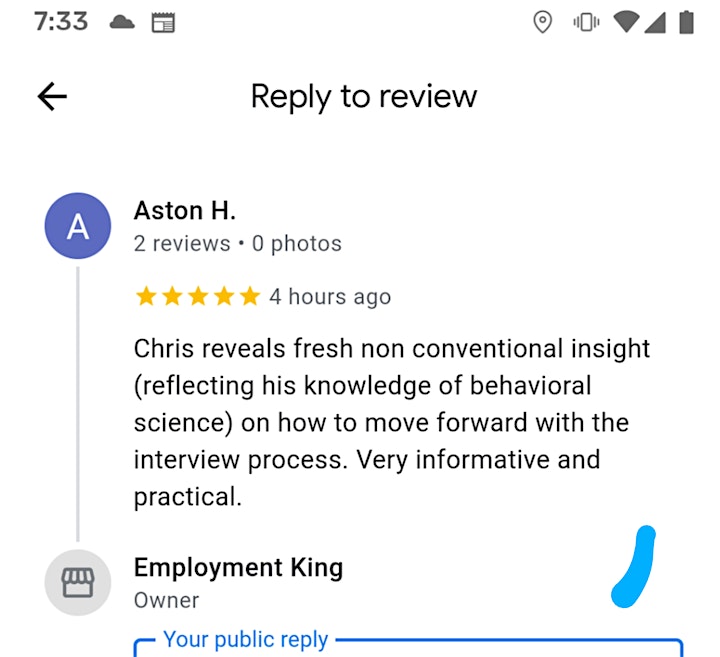 Date and time
Location
Friends' Meeting House
6 Mount Street
Manchester
M2 5NS
United Kingdom