Advanced React Workshop by Kitze - React Live Conference

Saturday, 14 September 2019 from 09:30 to 17:00 (CEST)
Event Details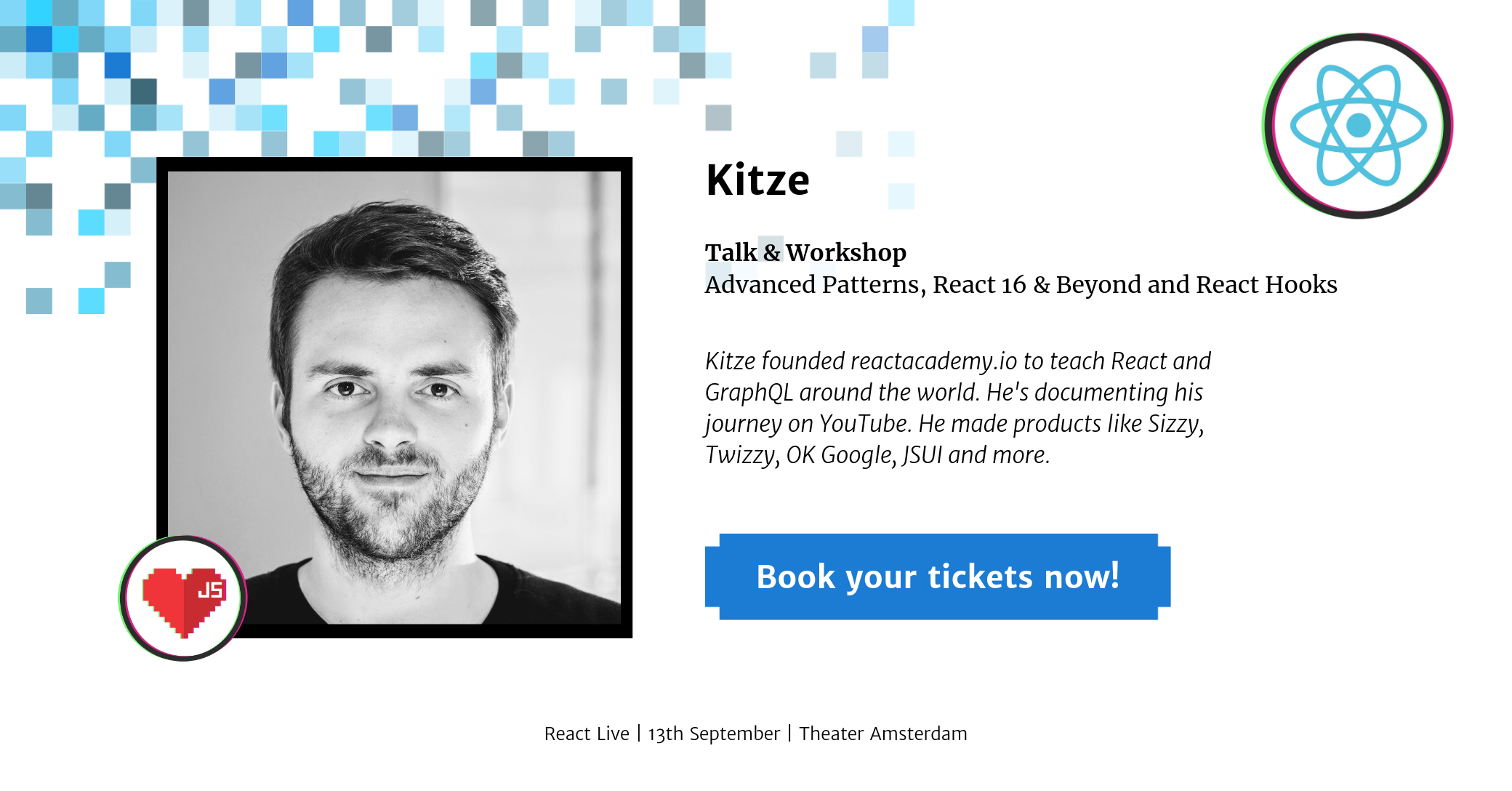 Kitze is a developer with over a decade of experience. He had the chance to work and experiment with a variety of languages and frameworks.

He launched ok-google, sizzy.co, both of which skyrocketed in popularity in the first week.
The open-source community knows him as the author of few popular libraries and tools like JSUI, mobx-router, and custom-react-scripts. His passion is to learn, teach new technologies, and share that knowledge as much as possible.

Location: 
The event will be hosted at Passionate People HQ (Condensatorweg 54, 1014AX Amsterdam)
Quarter Avenue is the name of the building. You should arrive towards the backside where you will see a canteen We Canteen, then you know you are at the right place. Passionate People employees will be downstairs to let you into the building. The Office is on the 3rd Floor
Google maps: https://goo.gl/maps/MGhBx1J2BzC8wGYg9.
Public Transport: 3 minute walk from Station Sloterdijk, Amsterdam

Date: Saturday 14/09/2019
Time: 09:30 - 17:00

Schedule
09:30 Doors Open with Check-in & Morning Snack
10:00 Start Workshop - Part 1
13:00 Lunch
13:30 Start Workshop - Part 2
15:00 Short Break
15:20 Start Workshop - Part 3
17:00 Ending Workshop, Mingling & Drinks

Workshop: React Advanced
Description
An exclusive full-day, hands-on coding workshop to explore advanced patterns and new features in React.
Prerequisites
To attend this workshop you need to be familiar with the basics of React, as well as most of the new features in ES2015.

Topics
Advanced Patterns
We'll explore all the advanced techniques for making flexible and maintainable React components. We'll see how using popular patterns like Compound Components, Controlled Components, Render Props, Function As A Child etc. can help us in simplifying things, making our components more reusable and our apps more declarative.

React 16 & Beyond
React 16 comes with some major changes and an update to the core algorithm. In this module, we'll explore some practical use-cases for Portals, Fragments etc. React.lazy and Suspense will help us to easily code split and lazy load components in our app in order to reduce the final size of the bundle. We'll see how the new Context API can simplify state-management and various component reusability patterns.

Hooks
Classes are so 2018, so we'll start by learning everything about the biggest change that happened to React: Hooks. Combined with Context, they are changing the entire state-management game. We'll cover useState, useEffect, useContext, etc. Although useful on their own, they're even more powerful when combined and abstracted away in custom hooks.
FAQ
1. Do I need a laptop?
Yes.
2. Do I need to have a local setup?
Only if you want to. We're gonna use CodeSandbox for all the exercises so you can even use an iPad or a Chromebook.
3. If I want a local setup, which tools should I install?
Node >= 6.
Create-react-app.
An editor of your choice. VS Code is free and it has everything that you need out of the box.
Hint: You can use nvm, nvm-windows, or n to easily switch Node versions on your machine.
4. What are the prerequisites for this workshop?
Good knowledge of JavaScript, and most of the new ES6 features
Good understanding of React and most of its concepts
For Emergency matters or Problems finding the venue?
Pooya Parsa (Passionate People): +31627593851

React Live Conference
Latest news and tickets? www.reactlive.nl
React Live will take place at the best conference venue in the world Theater Amsterdam.
React Live is a unique opportunity to watch React & React Native experts Live Code on stage, working on a 500m2 screen.
13 Presentations from the World's React & React Native Leaders covering all the new terminologies, principles and tools to apply when building components with React such as React hooks, Render Props, Higher Order Components (HOC's), Context API, Webpack, SOLID and Styled Components.
When & Where

Passionate People HQ
Condensatorweg 54
1014AX Amsterdam
Netherlands


Saturday, 14 September 2019 from 09:30 to 17:00 (CEST)
Add to my calendar
Organiser
Frontend Love Conferences runs "wow factor" Javascript Conferences in the Netherlands.
We bring together Global Javascript Leaders for the benefit of the Frontend Javascript Community of Amsterdam and the Netherlands.
We have had almost 4,000 paying customers to our conferences so far.
But our Frontend Developer Conferences attract people from all over the world with people traveling from over 55+ countries to visit our events.
We are proud to run www.vuejs.amsterdam, www.frontenddeveloperlove.com, www.reactlive.nl, www.angularnl.com alongside running other smaller events in Barcelona, Paris & Berlin.
We are proud to give back to the Javascript Frontend Community alongside our technical partner www.passionatepeople.io