Sales Have Ended
Registrations are closed
Thank you for your interest, but ticket sales have now closed.
Sales Have Ended
Registrations are closed
Thank you for your interest, but ticket sales have now closed.
His Eminence Archbishop Angaelos, Coptic Orthodox Archbishop of London speaks with The Venerable Luke Miller, Archdeacon of London
About this event
Advanced Sunday School at S Andrew by the Wardrobe – quirky, intelligent, and more important than it might at first seem.
ARCHBISHOP AND ARCHDEACON: IN CONVERSATION
His Eminence Archbishop Angaelos, the Coptic Orthodox Archbishop of London, and the Venerable Luke Miller, Archdeacon of London and Rector at St Andrew by the Wardrobe, come together in conversation.
The discussion will introduce the Coptic Orthodox Church to those who may not know much about it. And for those within the Coptic Orthodox community it is an opportunity to learn a little something of the mission at St Andrew's.
Archbishop Angaelos and Fr Luke will look back at the history and theology of the Coptic Orthodox Church, the current life and ministry of the Church including its continuing persecution and look forward to the partnership between The Coptic Orthodox Church and St Andrew's and the Archdiocese of London.
Our covid-safe risk assessment allows 50 Places in the church to hear this lecture, which will also be broadcast via Zoom for those that cannot come on the night.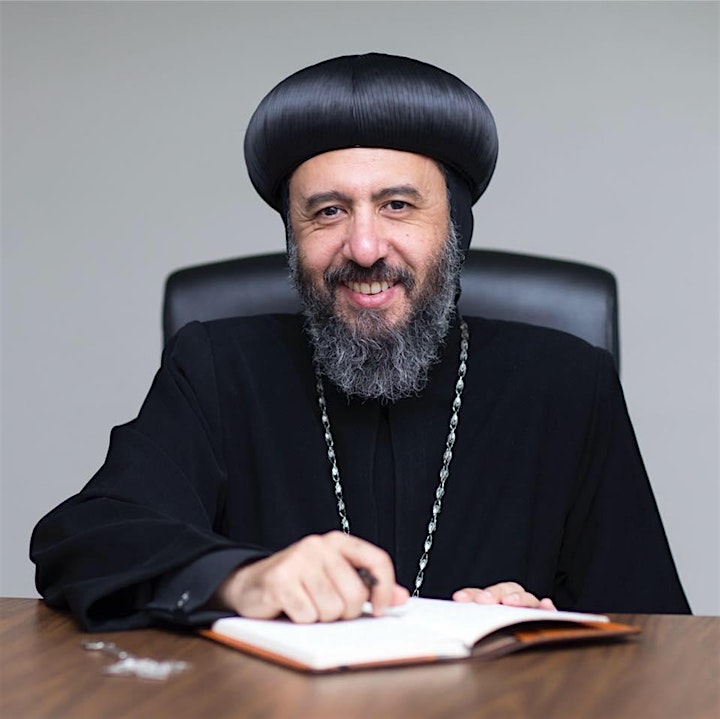 Archbishop Angaelos was born in Egypt and emigrated to Australia in his early childhood with his family. After obtaining his degree in Political Science, Philosophy and Sociology, he continued on to postgraduate studies in law while working in the same field.
He commenced his pastoral ministry in the United Kingdom in 1995 as a parish priest, was consecrated a General Bishop in 1999 and enthroned as the first Coptic Orthodox Archbishop of London in 2017.
Archbishop Angaelos specialises in initiatives relating to advocacy, international religious freedom and development work. He frequently issues statements and comments relating to current religious and minority issues, with his particular focus on dialogue, conflict-resolution, and reconciliation.
He works tirelessly to promote collaboration across the whole spectrum of his official, ecumenical and inter-religious engagements, to facilitate the support of and assistance to those in greatest need and suffering persecution and displacement.
Fr Luke Miller is the Archdeacon of London. Having read history at Cambridge, he trained for the priesthood at St Stephen's House, Oxford, where he completed a Theology Degree. In 1991 Fr Luke was appointed as curate at St Matthew's Oxhey in Watford before becoming curate and subsequently vicar of St Mary's Tottenham from 1994. He became Archdeacon of Hampstead in 2010.
In 2015 he moved to become Archdeacon of London and Rector of the parish of S Andrew by the Wardrobe in the City of London. He has been Chair of the London Diocesan Board for schools and serves as a trustee of a number of charities. Fr Luke is the London Area Chaplain to the Sea Cadets. He was appointed an honorary Chaplain to the Queen in 2020.
Organiser of Advanced Sunday School
St Andrew's is a beautiful Wren church where passing generations have worshipped God and sought his blessing. We warmly welcome those who come to join us for worship or who seek a quiet place in the midst of the city's bustle. We also welcome students and tourists who come to visit our memorial to William Shakespeare, who lived in the parish.