Advanced Textiles Skills (Birmingham)

Tuesday, 1 December 2015 from 09:30 to 15:30 (GMT)
Event Details
Advanced Textiles Skills Course:
A full practical day of learning and practicing fabric manipulation and decorative techniques that will enhance the quality of work and exam results of your students - and you will have fun too!
The day is aimed at textile teachers with a good level of textiles skills and knowledge wanting to expand their existing skills and practice and gain creative ideas for lessons and schemes of work and improve exam performance. 
Practical aspects of the course will be tailored to individual levels but all delegates attending are expected to have knowledge and experience of sewing machine control, threading and problem solving.
Fabric Manipulation & Decorative Skills: (Suitable for KS3/4/5)
Creating samples of construction techniques to take back to the classroom 

using a high level of practical skill.

Work with speed and confidence in the classroom raising standards of practical 

work with students.

Useful teaching strategies and resources. 

Support and ideas for great lessons, schemes of work and improved exam 

performance.

Inspire your students to experiment with a range of creative ideas
Full Day Practical Workshop:
Improving your practical skills.

Use a variety of pintucks, pleats, modern smocking and shadowfold techniques to manipulate fabric. 

Learn how to do Creative Couching, Cord Making, Stitch & Cut Techniques, Reverse Applique, Tassels.
  There will be a display of products that can be made by students from the skills gained.

TIMES:  9:30 - 3:30
All delegates will receive access to a digital delegate folder with all the presentations, useful handouts and resources.
BENEFITS OF THE TRAINING: 
Create classroom resources and learn advanced skills to enhance practical work.

Life long learning in continuing professional development.

An awareness of available resources to support/expand your existing practice.  

Make secure decisions and save time with gained knowledge and experience.

Plan the future for the subject in your school with confidence.

YOUR PRESENTERS:
 Julie Messenger MAEd,  BA(Hons), CertEd
With over 25 years' teaching experience including being an AST and  Head of Design and Technology, Julie received national awards from The Design and Technology Association for her work in teacher training and for managing a Design & Technology Department. 
A keynote presenter and workshop deliverer at The Design and Technology Association's, national and regional conferences, she has also delivered CPD training courses for textile teachers and managed many large scale specialist projects for Textile Technology for Northamptonshire.
Author of several textile publications, Julie has produced many teaching resources and more recently, delivered specialist Health and Safety courses in textiles including an International Design & Technology Conference. Recently graduating with a master's degree in teaching and learning,  her dissertation focused on the  use of technologies to support teaching and learning in a textile technology work space.
Tracey Goodyere (Senior Lecturer D&T PGCE) PGCE, PGcert, AST
Tracey entered the teaching profession in 1997 following a successful career as a designer and manufacturer of wedding dresses and holding a BA qualification in carpet design and related Textiles. Whilst in secondary education sector she held responsibility for progression at Key Stage 4 in D&T, gained AST status and became an advisor for Birmingham LEA. She has presented at the DATA conferences on the implementation of electronic textiles into the KS3 and she is also an examiner for AQA for the GCSE Textiles Technology Examination at KS4. Tracey is about to embark on a doctorate in Education as part of her Higher Educational teacher training role.
Dawn Foxall (Textiles Teachers Skills Academy Founder) Design Consultant
Dawn has 30 years experience in the textiles and garment industry including design consultant, schools presenter and resources developer for EMTEX; Fashion lecturer and programme developer at various UK Universities and FE colleges; course presenter for DATA, Key Stage Developments(KSD), SFE and other course providers. She is a co-founder of Liv.co.uk, the online ethical department store, where she manages design, buying and sourcing.

COSTS & BOOKING VIA EVENTBRIGHT: £165/DAY
All of these events are ticket only and payable IN ADVANCE. The Textile Teachers Academy uses Eventbrite to automate the bookings via credit card and cheque/BACS. When you book you will receive by email a full VAT invoice/receipt.
PLEASE NOTE your booking confirmation and ticket will be emailed to both the delegate and person purchasing. If you do not receive your ticket it is most commonly caused by typing your email address incorrectly, or it is in your SPAM folder. Please check your booking carefully. It is VERY important that your school finance manager supplies your full name and PERSONAL SCHOOL email so that we are able to send you joining instructions and further details. If we only receive the 'school office' email address, we have found in the past that this delays information getting to you or information is not passed on.
If you have any queries, please ask via the Eventbrite site messaging, and leave your phone number or email so that we can contact you easily.
Terms and conditions
1. Once booked, if you cannot come You can send someone else, but you may not get a refund unless we can resell your ticket
2. The draft programme might be subject to change. We would always endeavour to run the day as advertised.
When & Where

Birmingham City University
City North Campus
Perry Barr
B42 2SU Birmingham
United Kingdom


Tuesday, 1 December 2015 from 09:30 to 15:30 (GMT)
Add to my calendar
Organiser
Textiles Skills Academy
The Textiles Skills Academy brings together experienced education presenters and industry experts to deliver relevant seminars and practical workshops for Art and D&T textile teachers, to support their delivery of the curriculum.
The events are delivered by skilled teachers, trainers and industry practitioners to give an opportunity to develop classroom resources, learn new skills and network with fellow teachers.
Founded by Dawn Foxall in February 2015, the Textiles Skills Academy runs events, factory visits and practical workshops throughout the year.
Dawn Foxall has 30 years' experience in the textiles and garment industry as design consultant; presenter and resources developer for Schools for EMTEX; has worked as Fashion lecturer and programme developer at various UK universities and FE colleges; course presenter for The Design and Technology Association, Key Stage Developments (KSD), SFE and other course providers.
Dawn was a co-founder of Liv.co.uk an online ethical department store, where she managed design, buying and sourcing for the Liv brand; in 2017 she launched her own brand, Foxology, producing ethical and British made knitwear and is currently Senior Pattern Tutor at Fashion Enter Ltd for the Fashion Technology Academy. She continues to work with Fairtrade and organic factories in India and Egypt, sourcing ethical and British made products and brands. 
Education experts working with Textiles Skills Academy include:
Louise Davies, Heidi Ambrose-Brown, Julie Boyd, Nicky Simpson, Julie Messenger, Kate Hufton and Tracey Goodyere.
Industry partners include:
Fashion Enter Ltd. (London); Textiles Centre of Excellence (Huddersfiled); David Neiper Ltd. (Derbyshire)
Textiles Skills Academy Founder Dawn Foxall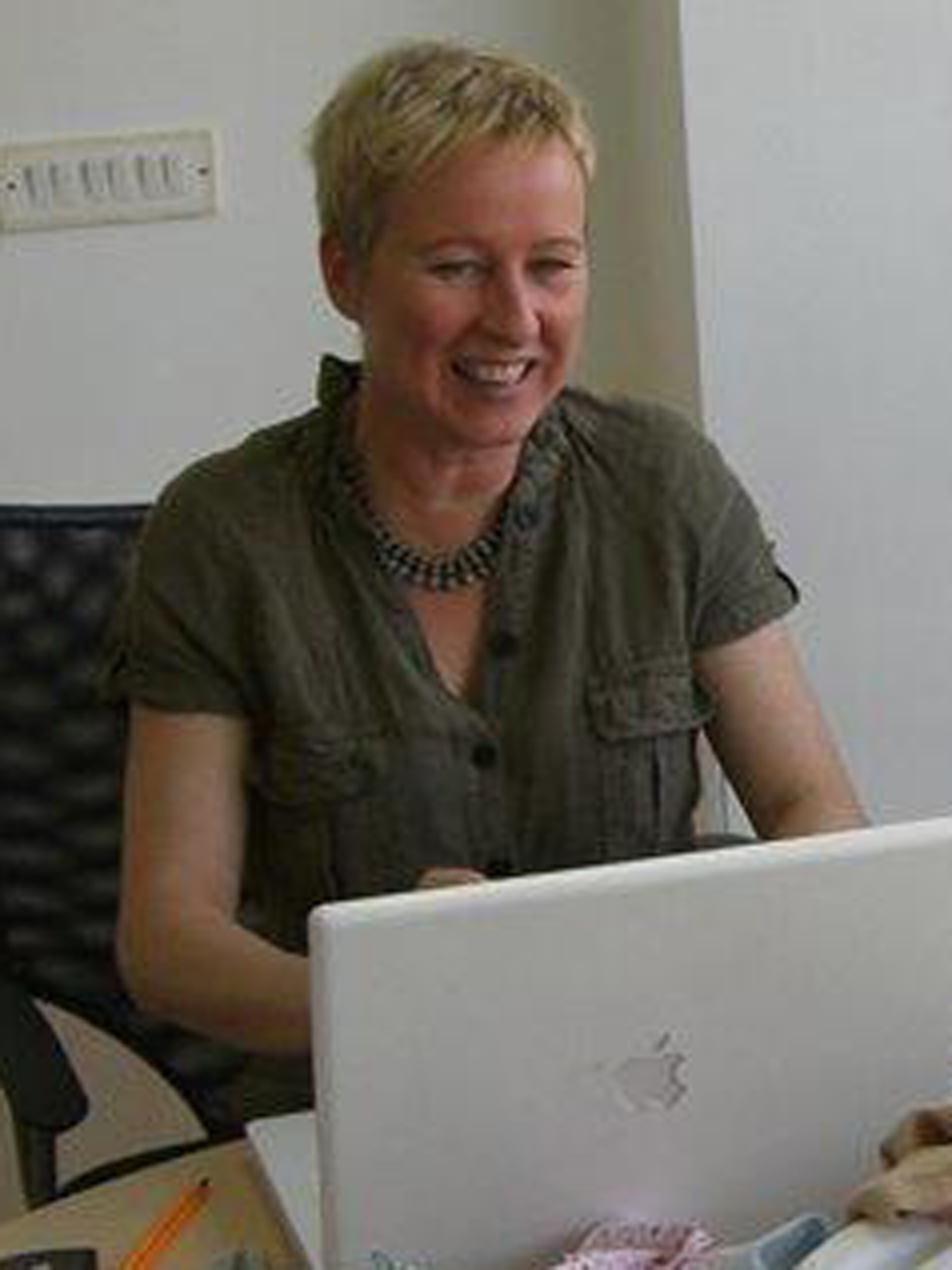 Advanced Textiles Skills (Birmingham)