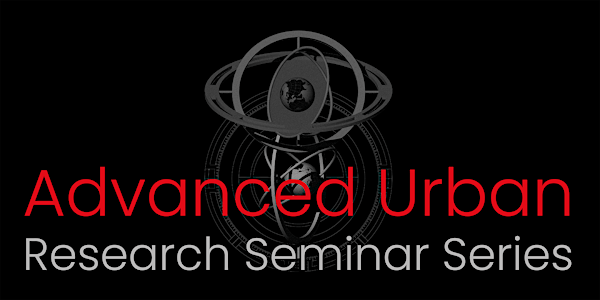 Advanced Urban Research Seminar Series | Spring – Summer 2022
Shaping public knowledge: urban, cultural, and research practices
About this event
This seminar series aims to map the public nature of urban, cultural, and research practices that are articulated through critical discourses of emerging centres of knowledge, such as research labs, centres of pedagogy, independent and HE based academic entities. Through dialogue and shared practice, seminars seek to establish and describe structures and networks of pedagogy and research that escape traditions of state, institutional, and colonial power and challenge more established disciplinary constraints. The series is an opportunity to explore the role of emerging urban, cultural, and research centres in shaping new forms of collective discourse.
The series is organised by Advanced Urban, a centre for interdisciplinary urban research that intersects new materiality, media, and space.
https://www.advancedurban.org/
Tuesday 3 May (17:30 – 19:30) | Independent School for the City | Rotterdam, Netherlands | Mike Emmerik
The Independent School for the City is a post-graduate educational platform based in Rotterdam, the Netherlands. The school is an initiative of Crimson Historians and Urbanists and ZUS (Zones Urbaines Sensibles) and is rooted in their practices of combining a critical and activist approach to the city with effecting real change through architectural and planning projects. The Independent School for the City is founded on a strong belief in an incremental instead of a tabula rasa approach to city planning which blurs the lines between critique and practice on the one hand, and research and policy on the other.
https://www.schoolforthecity.nl/
Tuesday 17 May (17:30 – 19:30) | Digital Departures Lab | Glasgow, Scotland | Prof Timothy Barker, Dr Louise Harris, Prof Sarah Cook
The Digital Departures Lab focuses on the untraditional or deviant use of digital media, both in terms of practical and theoretical interventions. This might include, for instance, DIY or hacktivist approaches to digital technologies or filmmakers that explore alternatives to digital cinema by repositioning or repurposing the apparatus. It might also include historical work that explores the role of errors in computer history, art histories of movements such as net art, as well as theoretical work around the agency of media in communication and sociological work around the deviant use of technology.
https://www.gla.ac.uk/researchinstitutes/artslab/labsandthemes/ourlabs/digitaldepartures/
Tuesday 31 May (17:30 – 19:30) | Beirut Urban Lab | Beirut, Lebanon | Ahmad Gharbieh
The Beirut Urban Lab is a collaborative and interdisciplinary research space. The Lab produces scholarship on urbanization by documenting and analyzing ongoing transformation processes in Lebanon and its region's natural and built environments. It intervenes as an interlocutor and contributor to academic debates about historical and contemporary urbanization from its position in the Global South. We work towards materializing our vision of an ecosystem of change empowered by critical inquiry and engaged research, and driven by committed urban citizens and collectives aspiring to just, inclusive, and viable cities.
Tuesday 21 June (17:30 – 19:30) | Perverting the Power Vertical: Politics and Aesthetics of the Global East | London, England | Dr Masha Mileeva, Dr Mihał Murawski, Denis Maksimov
Which power verticals hold sway over the Global East (and south and west and north)? And how can we identify alternative styles, shapes and geometries of power – horizontals, diagonals, perpendiculars, transversals, skews and intersections – within and without the (past, present and future of) the "trans-socialist" Global East?
While seeking to make sense of the Power Vertical, PPV also looks beyond it, exploring the heterodox shapes, styles and ideologies populating the Global East, and emanating from it to the wider world. Moreover, it aims to probe ways in which scholars can collaborate with artists, architects and activists from across the Global East: not only to analyse the Power Vertical (not only to take the Power Vertical seriously), but also to develop tactics and strategies to ridicule, trick, twist, undercut, queer, resist - and pervert it.
Tuesday 28 June (17:30 – 19:30) | CUP (Centre for Urban Pedagogy) | New York, USA | Christine Gaspar
The Center for Urban Pedagogy (CUP) is a nonprofit organization that uses the power of design and art to increase meaningful civic engagement particularly among underrepresented communities. CUP projects demystify the urban policy and planning issues that impact our communities, so that more individuals can better participate in shaping them. CUP believe that increasing understanding of how these systems work is the first step to better and more diverse community participation.
CUP projects are collaborations of art and design professionals, community-based advocates and policymakers, and our staff. Together they take on complex issues—from the juvenile justice system to zoning law to food access—and break them down into simple, accessible, visual explanations. The tools they create are used by organizers and educators all over New York City and beyond to help their constituents better advocate for their own community needs.
The seminars will be held online and a joining link will be sent to registered attendees on the day of the event.