Advances in Biophysical Methods for Protein Characterisation Conference
Description
Overview:
Protein dynamics, structure, and stability are essential factors for biological activity, the proper function of protein-based biotechnology products, as well as their efficacy and safety as pharmaceuticals. Experimental characterisation of each of these factors requires multiple biophysical techniques, spanning from light / x-ray / neutron scattering to spectroscopy, calorimetry, electrophoresis, microscopy, densimetry, rheology, and surface characterization. This conference focuses on advances in biophysical characterization of proteins in solution and the solid state, as well as proteins at bulk interfaces, from the perspective of fundamental and applied biotechnology, including biopharmaceuticals. This includes novel uses of existing methods, as well as development of new methods or adaptions of methods from other fields.
Agenda:
Keynote speakers: Prof. Roland Winter 

(TU Dortmund)

and Dr. Christian Rischel 

(Novo Nordisk)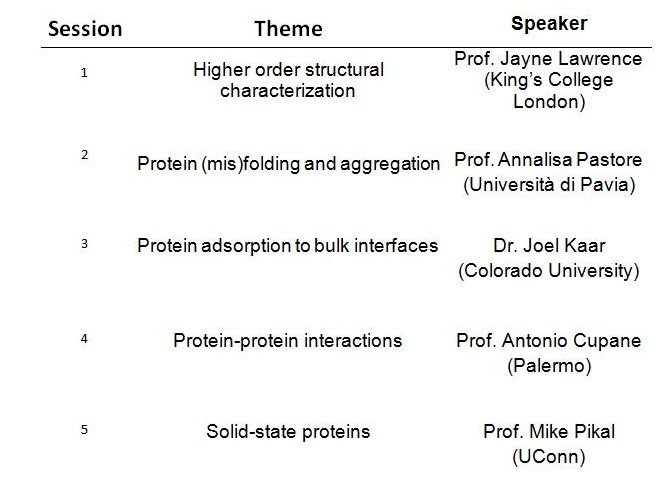 Call for Abstracts:
Abstracts are requested for oral presentations and poster presentations focused on experimental and theoretical studies of protein dynamics, structure, and stability as they pertain to the proper function of protein-based biotechnology products. Specific topic areas include: higher order structural characterization, protein (mis)folding and aggregation, protein adsorption to bulk interfaces, protein-protein interactions, solid-state proteins, and advanced characterization techniques across any of these areas.
Abstracts are limited to 250 words, and should be submitted via email as a Word document (one file per submission) to: Maria Papachristodoulou .
Due date: Has been extented to 17 of June 2016 for oral presentations; 29 June 2016 for poster presentations.
Presenters will be notified by 1 July 2016 (oral presentations) and 5 August 2016 (poster presentations) regarding accepted abstracts, to provide sufficient notice for travel planning purposes.
Questions regarding abstracts and deadlines should be addressed to Maria Papachristodoulou .
Students can apply for reduced registration fee.For more information please email at <maria.papachristodoulou.15@ucl.ac.uk>.
Tickets:
Early bird tickets will no longer be available for sale after the 1/9/2016 at 23:30

Regular tickets will not longer be available for sale after the 4/10/2016 at 23:30
PhD students have a 50% discount on the ticket price
The above dates are also true for the student tickets
Fees Include:
Registration

5 coffee breaks

2 light lunches

1 Welcome Cocktail

Day 2 evening reception
Accommodation (Recommended):
October is a high season for business events in Palermo so please try and book well in advance.
When booking please specify in the request box that you are attending the Advances in Biophysical Methods for Protein Characterisation Conference. 

The hotel links are:
Grand Hotel Piazza Borsa: http://www.piazzaborsa.it/index.php/it/
Hotel Porta Felice: www.hotelportafelice.it
Hotel Palazzo Sitano: www.hotelpalazzositano.it
Quintocanto Hotel: www.quintocantohotel.com
Hotel Ambasciatori: www.ambasciatorihotelpalermo.com