Description
Come along to one of our Advent Meditations & Sound Bathes
---
Sundays 9 & 23 December 2018
08:30 - 09:30 Relaxing Bodyscan Meditation
09:45 - 11:00 Candle Light Sound Bath
Sundays 9 & 23 December 2018
15:30 - 16:30 Powerful Rhythmic Breathing Meditation
16:45 - 18:00 Candle Light Sound Bath
Relaxing Bodyscan Meditation
Relaxing Bodyscan is one of the most traditional, effective and clean meditation techniques. F.e. it features in mindfulness practices and also in Vipassana meditation. It is an excellent concentration technique and involves observation of the body inch by inch from your head to your toes - just like a full body CT-scan. This practice sharpens your mind & your senses, connects your body & mind, makes you more efficient and resilient. It aids clear thinking, decision making and creative solution finding processes for your everyday life. Initially Bodyscan is best practiced in a group for support until you are familiar with the technique and happy to do the practice at home. We will guide you through the technique.
Rhythmic Breathing Meditation
This Rhythmic Breathing Meditation explores the connection between your breathing and the balance of your physiology. The active meditation is followed by a deeply relaxing silent meditation. It is an excellent technique for people who find it difficult to get into meditation. Advanced meditators discover deeper planes of awareness. It leaves you feeling refreshed and energised. We will guide you through this powerful practice.
Candle Light Sound Bath
Treat yourself to a soothing Sound Bath. Take a break from your busy seasonal preparations and find refuge in the atmosphere of the mesmerising sounds of crystal singing bowls, gongs, drum and more. Whilst you relax, the powerful vibrations can reboot your physiology back to balance and harmony. Its like a lovely sound massage.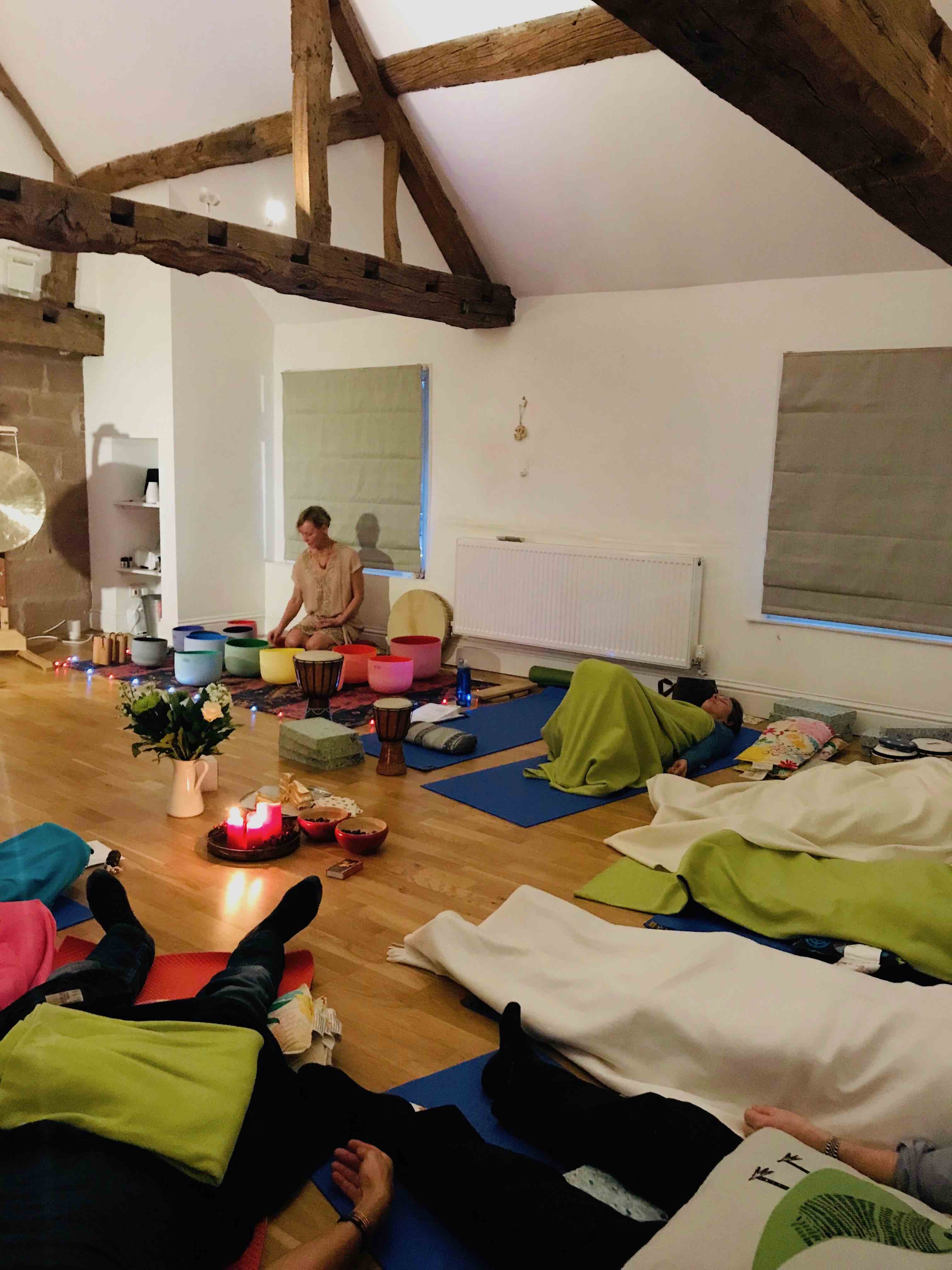 FAQs
Who are these events for?
The Sound Bathes are for you if you just want to take a break from your busy schedule, relax and let go of stress and tension . The Meditations are for you if you want to learn powerful techniques that bring greater health, happiness and harmony into your life. Whether you are new to holistic concepts or well into the practice, everybody can take part and benefit.
Which tickets should I buy?
You can choose to attend any single event, either a single meditation (£12) or a single sound bath (£15). You can combine the meditation & sound bath on one day (£22). Or if you plan to attend our events regularly you can invest in our 10-tickets deal for £100 valid for 10 single events and 1 year from the date of purchase.
You can also simply contact us if you prefer to book over the phone. Either e-mail ki2energi@gmail.com or phone Conny on 07894317964 and Jane on 07976697853.
How can I contact the organiser with any questions?
We are happy to hear from you. Either e-mail ki2energi@gmail.com or phone Conny on 07894317964 and Jane on 07976697853. If you get the answerphone please text or leave your number and the best time to return your call.
What should I bring, what should I wear?
Bring yourself and your curiosity.
Best to wear comfortable clothes, preferably made from natural fabrics, no tight jeans or uncomfy belts. Possibly bring an extra jumper or cardigan and a pair of house socks so you feel always snug.
We provide water, fruit tea & biscuits. Chairs, Yoga mats, props & blankets are all available for your comfort either lying down during the sound bath or sitting up during the meditations. You could bring your own water bottle.
Should you think of anything else that you might need for your well-being, just bring it along.
If you have any specific requirements please let us know before the course.
What are my transport/parking options for getting to and from the event?
The Wishing Well in Bromsgrove is situated opposite the Waitrose car park. Car parking fees apply (£1 per hour). There are free parking opportunities within walking distance of the venue, f.e Kidderminster Road or Asda car park.
Are there ID or minimum age requirements to enter the event?
You should be 18 and above. If you are between 16 and 18 we ask for parental permission.
How many places are there?
There are 10 places in total for each event.
What's the refund policy?
If you do need to cancel your booking, you will get 75% of your full payment refunded until 7 days before your first workshop. No refunds after.
Is my registration fee or ticket transferrable?
Yes your ticket(s) are transferrable. Preferably let us know so we can provide the same pre-event information to the new participant.