Description
Marketing for Success
This masterclass takes place over two full days. Please note that it is necessary to attend both days. The dates are:
Thursday, 21 February, 09:30 - 16:30
Thursday, 28 February, 09:30 - 16:30

This two day programme will help you to:
• Identify who is the best customer for your business
• Become known by your customers
• Understand the key differences between Business to Business Markets (b2b) and Business to Consumer markets (b2c)
• Learn how to identify your organisation's strengths and weaknesses and recognise areas of opportunity and threat.
• Gain knowledge on how to build and promote your brand, using traditional and social media to promote your business

Your facilitator: Paul Rhodes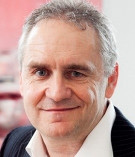 Paul has over 25 years' experience in a number of blue chip companies in a variety of marketing and leadership roles. He now specialises in developing and delivering courses with a Strategic, Commercial and Marketing bias for new and established enterprises. Paul's consulting roles have included developing strategic plans for new entrants into markets and working on strategic projects in a range of sectors including retail, textiles, chemicals and renewable energy.
Am I eligible?
The AD:VENTURE project is aimed at providing support to young and growing businesses with an eligibility focus on:

SMEs under 3 years old

Based in the Leeds City Region

Trading in an eligible sector (this generally excludes primary agriculture, banking and financial services, activities related to education or social care, and those sectors trading directly with consumers e.g. retail and hospitality)

Commitment and plans for achieving growth in turnover and creation of jobs
Organiser of AD:VENTURE Masterclass: Marketing for Success (Halifax)
Leeds Beckett University is a partner in the AD:VENTURE programme, an ERDF-funded project which brings together Universities from across the Leeds City region with local Councils, Chambers and with private sector partners. The AD:VENTURE partners offer a diverse range of expertise and services to support young businesses with an ambition to grow.  The funded support programme includes access to masterclasses, peer-to-peer learning opportunities and expert one-to-one advice.
Find out more at:www.leedsbeckett.ac.uk/adventure
To contact us, email adventure@leedsbeckett.ac.uk or ring (0113) 812 4860