Adventure Screening & Filmmaker Q&A: "Into the Empty Quarter" (by Alastair Humphreys and Leon McCarron)

Wednesday, 3 September 2014 from 19:00 to 21:00 (BST)
Event Details
"No man can live this life and emerge unchanged. He will carry, however faint, the imprint of the desert, the brand which marks the nomad; and he will have within him the yearning to return, weak or insistent according to his nature. For this cruel land can cast a spell which no temperate clime can match." (Wilfred Thesigner, British explorer)
Leon McCarron and Al Humphreys are both high-profile adventurers (read more about Leon here and more about Al here). Al was named as one of National Geographic's Adventurers of the year for 2012 and Leon is a Fellow of the Royal Geographical Society.
Their film Into the Empty Quarter tells the story of their journey through the world's largest sand desert, the Empty Quarter of the Arabian Peninsula - the dunes and the plains; the silence and the nights filled with stars; the local hospitality: all this and more from their 1000 mile trek.
Their trip is hastily planned and low budget: unable to afford camels they instead hope to drag a homemade steel cart (filled with 300kg of supplies) through the ferocious desert heat. You can read more about the background to the expedition in this article.
Join us for a screening of the film and a Q&A with filmmaker Leon McCarron, if:
1. You want to be inspired by a tale of a great adventure.
2. You're curious to meet Leon McCarron in person.
3. You're keen to learn from Leon how you can make a living as an adventurer.
4. You want to meet others who are interested in exploration and expeditions.
5. You'd like to hear more about Leon's other journeys (like his 6-month, 3000 mile expedition walking the length of China) and his tips.
About the Speaker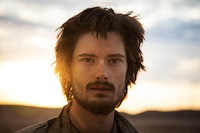 Leon McCarron is a Northern Irish adventurer and cameraman. He is a Fellow of the Royal Geographical Society. In 2012 he crossed 1000 miles of the Empty Quarter desert. That same year, he also concluded a 6-month, 3000 mile expedition walking the length of China. National Geographic produced a 4-part TV series of the journey. You can read more about his journeys here, and watch his films and TV shows here. Leon's first book - The Road Headed West - about his bicycle journey across North America was released in July 2014. It is now available here.
---
This event is part of our ongoing series - check out the rest here.
When & Where

The Escape School
1 Frederick's Place
Bank tube - Cheapside exit
EC2R 8AE
United Kingdom


Wednesday, 3 September 2014 from 19:00 to 21:00 (BST)
Add to my calendar
Organiser
 Escape the City is a global community of +300,000 talented professionals who believe that life is too short to do work that doesn't matter.
We help talented professionals escape unfulfilling jobs and transition into more fulfilling work, build careers on their own terms, and start businesses that matter.
Join our Tribe at www.escapethecity.org.