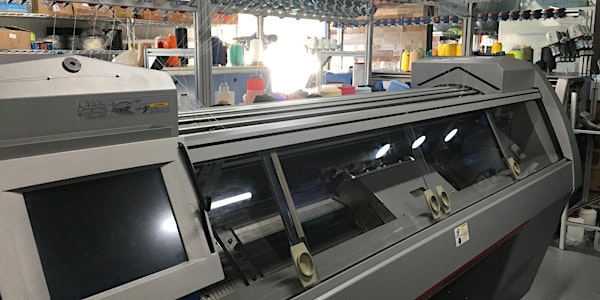 Adventures in Knitting and Textiles : Live Q&A with Fabdesigns, Inc.
Refund policy
Contact the organiser to request a refund.
Eventbrite's fee is nonrefundable.
Adventures in Knitting and Textiles is an experimental workshop exploring the possibilities of machinery, yarns, and creative techniques.
About this event
The Creative Edge: Adventures in Knitting and Textiles is an experimental workshop exploring the possibilities of machinery, yarns, and creative techniques.
Without any direction, we aimlessly bounce from one idea to the next, and without a plan, we may not always take the right action.
In this workshop, we will answer your questions and help you start making a plan to turn your ideas into products that people can feel, touch, and enjoy. Understand and experience textiles, materials, and flat knitting machinery with an expert guide!
Here is a space to ask the questions you always wanted to have answered. Hone your skills to create.
Enjoy learning about textiles, design processes , manufacturing and specifically computerized flat knitting in this curated knit textile community workshop sponsored by Fabdesigns, Inc.
In this interactive virtual class, students will explore the tools, materials machine capabilities, and creative possibilities of industrial knitting machinery. Our studio has Stoll Electronic machinery, but the content is typically applicable to all brands of flat knitting machinery. Bring your curiosity and creative spirit. Submit questions in advance or via chat, and we will process them together.
FAQs
Who is the course for? Adults wishing to create textile products and or explore the creative potential of commerecial knitting. Designers, knitting professionals, and those who'd like to create knitting or textiles are all welcome.
Please Note: We'll be talking about electronic industrial machines used for fashion and other products, and not much about hand knitting or hand machine knitting, though all are welcome.
What level? No experience necessary.
How will the event be delivered? Online using either Zoom or Skype - you will be sent a joining link a few days prior to the workshop. The language of instruction will be English.
Cost? The cost of this 30-minute Q&A workshop is Free
What is Needed to Attend? Computer or Phone with a microphone and consent for us to record. We will be recording these and posting these meetings on-line. By registering all participants agree to use of their voice, images, questions, and responses for this purpose.
This is an experimental learning experience, and we need to work together to create a safe and welcoming environment. Treat everyone with respect. Abusive language and degrading comments about race, religion, culture, sexual orientation, or gender will not be tolerated.
Class size: minimum: 1 maximum: 100 (Zoom limit)
We will have this class for even one person. Max is 100 in the Zoom Room.
The Zoom link will be emailed to registered participants in advance of the program. The email will come from Eventbrite. Please only register for yourself. We will only be allowing participants into the meeting if their name (and email address) is on the registration list. We will add more events if demand warrants.
Connie Huffa brings a unique perspective with her vast experience in the arts, design, product develoopment, and engineering of textiles and specifically flat knitting in 3D. Her background spans technical textiles, apparel, medical, automotive, and design and engineering of many types of textiles in the United States, Asia, Europe, South and Central America.
For more information on Fabdesigns Inc. : https://fabdesigns.com/about-us