About this Event
About this Event
20th to 23 Dec 19 - 10am to 10pm
115 Park Street, Mayfair London W1K 7AP
WHY INVEST IN DUBAI
Dubai offers the most secure and amazing lifestyle.
Expo 2020 will attract Millions of visitors to Dubai
Most favourable destination for Buy to Let Properties.
Freehold Properties for you and your generations to own.
Tax Free Returns on Investment in excess of 10% Per Year.
No Tax on Capital Gains.
Affordable Down Payments (As little as 5% Only).
Interest Free Payment Plans over 3 to 10 Years directly from the developer.
Dubai recorded the highest number of Real Estate Transactions in Nov 19.
No Restriction for Foreign Buyers and Investors to Invest in Dubai.
Mortgage option also available for Foreign Investors.
Political stability and consistent economic growth.
Strict Laws to Protect Foreign Investors
Payments are only made to secure Escrow Account for Investor Protection.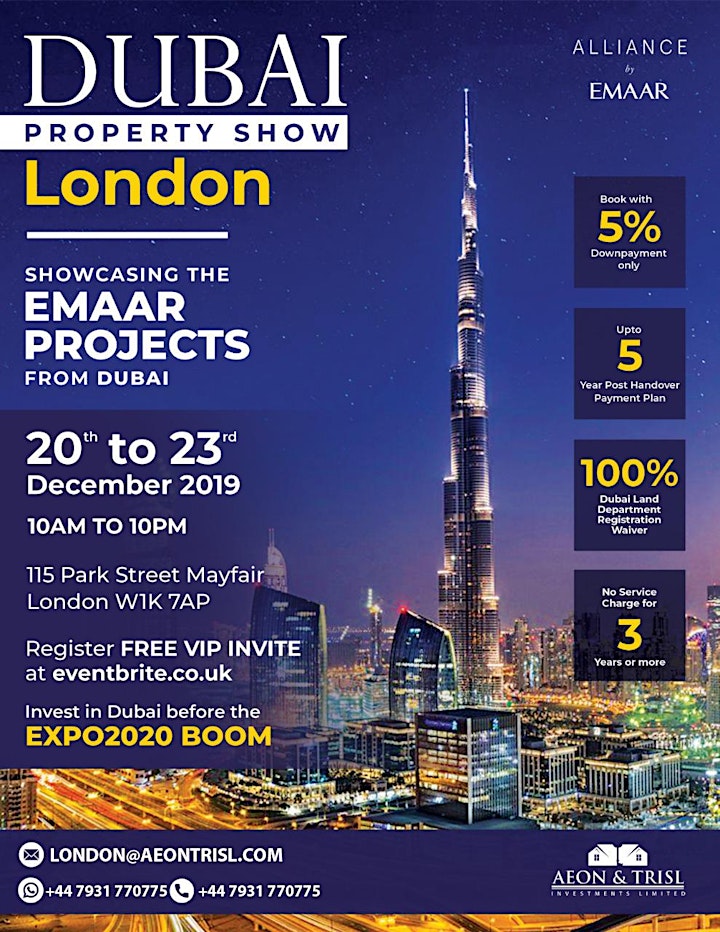 Explore and Invest in the most stunning properties from Dubai with affordable Payment Plans.
Meet EMAAR, world-class developer from Dubai and its top Diamond Broker AEON TRISL Investments in London fro 20th & 23rd December 2019 10am to 10pm with a diverse range of projects on display and thousands of properties to choose from. Perfect place to find fantastic property and discuss future investment plans with leading real estate investment experts and agents. Amazing Post Handover exclusive payment plans to meet your investment needs.
Learn more about investing & living in Dubai and what it has to offer you both personally and professionally. Find the right financial consultant for your needs and discover what property would suit you best, from budget apartments to luxurious villas to beach front & Dubai downtown properties and more, offering you the highest returns on investment.