About this Event
The Workshop
Aerial Restorative Yoga is the gentle, healing side of Aerial Yoga. This powerful method focuses the mind through powerful visualisations as it floats the body through a series of gentle gyro-kinetic motions, deeply opening the entire spine, hips, and connective tissues of the body.
During the workshop we will explore:
In the first hour we will be using the hammock at a low height as Rose leads you through a calm, restorative yoga practice.
You will learn how the hammock adds a whole new dimension to your restorative yoga practice with a focus on stimulating our parasympathetic nervous system to combat the effects of stress from this very busy period.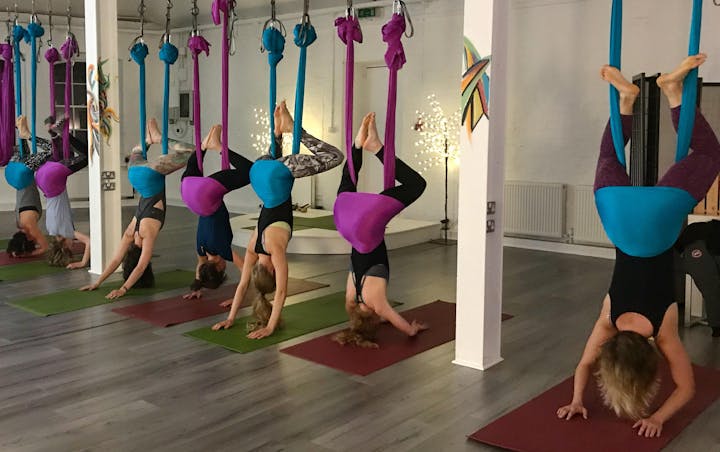 After this, relaxed and safely cocooned inside the hammock, Rose will take you on a Yoga Nidra journey. Yoga Nidra is a deep relaxation practice that involves following the sound of the teachers voice and nothing more. You will enter into a state between waking consciousness and sleep where a verbal visualisation will take place with a focus on stress relief. You will emerge refreshed, peaceful, and blissed out.
Equipment:
On the day of the workshop wear comfortable clothing and bring a yoga mat.
No yoga or Aerial yoga experience is required to attend this workshop, just an interest in yoga and the body.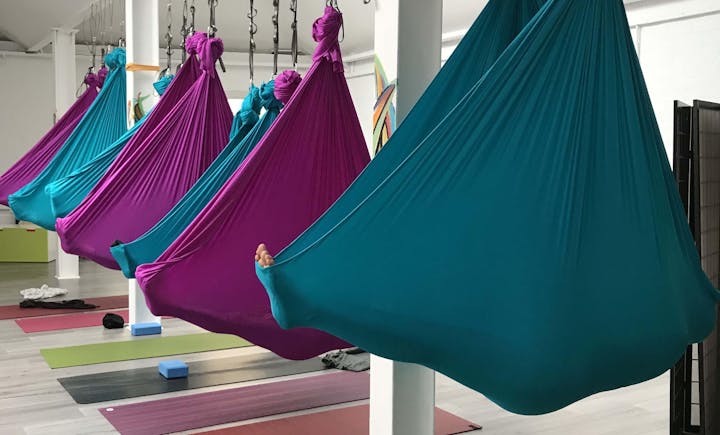 Rose's bio
Rose's passion lies in facilitating healing and vitality through art-making and yoga. As an Art Psychotherapist and yoga teacher she understands how both of these practices work harmoniously together, encouraging a flow state in which healing can occur in mind, body and spirit.
Rose loves the discipline of her Ashtanga Mysore style yoga practice. However, she enjoys the creativity, expression and freedom of many different styles of yoga and movement.
In particular, she loves the playfulness of Aerial Yoga and sharing the practice with her students. She teaches Aerial Yoga regularly and enjoys the sense of community, trust, and child-like exploration that the practice brings.
About Aerial Yoga
Aerial Yoga utilises the benefits of gravity and traction. Using the hammock in diverse ways to both strengthen the body and safely deepen flexibility. The Aerial Hammock is unique in its ability to decompress joints, students often comment on the ability of the hammock to relieve lower back pain.