Location
Grow Tottenham
Ashley Road
London
N17 9LZ
United Kingdom
Celebration of Art, Music, Theatre + Escapism by Aespia School of Art at Grow, Tottenham (London) // Party 2pm - 2am + After Party 2am - 6am
About this event
Since their previous 24-hour extravaganza in 2017, Aespia Festival has been touring as Aespia School of Art, bringing a taste of their creative magic to their favourite festivals in the UK and across Europe.
Hosting immersive stages and performing live art and music workshops at the likes of Meadows in the Mountains, Bestival and Latitude, the Aespia family is hungry to share stories and artworks they've accumulated along their adventure with old friends and new.
This 12-hour Celebration of Art, Music, Theatre and Escapism will showcase some of the incredible work produced by the curious creatures who delved into their world; welcome back some of their beloved artists over the years; and will invite fresh minds to explore and revel in their signature sounds and sensory shows.
~~~ THE CAVE ~~~
Hosted by Aespia's resident DJs - Jnr Smooth, Late Nite Johnson & Keisuke - The Cave is where sensory, visual dreams come true. Bursting with light installations, hanging sculptures, projections, infinity mirrors and tactile glitter nonsense, the cave is somewhere you can get lost in the day and get loose at night.
Look forward to a showcase of passionate Record Collectors, Live Percussion and a custom-built sound system to take you right through to 6am.
LINE UP >> JNR SMOOTH; KEISUKE; LATE NITE JOHNSON; LEOPOLD; MAN LIKE STACK; MAROT; NICKY SOFT TOUCH
~~~ THE SHACK ~~~
The Shack is part sound system, part museum, part exhibition - it brings together music, fun, art, film and partying, all under one tin roof. Using found and discarded wood, videos and music, it gives them a new life in the form of an art installation. From the wood frame to the videos and music being projected, The Shack reinterprets it all in a fun and immersive experience. 
Nestled in a nook of Grow's backyard, The Shack blends into its surroundings. The music policy is strictly anything goes: from Jungle & DnB to Hip Hop & Film Score, no two DJ sets are alike.
LINE UP >> ARLEN; ECHO KNIGHT; HANDY; IMMERSE; KRED; LONDON DISCO SOCIETY; MIKUS; SICKNOTE
~~~ THE GLASS THEATRE ~~~
We're exceptionally proud to announce the grand opening of Aespia's brand new stage, THE GLASS THEATRE.
An intimate, glittering paradise of live performance art, THE GLASS THEATRE is brimming with the latest, greatest, loudest and proudest LGBTQIA+ FOC, female-identifying, living-with-disability huns with something to prove.
Cosy up in the only theatre in London made of glass, where the performances are as transparent as their surroundings. Laugh, cry, and find yourself unexpectedly aroused, as our talented storytellers, comedians, performance artists, drag royals, poets, spoken word-ers and dancers give the world what she needs most: truth, beauty, love and art.
THE GLASS THEATRE will showcase back-to-back scratch-style sessions until you're shimmying on your seats, ready to dance off the drama on stage with DJ Tasty Lopez!
THE GLASS THEATRE is a queer-run, queer-friendly, queer-arts, fully accessible stage. It is a space for anyone who doesn't identify as a straight, white, able-bodied, cis-man to showcase their talent. We expect our audience to support, respect and appreciate this. This is by no means exclusive to THE GLASS THEATRE stage or audience - we expect this support, respect and appreciation to spread through the entire venue and audience.
LINE UP >> TBA
- - -
++ Live Music • DJs • Live Art • Performance Art • Installations • Sculptures • Live Painting • Theatre • Comedy • Poetry • Spoken Word • Storytelling • Workshops • Walkabout Saxophonists & Percussionists • Art Classes • Hidden Dens • Creative Stalls • Food & Drinks ++
• • • DJs, Artists, Performers TBA • • •
- - -
The Aespia School of Art Graduation Party is welcome to all and will run from 2pm - 2am on Saturday 7th September, followed by an after party until the sun says hello, for those who can't get enough.
There will be a very limited amount of tickets available to the Aespia School of Art After Party, so please do grab them quickly if you want to celebrate with us further!
- - -
The prices of tickets - £10, £20, £30 - are based purely on supporting our team of creatives, ensuring they are paid for their time, love, energy, equipment and materials. By purchasing a ticket to this celebration, you are directly funding their art.
We're trying something new: our tickets are not structured in a first-come-first-discount manner; instead we want to offer three price options to participants of different incomes and financial situations, in an honesty-box style system, where all tickets are available until they sell out.
We hope those who can afford it will buy our Tier 3, and that those who can't will have access to our Tier 1, leaving the majority of tickets sold at our suggested price in Tier 2. To be clear, the party can't be funded on Tier 1 tickets alone - we wouldn't be able to pay anyone - so, Aespia participants, we encourage you to purchase the ticket that best suits your financial situation, to make it as fair as possible.
- - -
This is strictly an over 18s ticketed event - proof of ID and tickets are essential to get in. The venue also has a strict capacity - once tickets are gone, they're really gone. Last entry is 10pm.
Please bring your own reusable mug or cup to the event to use at the bars. We will not be serving drinks in any single-use plastic or paper containers. There will be our own Aespia pint-sized mugs available to buy, which you can decorate and customise too!
Nearest train/bus station is Tottenham Hale.
- - -
↓ Check out what went down in our woods at the last Aespia Festival below! ↓
Get in touch -->> hello@aespia.art
Check us out -->> www.aespia.art
~ ~ ~
We can't wait to celebrate with you...
Big love,
Aespia x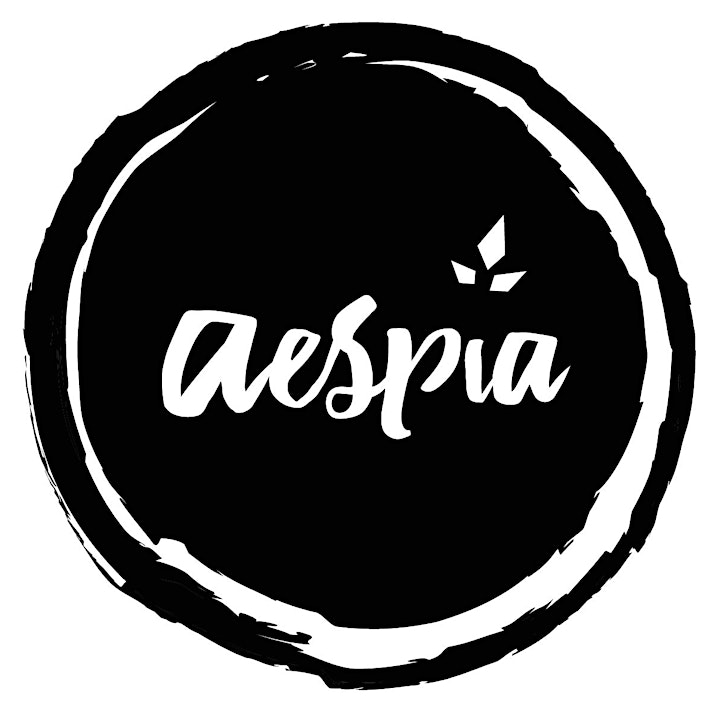 ★ 2018 'NEW FESTIVAL ON THE BLOCK' WINNER ★