Event Information
Refund policy
Contact the organiser to request a refund.
Eventbrite's fee is nonrefundable.
Doing Business in Africa and Future Opportunities
About this event
Covid-19 has undoubtedly disrupted the global economies, trade landscape, supply chains, markets, consumer confidence and business models which will create a lasting economic consequences. The vulnerability of major economies has risen as growth slowed and various countries are now less able to absorb shocks. The global trade Partnership Arrangements (EPAs), investment relations and WTO are in transition.
These economic trends and indicators are undoubtedly great opportunities for global economies, companies and investors to establish alternative economic and investment relations and to unlock market opportunities in the African region for growth. US Prosperity Africa Programme, the UK Transition and Africa Continental Free Trade Area (AfCFTA) are the many initiatives and trends that will harness the many prevailing opportunities in the region.
Join us for the virtual AfBC Africa Trade Conference 2021 on Doing Business in Africa and Future Opportunities to hear and learn insightful perspectives, market , trade, exporting and investment opportunities in the African markets.
During the discussion, we will be addressing key issues including:
African economy and market overview
Doing business and trading in East, West and Southern African regions
Continuing the UK's trade relationship with African Region after Brexit: Impact and opportunities
A review of Economic partnership and continuity trade agreements: Southern African Customs Union (SACU), Eastern and Southern Africa (ESA-UK), MFN, WTO and the AfCFTA
UK - Trading with African Commonwealth countries
Investment and business growth opportunities in Agribusiness, healthcare, tech industries, manufacturing, infrastructure, real estate, tourism
African debt and capital markets
Transaction banking
Capital projects financing, infrastructure investments and asset management
Managing overseas trade and cross border operation risks.
Export and trade finance
NB: PLEASE NOTE THAT THE PROGRAMME AND SPEAKERS MIGHT BE SUBJECT TO CHANGE
SPEAKERS
10:00 - 12:00 GMT: SESSION 1
Harnessing sustainable economic resilience , growth and market opportunities in Africa
Ade Onitolo - Deputy Director, Policy and Strategy at The Foreign, Commonwealth and Development Office (FCDO)
Ruben Phoolchund - Chief Office for Africa at The International Trade Centre (ITC)
Dr Frannie Leautier - Senior Partner and CEO SouthBridge Investments
Angela Russell - CEO at The American Chamber of Commerce in South Africa
Manisha Dookhony - Private Sector Development, Economist and Investment Expert, Lead Technical Advisor at Ministry of Trade and Industry- Rwanda, Mauritius and Namibia Investment Promotion and Development Board (NIPDB)
Keith Stokes-Smith - Chairman of the Birmingham Commonwealth Association (BCA), Advisory Board Member, African Business Chamber (AfBC) and Honorary Chair of Greater Birmingham Commonwealth Chamber of Commerce (GBCCC)
Cecilia Akintomide - Independent Non-Executive Director at Ondo State Development and Investment Promotion Agency (ONDIPA)
Mavis Owusu-Gyamfi - Executive Vice President at African Centre for Economic Transformation (ACET)
12:00 - 14:00 GMT: SESSION 2
Trade , nvestment and Finance
H.E. Carlos dos Santos - Ambassador of Mozambique to the U.S
Marcello Estevao - Global Director, Macroeconomics, Trade, and Investment at The World Bank*
Vibhuti Jain - Regional Managing Director for Africa at U.S. International Development Finance Corporation (DFC)
Faruq Muhammad - Global Head of Structured Export Finance at Standard Chartered Bank
Olu Raheem - Trade Commissioner for Finland in West Africa
Thierry Vodounou - Founder of Sarenga Group LLC and fmr Senior Investment Officer at International Finance Corporation (IFC)
Gerald J. La Touche - International Trade Adviser/ Energy Sector Lead at Department for International Trade (DIT) West Midlands
Terser Adamu - International Trade Adviser and Africa Business Expert at Department for International Trade (DIT) Manchester
Cinthia Loïs Ta - CEO at The African Chamber of Commerce Scandinavia (ACCS)
14:00 - 16:00 GMT: SESSION 3
Doing Business and cross-border trade (ICBT) in Sub-Saharan African (SSA)
Peter Kibet Arab Biwott - Executive Director at Agrinomic Africa
Akin-Olusoji Akinyele - Special Assistant to the CEO & Head, Government Relations at The Nigerian Stock Exchange (NSE)
Nick Fadugba - Chief Executive Officer at African Aviation Services
Muloongo Muchelemba - Founder & Content Creator at Ongolo
Edrisa Kwizera - Head of Development at Tullow Uganda Operations Pty
Winfred Warui - Head-Diaspora Banking & Remittance, Equity Bank, Uganda
Joseph M Chikolwa - Non Executive Director at British American Tobacco, Zambia
Mwila Pascal Mwenya - Debt Capital Markets: Zambia, Malawi, ESwatini, Angola, Mauritius at Stanbic Bank Zambia
Bolaji Sofoluwe - Africa Business Development Strategist and Managing Director at ETK Group
Rama SALL - Head of Advisory Department, Risk Advisory Director at Deloitte Senegal
The conference will bring together business leaders, Government officials, investors, entrepreneurs, diasporas, experts, policymakers, academia and professionals from across the World to deliberate and showcase economic growth opportunities in Africa for both local, regional and internationals businesses and investors.
Once you have registered to join the webinar, you will receive joining instructions, link to connect and to add to your diary.
To sign up for AfBC Membership, visit www. african-chamber.com/membership. For enquiries, to express interest to become a speaker at our event or sponsorship opportunities, contact us at info@african-chamber.com
Follow our conversation on #afbctradeconference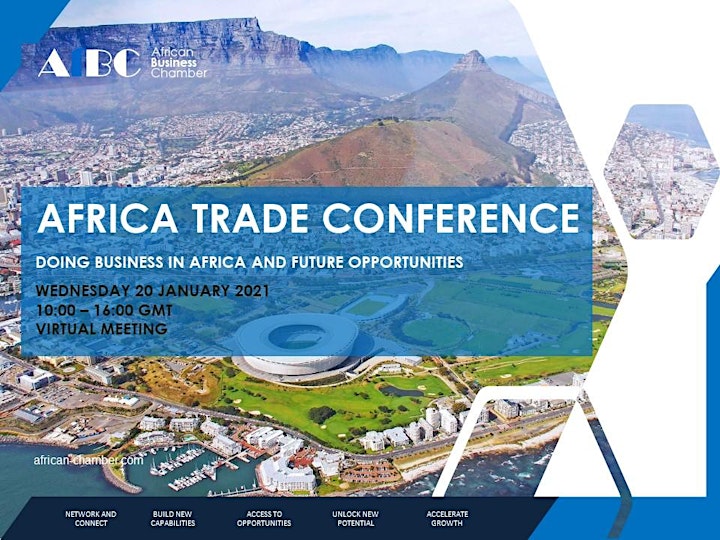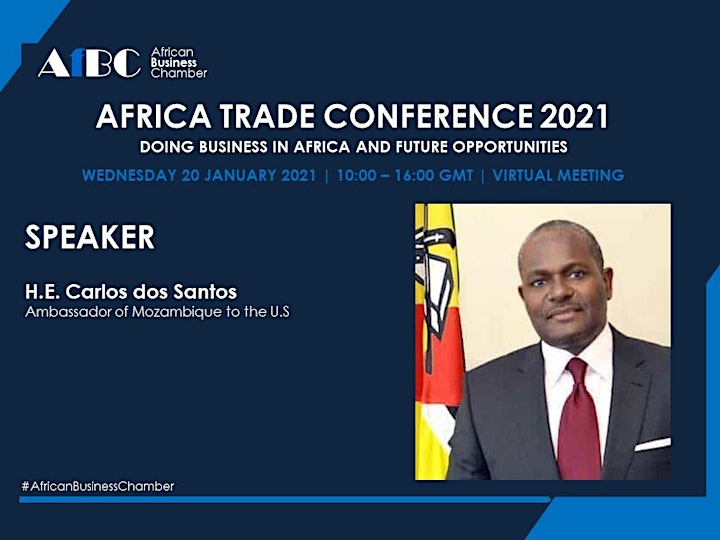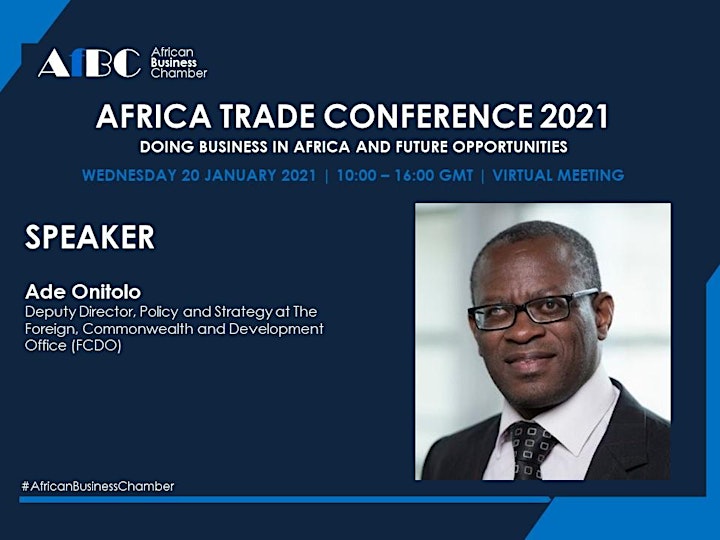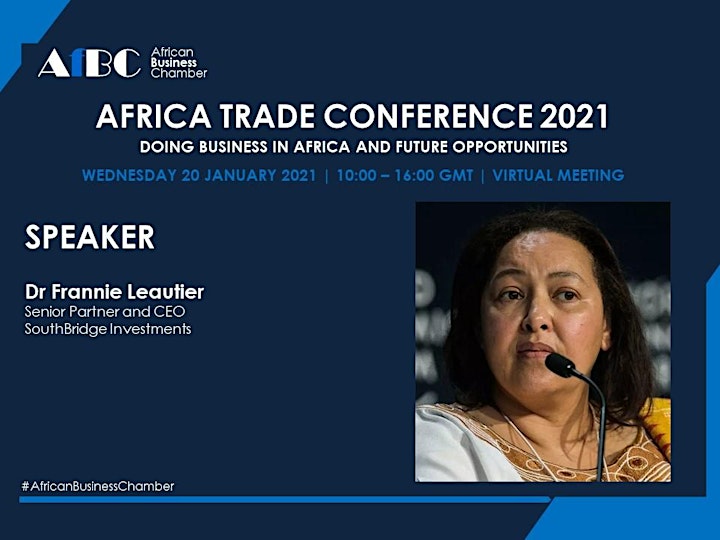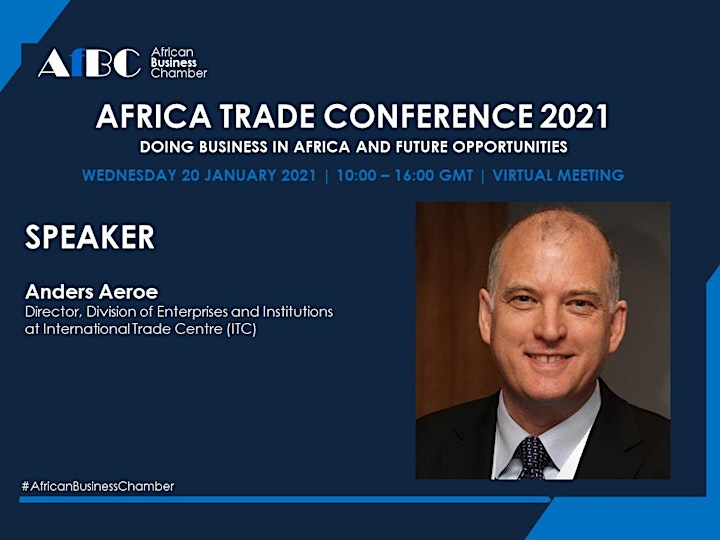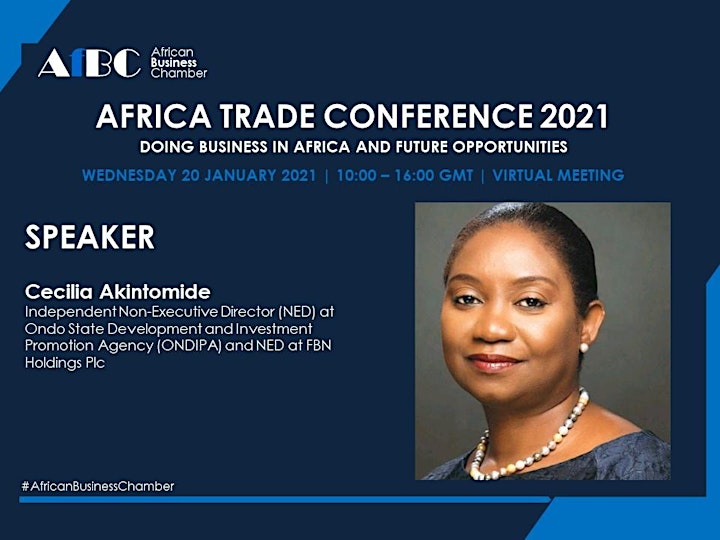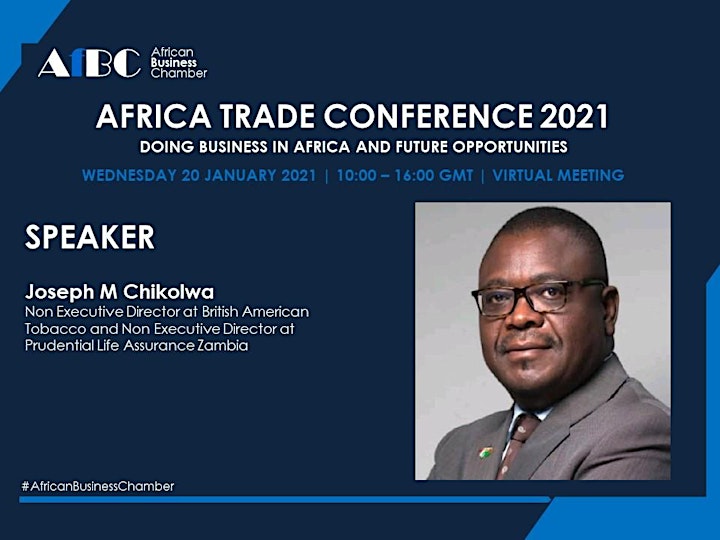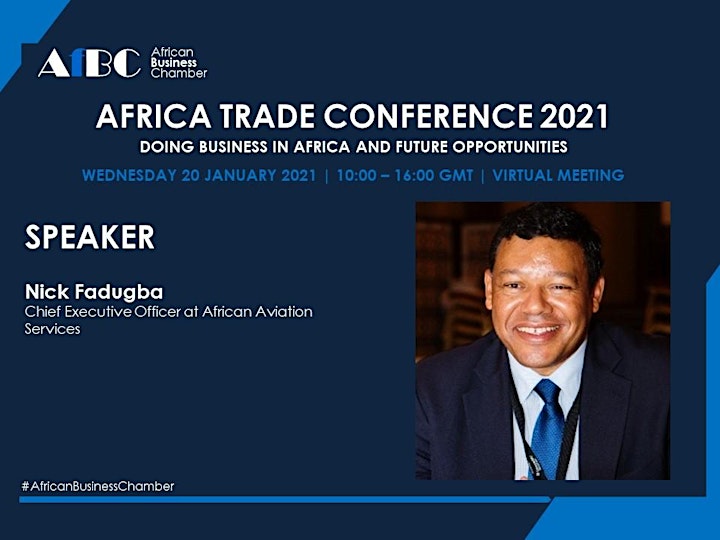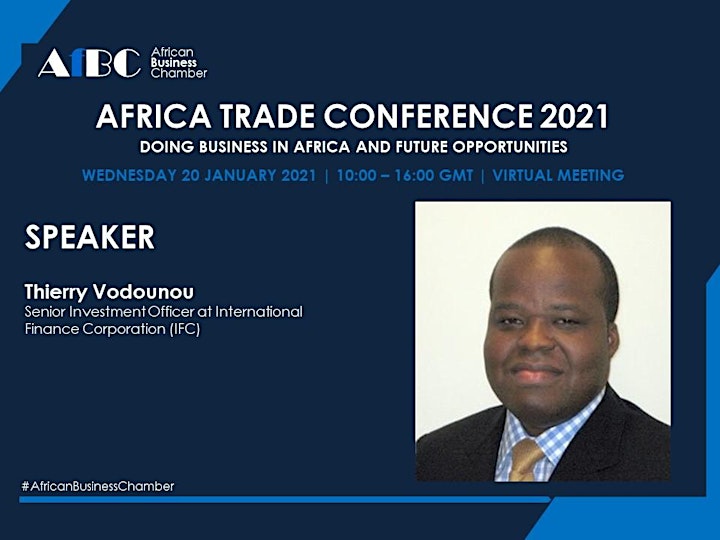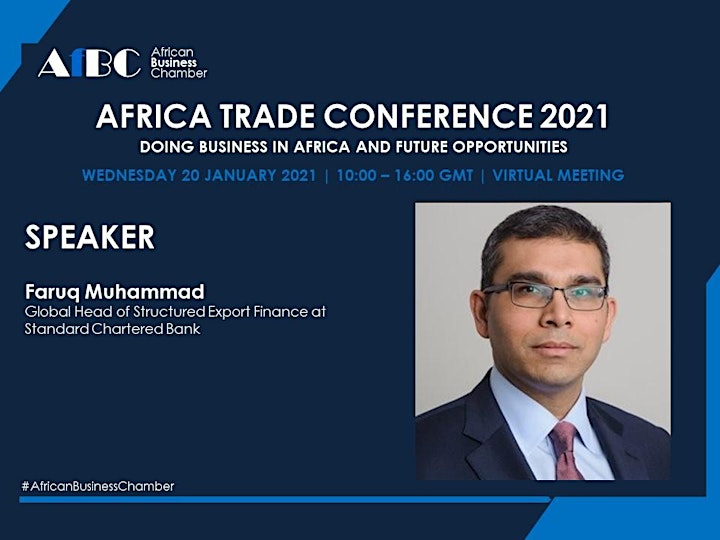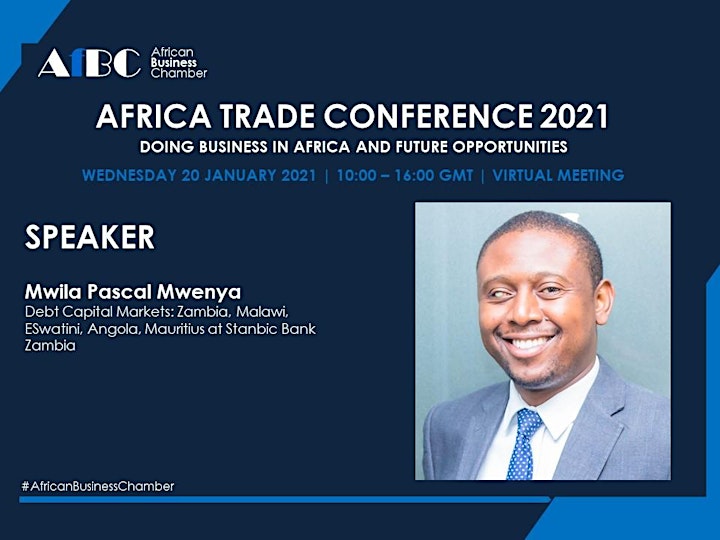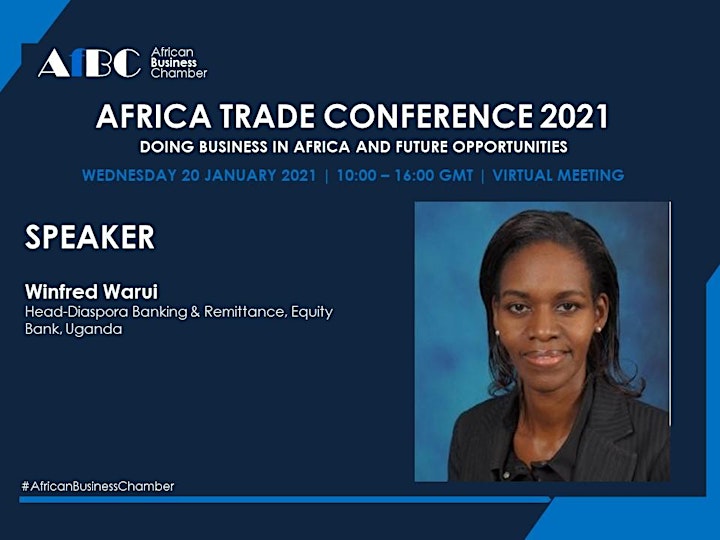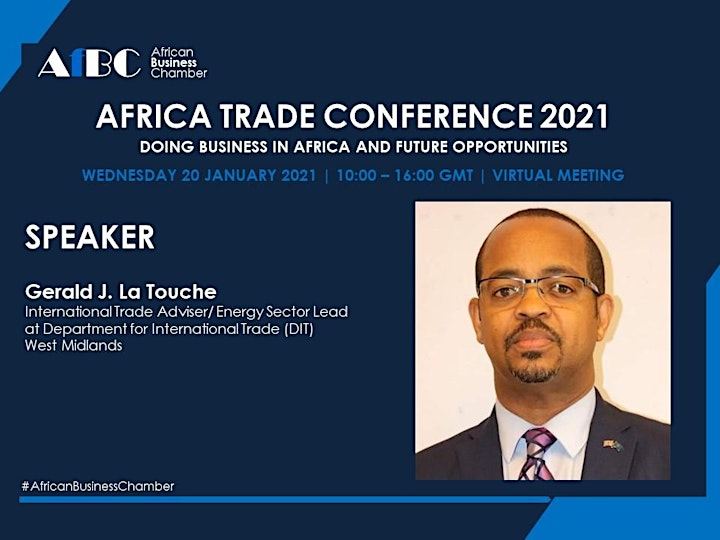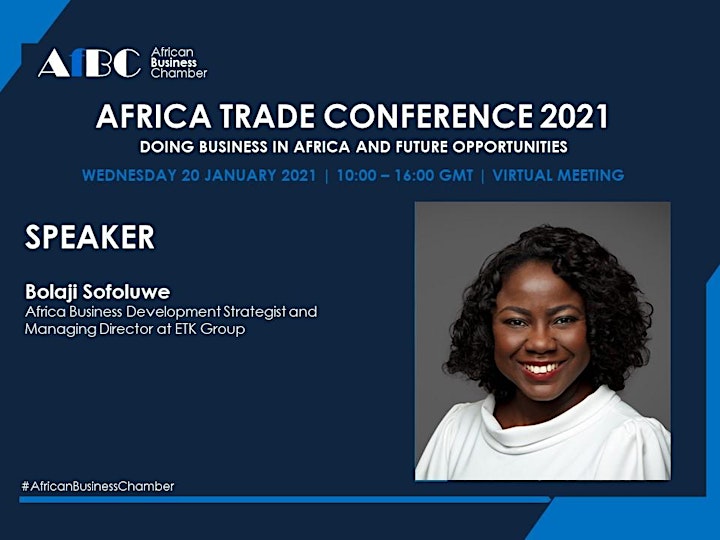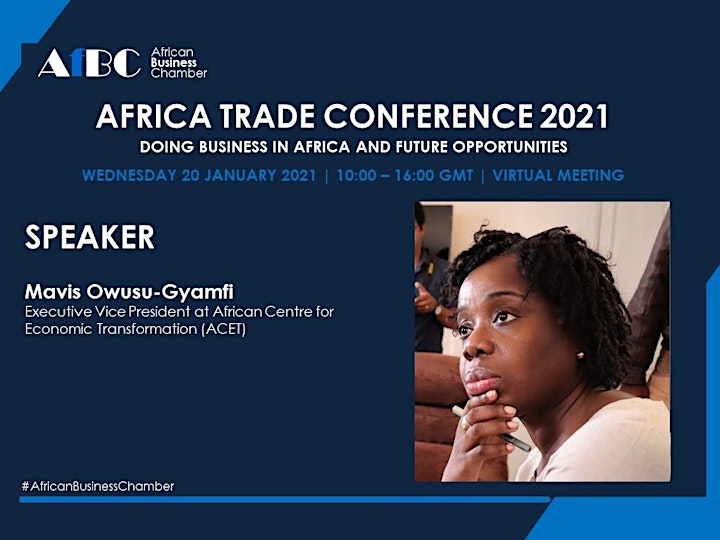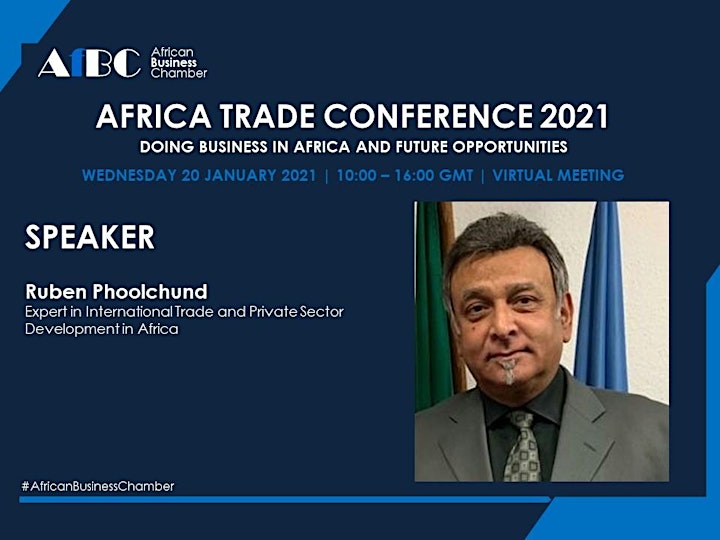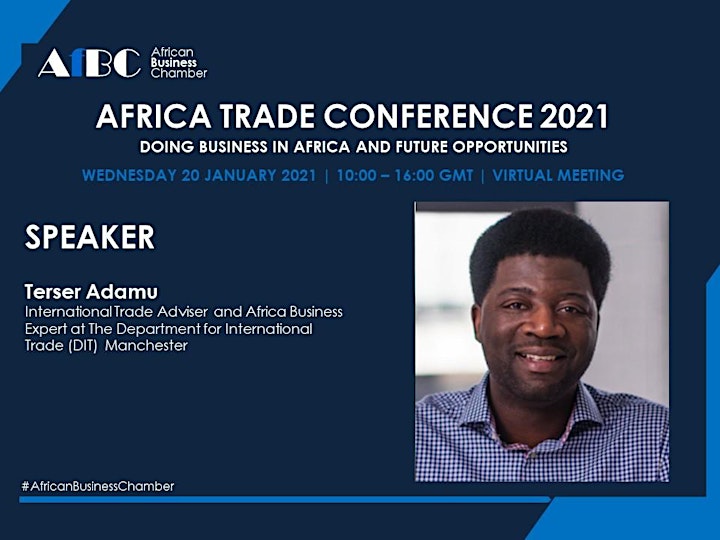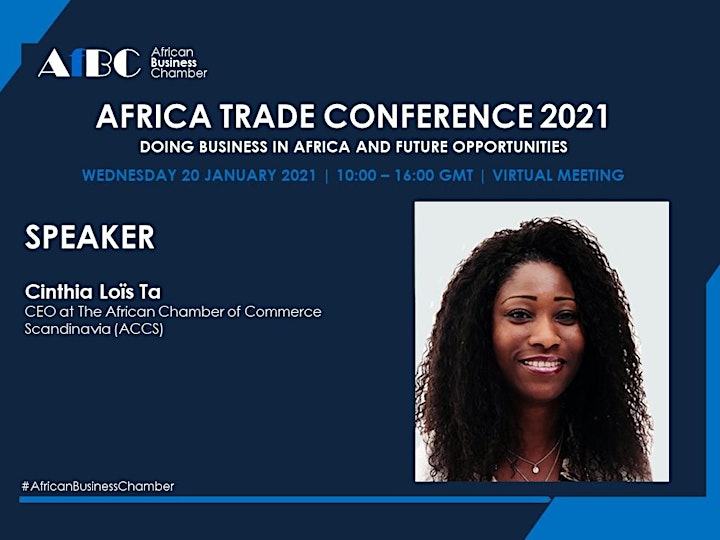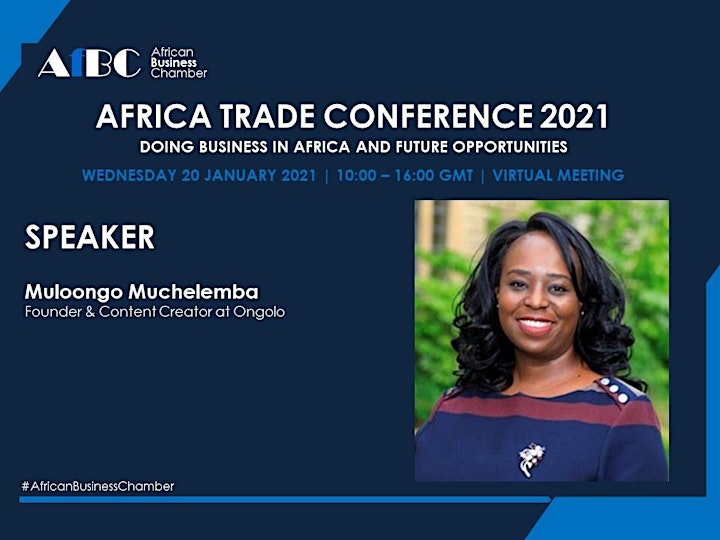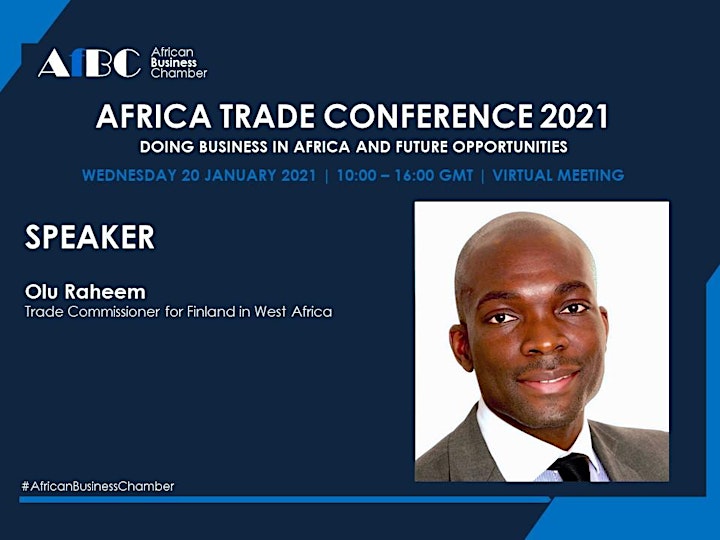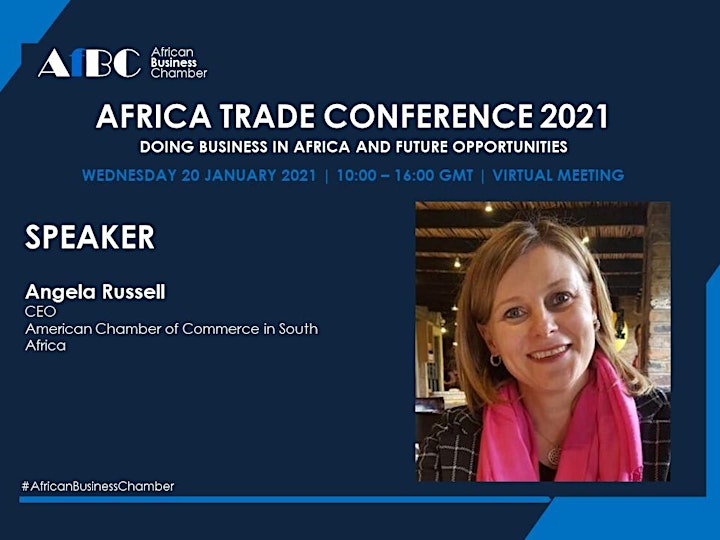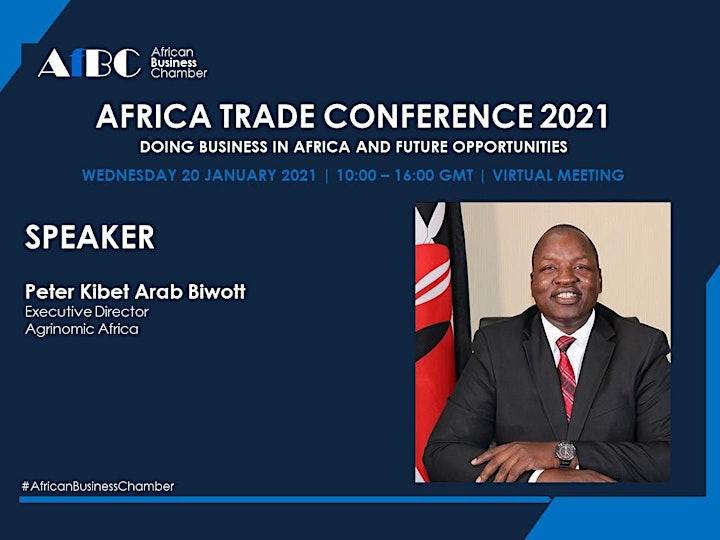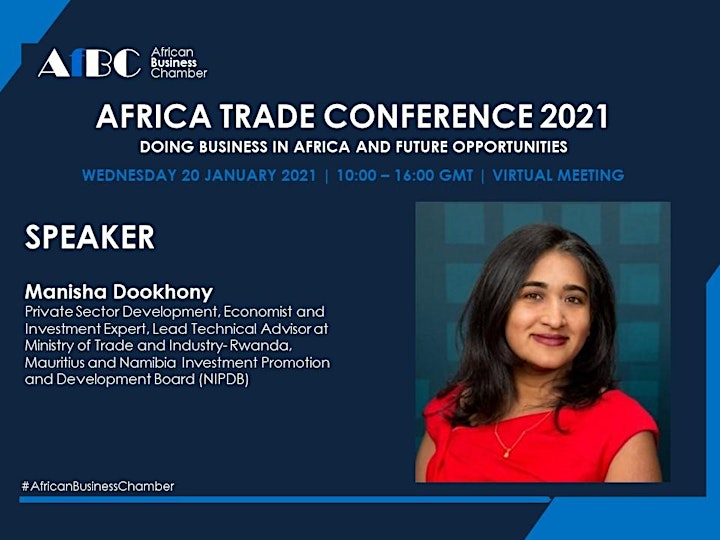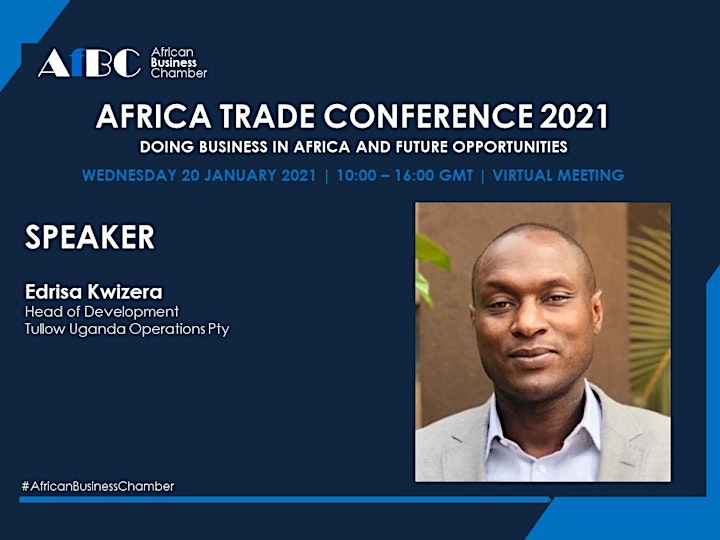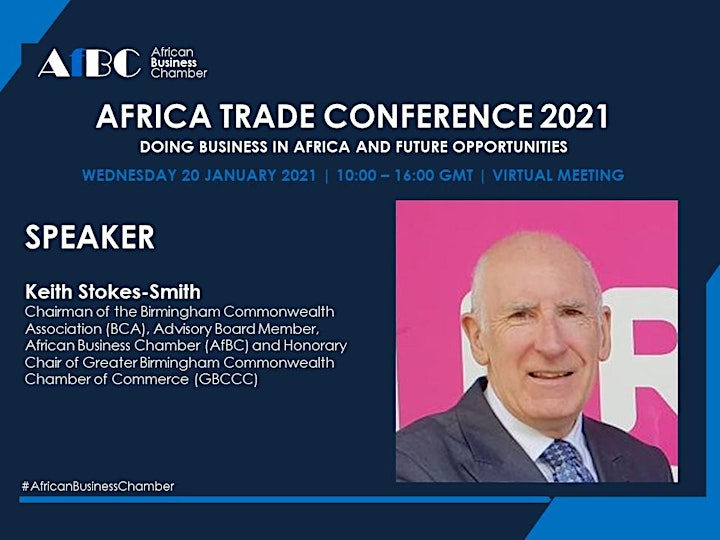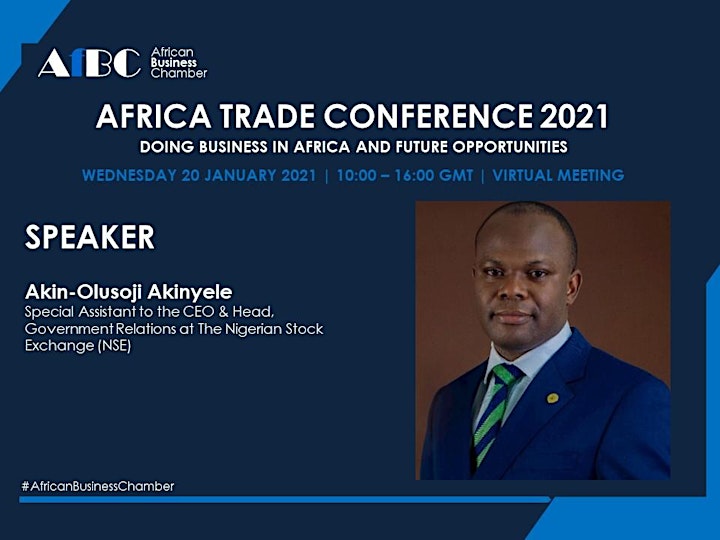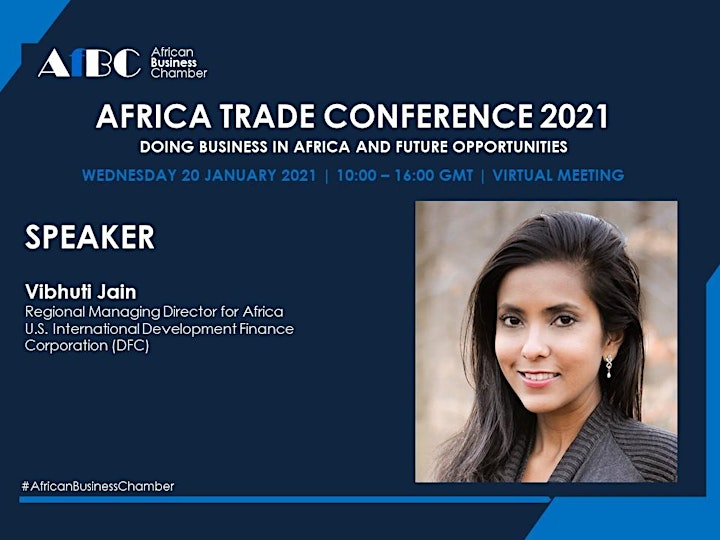 PAST EVENT HIGHLIGHTS
Date and time
Location
Refund policy
Contact the organiser to request a refund.
Eventbrite's fee is nonrefundable.