Enhancing Trade, Investment Relations, Exporting and Internationalisation Linkages between The Midlands (UK) and African Countries
About this event
African Business Chamber (AfBC) in collaboration with Birmingham Commonwealth Association (BCA) and other regional organisations to host inaugural Midlands - Africa International Trade Summit 2021 on Thursday 21 October 2021 ahead of the Midlands UK Forum For Growth which will take place from 24 to 26 November. The theme is Enhancing Trade, Investment Relations, Exporting and Internationalisation Linkages between The Midlands and African Countries.
This will also be a platform to launch Midlands Africa Forum - a business-led initiative aimed at increasing Midlands's commercial connectivity and strengthen economic ties, trade relations, FDIs flow, education, cultural and Diaspora linkages with African countries ahead of Birmingham Commonwealth Games 2022 and beyond.
AGENDA
The summit will explore following inclusive and sustainable investment, trade and business opportunities between and the Midlands regions of the UK (Birmingham, Coventry, Warwickshire, Leicester, Northampton and Nottingham):
Manufacturing and Automotive
Healthcare, telemedicine and healthtech
Infrastructure development and investment
Engineering, Procurement and Construction (EPC)
Agribusiness , agritech and innovations, food and drinks supply chains
Business, Professional Financials (BPF) Services
Sustainable and renewable energy
Green Growth, sustainability, carbon reduction and Net Zero
Innovations, technology and digital infrastructure
Real Estate and housing
Sports, culture and creative industries - Birmingham Games 2022
11:00 - 12:00
WELCOME AND KEYNOTE ADDRESS
12:00 - 13:30
SESSION 1 Investment , trade and business opportunities in the Midlands, UK
13:30 - 15:30
SESSION 2 Cultural relations, trading and exporting to African Commonwealth countries
SPEAKERS AND PARTICIPATING ORGANISATIONS
Government Officials, High Commissioners and Ambassadors
African Ministry and Investment Promotion Agency
Trade and chamber of commerce
Department of International Trade (DIT)
Birmingham Commonwealth Association (BCA)
Local Authorities and City Councils: Birmingham Council
Commonwealth Games 2022
Midlands Engine
West Midlands Combined Authority (WMCA)
West Midlands Growth Company (WMGC)
Multinational Companies and Organisations
Institutional Investors, Banks and DFIs
Birmingham and East Midland Airports
National Automotive Innovation Centre
The Manufacturing Technology Centre (MTC)
OEMs and Suppliers
SMEs and Mid Cap Firms
Technology, Innovation and WM5G
Midlands Engine Investment Fund
Universities: Coventry, Warwick, BCU, Aston and UoB
Made in the Midlands
West Midlands Economic Forum
Greater Birmingham And Solihull LEP
The summit will bring together business leaders, Government officials, investors, entrepreneurs, diasporas, experts, policymakers, academia and professionals from across the UK and Africa to deliberate and showcase economic growth opportunities in the UK and Africa for both local, regional and internationals businesses and investors.
Sign up to receive updates and for AfBC Membership www. african-chamber.com/membership. For enquiries, to express interest to become a speaker at our events or sponsorship opportunities, contact us at info@african-chamber.com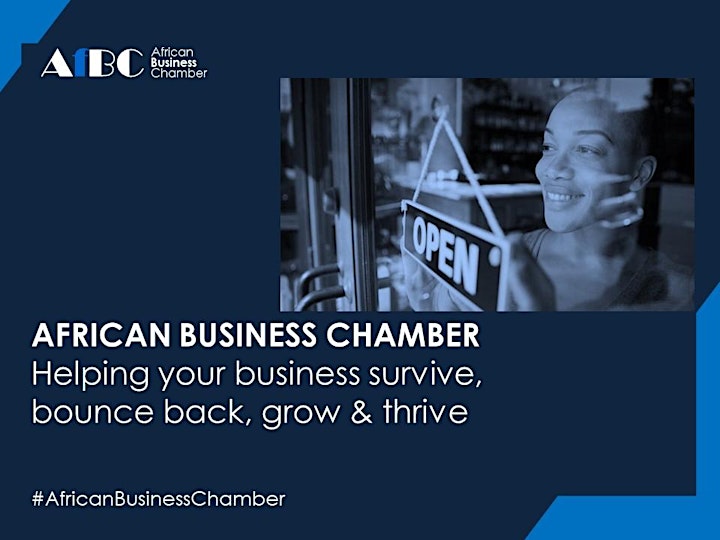 Organiser of AfBC Midlands - Africa International Trade Summit 2021