AFBE Real Projects brings you our November presentation, titled: 'Youth in Energy', to be delivered by Dr. James Mullins PhD.
About this event
James Mullins recently attended a 3-month long virtual academy in Energy that also included a Gas Forum for engineers and scientists, which took place in the Russian city of St. Petersburg. Participation at the programme followed a rigorous application and assessment process from which participants were selected (similar to the renowned AFBE UK 'Transition' event – but far more involved, shall we say!).
The virtual academy and Gas Forum involved carrying out several exercises including executing hypothetical projects such as 'smart drilling', power generation for domestic use, etc which amongst other things required participants to forge collaborations with real life companies and top industry professionals towards reaching Final Investment Decisions (FID) on their projects. The programme also featured panel debates amongst participants on selected energy topics.
In this presentation James will be 'downloading' his experiences at the virtual academy and the Gas Forum, and giving insights on how young engineers and scientists can apply for and win a place at this very competitive programme in future. The Talk will cover areas such as:
• How to successfully apply for a place at the academy and the gas forum;
• Technical contents of the programme, including exercise and activities carried out;
• Lessons learned from the programme;
• Benefits of attending the programme, including:
Research and knowledge in the energy industry
Communication with highly skilled and motivated peers and high-level international experts
Presentation and professional skills
Career opportunities in a range of sectors
This presentation will be of great benefit to young engineers and scientists hoping to gain the insights required to potentially fast-track their careers into leadership positions in the energy industry, especially within the context of the 'Energy Transition' that is picking up pace across the world.
As always, the Talk will feature an interactive Q&A session, networking and refreshments.
Attendance is free but prior registration is required.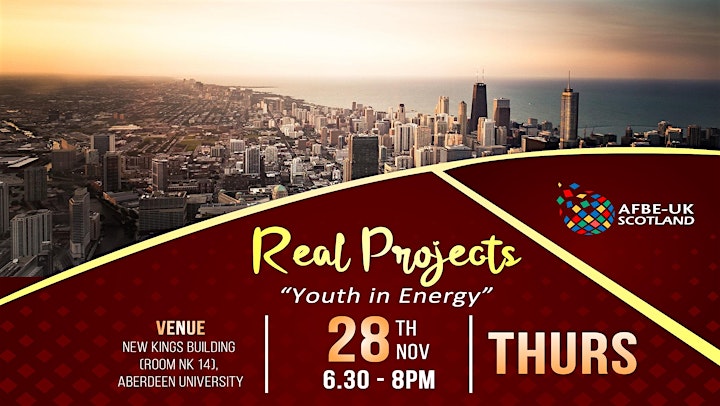 Organiser of AFBE Real Projects: 'Youth in Energy'
AFBE-UK Scotland promotes higher achievements in education and engineering particularly but not exclusively among people from black and minority ethnicity (BME) backgrounds.Our mission is to increase the number of  engineers who succeed professionally and support young people to explore a career in engineering.