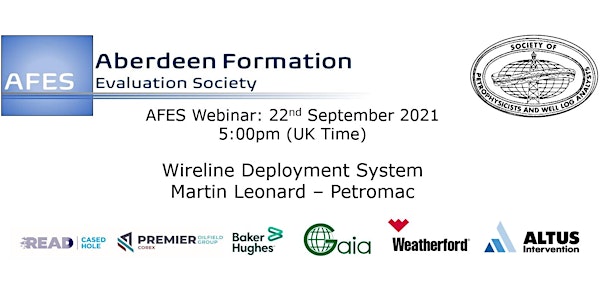 AFES September Technical Talk: Wireline Deployment System
AFES September Technical Talk: Wireline Deployment System
About this event
Date: 22nd September 2021
Time: 5:00pm (UK Time)
Abstract: With the continued push into deeper and more complex drilling environments, many challenges have been placed in the way of wireline logging, including high tension, high deviation, and increased differential pressure. These factors contribute to an increased risk of tool sticking incidents, poor data quality and lost-in-hole scenarios. Several methods of mitigating these issues on surface (powered capstans, pipe conveyance, etc.) have been implemented in the past, but none have been successful in eliminating the risk downhole without introducing further drawbacks.
This talk describes how a new wireline conveyance system has eliminated these issues. The conveyance system consists of wheeled carriages that carry the toolstring off-centre. The mass of the toolstring acts as a counterweight to ensure correct tool orientation in the wellbore. This orientation feature also enables a "guide" device to help navigate ledges and washouts. Such a system eliminates toolstring hold ups, allows access to highly deviated wells without pipe conveyance or tractors, and significantly mitigates differential sticking hazards, while also offering additional benefits in operational efficiency and data quality.
BIO: Martin Leonard spent more than 20 years with Schlumberger in a variety of positions around the globe, gaining deep technical experience in all aspects of wireline logging.
He served as Schlumberger's Wireline Cables and Conveyance Product Champion, allowing him to focus on inherent issues with traditional wireline conveyance and develop unique solutions. He is the current Petromac Technical Manager, developing numerous tools and strategies for modeling and deployment scenarios.