Join percussionist Afla Sackey as he launches a new residency linking his Ghanaian highlife roots to London's thriving world music scene.
About this event
AFLA SACKEY'S HIGHLIFE PLUS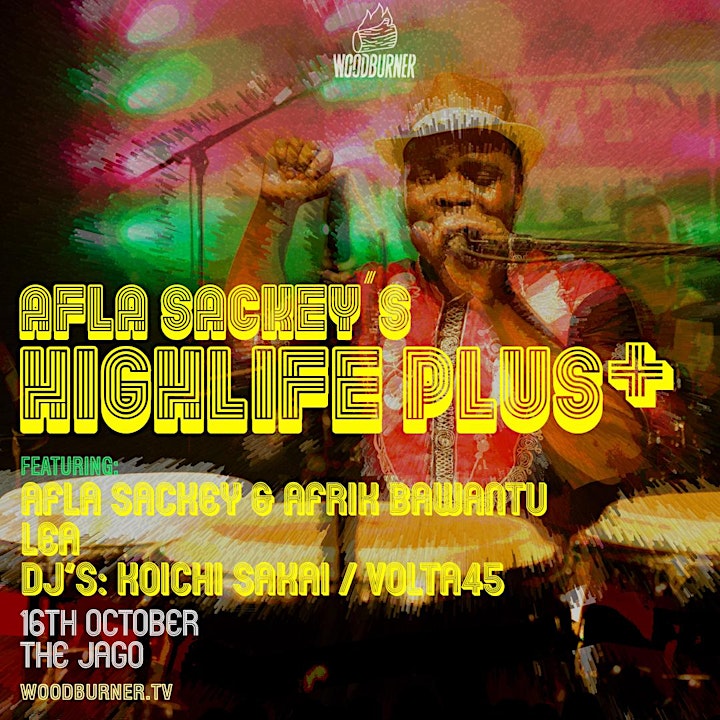 Afla Sackey is a percussionist, vocalist and composer. Born in Accra, Ghana, he has been working as a musician in the UK since 1999. In that time he has collaborated with such greats as Tony Allen, Ginger Baker, Sun Ra, Ibibio Sound Machine, Dele Sosimi and many more.
Highlife Plus was conceived as an opportunity to reconnect with his Ghanaian past, breathing the life into highlife music by covering some of his favourite artists of all time, such as Dr. K. Gyasi & His Noble Kings, Vis a Vis, Pat Thomas, Gyedu-Blay Ambolley and Ampedu.
With his band Afrik Bawantu, and special guest acts and DJ's at each event, these nights draw links between the roots of highlife and the thriving community of world-class musicians and DJ's in London, in joyful celebration.
AFLA SACKEY & AFRIK BAWANTU (LIVE)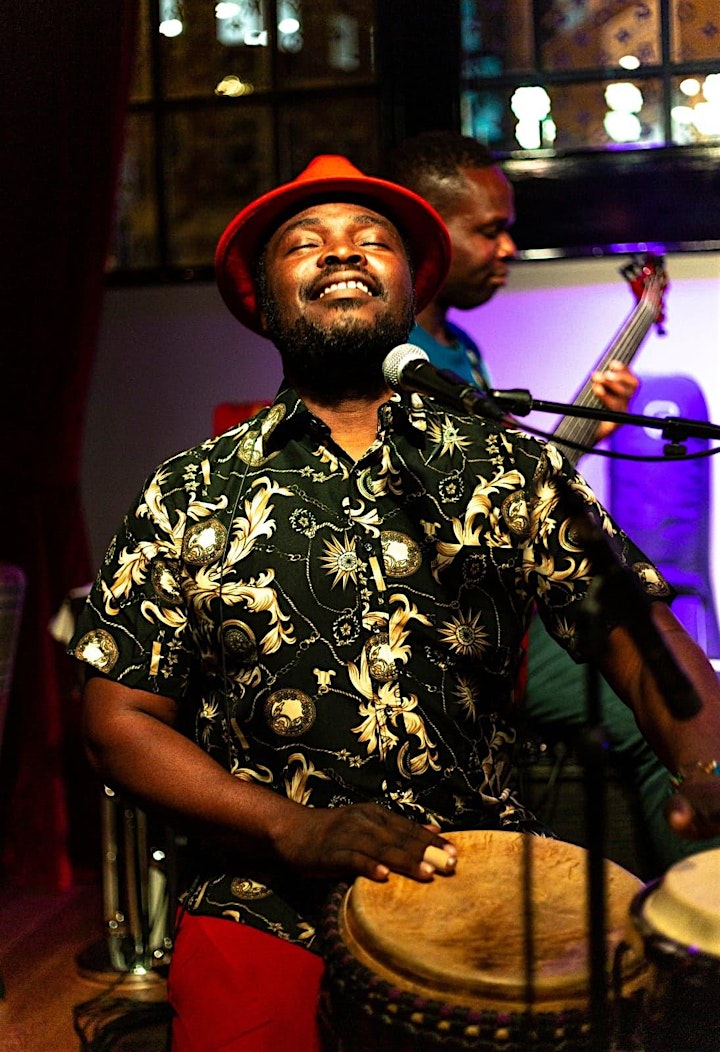 Afrik Bawantu was formed in 2007 by Ghanaian vocalist and djembe drummer, Afla Sackey.
With Afrik Bawantu, Afla brings his musical dream of blending traditional Ghanaian music with sizzling Afrobeat grooves to life, topping it off with an irresistibly funky twist.
Their unique blend of vibrant African rhythms with fast, animated horn sections and heavy bass lines brings a whole new definition to the Afro-Funk genre.
Afrik Bawantu released their EP 'Noko Hewon' in February 2013 to huge critical acclaim, and have since been nominated in the World Music Network's charts.
Finally in 2014 their highly anticipated debut album 'Life On The Street" shook up the new music scene with unique and original style of Afla Sackey's compositions in addition to the gifted musicians in his band.
Currently they are preparing their next album to be released this year.
Ghanaian-born percussionist, vocalist and composer started his creative life as a dancer with the Bukom Ensemble of Ghana, known for their infectious folk-driven rhythms. Afla's elders soon recognised the musical potential of this youth and encouraged him with careful guidance and training. This provided the foundations upon which Sackey has developed his career in music and dance.
Henceforth Afla came to London with Kakatsitsi Master Drummers of Ghana and has since thoroughly involved himself in the UK music scene. He graduated from the Guildhall Leadership Masters degree programme in 2012. With his wealth of music and dance experience, Afla is an inspiring educator, providing workshops and training to a diverse range of students from primary school children to elderly. Afla has been Afrobeat teacher at the Royal Academy of Music, and continues as guest lecturer and workshop facilitator in universities as far flung as Japan, Singapore and Argentina.
Alfa's talent has been recognised by many well established musicians whom he has collaborated with and recorded as a session musician. Great artists such as Sun Ra, Ginger Baker, Seun Kuti, Sons Of Kemet, Tony Allen, Yaaba Funk, Dele Sosimi and many more.
LÈA (LIVE)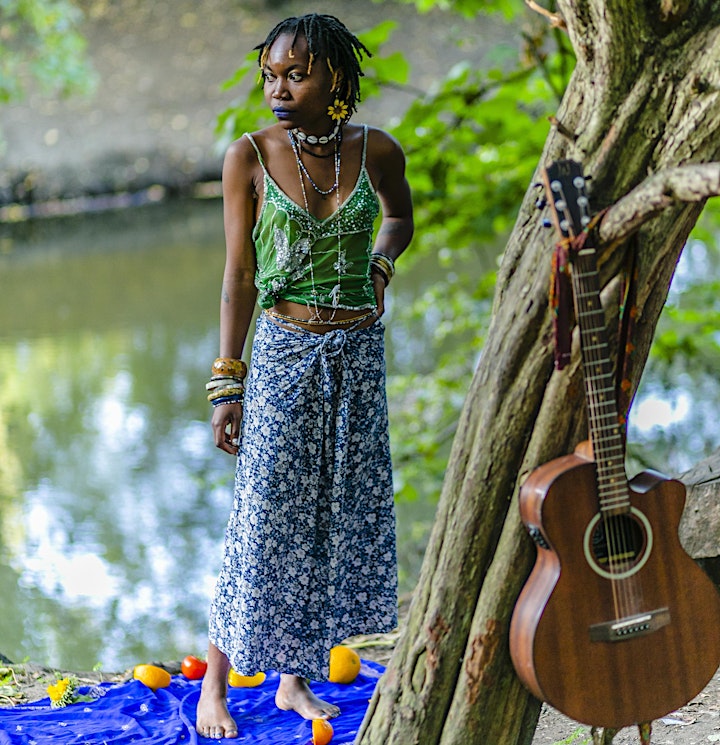 Singer-songwriter and guitarist Lèa Mondo was born in the Kongo, grew up in Greater Manchester, and now resides in North London. She jams and performs all over London. Her music largely talks about peace and freedom and draws from highlife, soul, and other African diaspora styles.
Some of her influences include Bob Marley, Franco Luambo, Oumour Sangare, and Fatoumata Diawara. She has supported London Afrobeat Collective, Gnawa London, and also performed a live session at Belmont Villa with her band Bubu Otis (percussions), Luke Wynter (bass, Nubyan Twist), Grace Samba (backup vocals), and Moussa Dembele (kora).
Koichi Sakai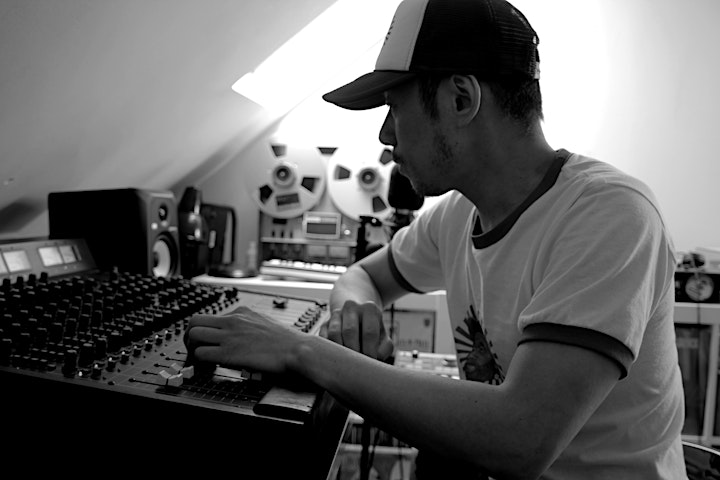 Koichi Sakai is a Tokyo born, London based DJ, producer and musician who is widely recognised for his highly developed, unique style which reflects the varied influences that have continuously informed his creativity and career. His musical style is Jazzy and percussive; playing a distinctive and smooth mix of Soul, Jazz, Funk, Reggae, Latin and Afrobeat.
Sakai was the resident DJ for Afrobeat Vibration for 10 years with the former Fela Kuti's Egypt 80 keyboardist Dele Sosimi since 2008, and the Saluting the Black President, the annual celebration of the legacy of Afrobeat curated by the former Fela's manager Rikki Stein since 2013. Sakai did the remix for Dele Sosimi's "Too Much Information" that is available on digital.
Also Sakai had a project called Afrobuddha with his fellow DJ/Producer Kay Suzuki. They have released two 12" vinyl singles and broadcasted a number of shows on NTS radio, and had an appearance on Boiler Room.
Sakai has released his solo album "Wono" featuring the Ghanaian percussionist and singer Afla Sackey in March 2020.
Volta45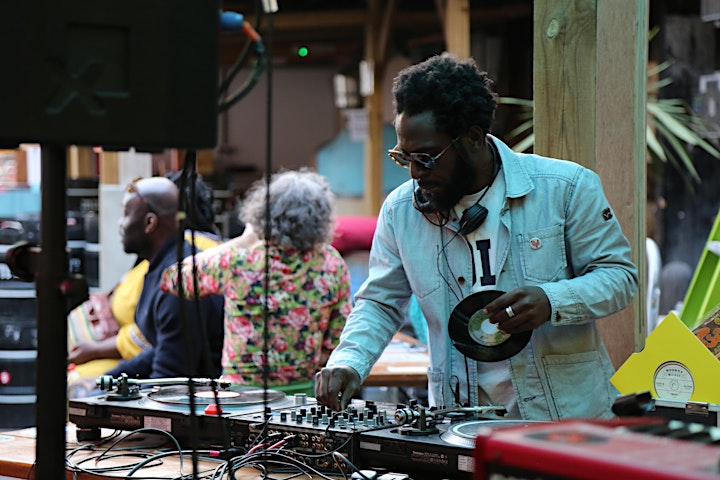 Volta45 (Bernard Johnson-Tackie) is a Ghanaian born, London based record collector, DJ, writer, archivist and creative head of the The Goldenstool Project. He travels the world digging for records which would have been otherwise forgotten in time. His musical style is heavily influenced by Jazz, and is very percussive; playing a distinctive mix of afro funk, jazz, highlife and African influenced sounds from South America and beyond, making him one of the most sought after DJs on the afro scene in London.
His 'Doin Our Own Thing' nights, in the East End of London, are legendary, and he has also been a regular on the European and UK music festival scene. He has over the lockdown period curated a 5-part podcast documenting the history of Highlife music from 1920 to present. The podcast was recently featured in SongLines Magazine and Music in Africa(Paris).
Volta45 has collaborated with various bands and record labels, notably Soundway Records(Konkoma), Kalita Records, Yaaba Funk, Fofoula(offshoot of Outhouse Ruhabi), Hewale Soundz(Ghana) to name but a few. He is currently working with a Ghanaian jazz outfit whose single will be out on his GoldenStool label imprint later on this year.
Listen: Funky Africa - (The Dancers' Talisman) The Volta45 selections vol. 4
Organizer of Afla Sackey's Highlife Plus | Afrik Bawantu + Lèa + Koichi Sakai + Volta45