The AfOx insaka is a platform to share ideas and knowledge about Africa-focused research with speakers from diverse disciplines.
About this event
Our next digital insaka will take place on Thursday, 3 September at 2pm BST. Find our local time via this link.
The insaka will be live-streamed on YouTube and we encourage you send in your questions via the YouTube chat box.
Speakers for this insaka are:
Prof Ola Uduku, Professor & Joint Head, Manchester School of Architecture, University of Manchester and President African Studies Association of the UK: Collaborative Partnerships in African Architectural Documentation and Research
This talk will focus on discussing African Architecture, particularly contemporary 20th century architecture and the attempts being made to record and conserve this within the challenges of existing African heritage bodies, training. It focuses on the need to balance formal approaches to highlighting to the public the importance of built cultural heritage, with the equal importance of intangible culture.
Prof Gordon Awandare, Director, West African Center for Cell Biology of Infectious Pathogens and Professor, University of Ghana: Building and sustaining a conducive ecosystem for globally competitive research in African universities
Most of the research manpower in many African countries are in the universities. Yet, African universities have traditionally not provided the requisite environment for promoting research excellence. As such several recent funding mechanisms have specifically been targeted towards building research capacity for local training of scientists in Africa. This talk takes stock of the progress made and prescribes specific actions that African universities need to take to create and sustain a conducive research ecosystem.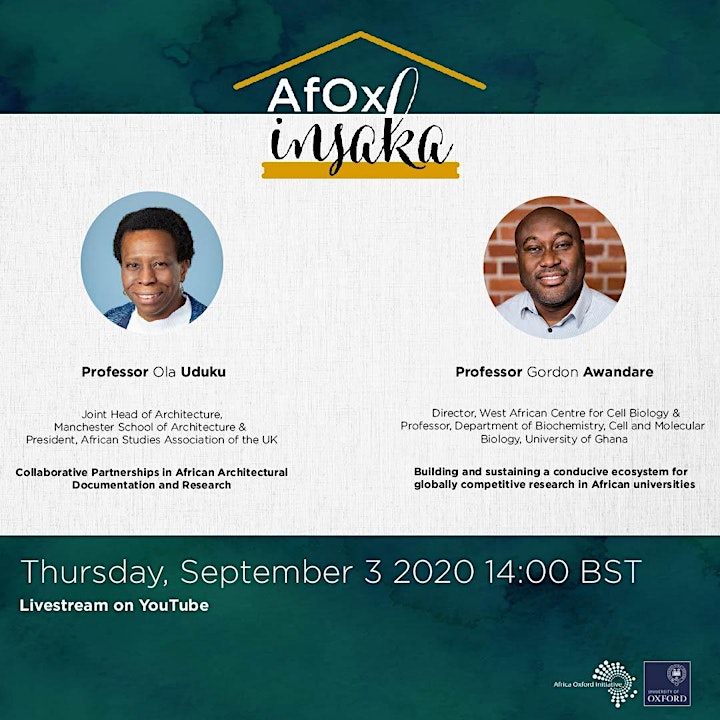 Organiser of AfOx digital insaka