Description
The AfOx insaka is a gathering for sharing ideas and knowledge about Africa-focused research with speakers from diverse and varied academic disciplines.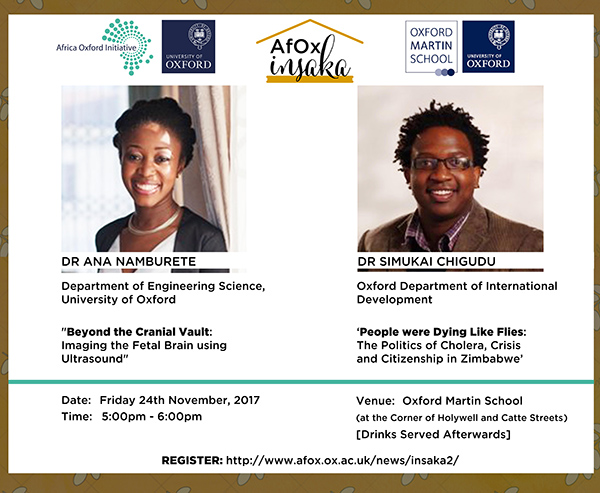 Speakers
Dr Ana Namburete, Department of Engineering Science, University of Oxford - 'Beyond the Cranial Vault: Imaging the Fetal Brain using Ultrasound'
Dr. Namburete is a Royal Academy of Engineering (RAEng) Research Fellow in the Department of Engineering Science at the University of Oxford and an Associate Research Fellow at St. Hilda's College. She is the Principal Investigator of the Ultrasound NeuroImage Analysis Group.
Dr Simukai Chigudu, Oxford Department of International Development - 'People were Dying Like Flies: The Politics of Cholera, Crisis and Citizenship in Zimbabwe'
Dr Chigudu is a Departmental Lecturer in Development Studies at the Oxford Department of International Development. He has previously worked and conducted research in Zimbabwe, Uganda, The Gambia, Tanzania and South Africa. Prior to taking up his studies at Oxford, he worked as a medical doctor for three years in the UK's National Health Service.