About this Event
Speakers for our next insaka are:
Professor Helen Fletcher: The Future of UK-African Research Partnerships As Director of International Development at UKRI Helen is responsible for the development of strategy and the delivery of the Global Challenges Research Fund (GCRF) (£1.5 billion) and the Newton Fund (£775 million). These research funds form part of the UK governments commitment to Official Development Assistance.
Professor Alan Stein: Communicating the diagnosis of life-threatening conditions to children Alan is the Head of Section, Child & Adolescent Psychiatry, University of Oxford. The way that Healthcare Professionals communicate to children that they or their parent has a life-threatening condition is of critical importance. Alan's research aim concerns the development of very young children and adolescents in the face of adversity. The ultimate aim of this work is to develop interventions to enhance children's early development and support their families.
The talks will be followed by a drinks reception.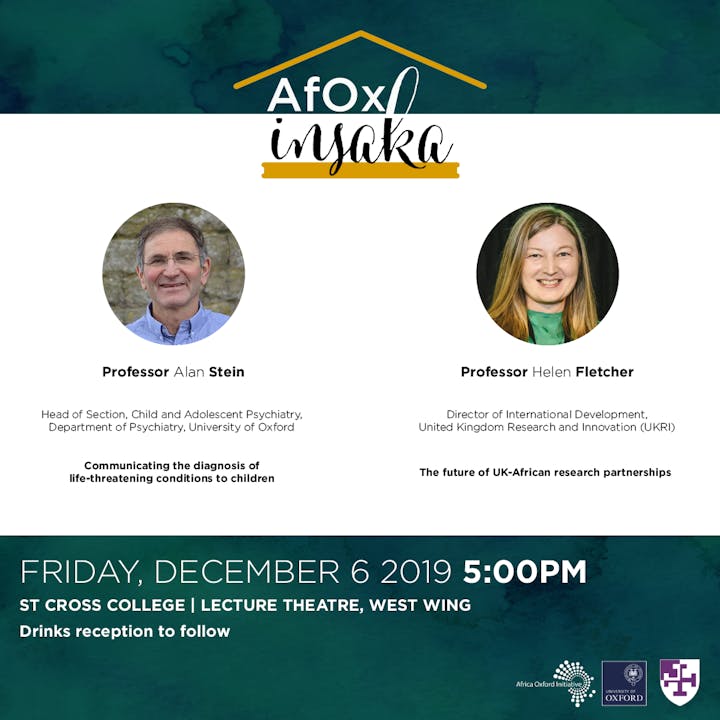 Photography and filming will take place during this event. By entering and participating, you are giving your permission to be photographed and recorded, and for the Africa Oxford Initiative to use this in the future.