A shared learning seminar looking at the state of COVID-19 in Africa and how Welsh NGOs can assist our partners.
About this Event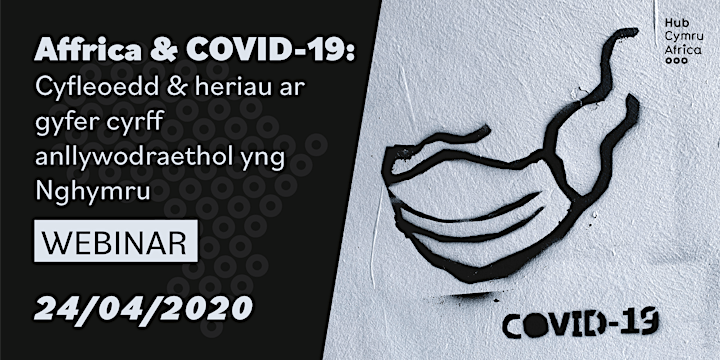 For English, scroll down.
Seminar dysgu ar y cyd yn edrych ar sefyllfa COVID-19 yn Affrica. Mynd i'r afael â rhai o'r heriau a'r cyfleoedd ar gyfer cyrff anllywodraethol yng Nghymru a'r ffordd y gallwn gynorthwyo ein partneriaid i frwydro yn erbyn Covid-19.
O anfon gwybodaeth gywir, cymorth ariannol neu gymorth technegol, gobeithio bydd y sesiwn hon yn mynd i'r afael â rhai o'r materion hyn trwy arbenigedd ymarferwyr iechyd (Cymru, y DU ac Affrica) a gweithredwyr cymunedol yng Nghymru ac yn Affrica.
Mae arbenigedd y siaradwyr yn cynnwys profiadau yn mynd i'r afael ag Ebola yn Sierra Leone a Liberia a bydd yn rhannu offer ac adnoddau a ddefnyddir i frwydro yn erbyn y clefyd.
Credir, oni bai y cymerir camau cyflym iawn, y bydd y tebygolrwydd o drychineb COVID-19 yn cael ei wireddu. Er gwaethaf y ffigurau isel sydd wedi eu cofrestru hyd yn hyn, gallai datblygiad ac effaith COVID-19 fod yn llawer gwaeth – yn llawer mwy anodd ei reoli ac yn achosi llawer mwy o farwolaethau a niwed i gymunedau.
Mae ffactorau amrywiol yn cyd-fynd â'r honiad hwn, mae'r rhain yn cynnwys:
Systemau iechyd gwan sydd wedi eu llethu ar hyn o bryd gyda chleifion â chlefydau eraill e.e Malaria a HIV
Gallu cyfyngedig ar gyfer gofal dwys i drin achosion difrifol o COVID-19
Perygl o gamddiagnosis a negeseuon dryslyd e.e. gall symptomau malaria neu dwbercwlosis a COVID-19 orgyffwrdd
Peidio cael triniaeth oherwydd ofn o gael eu heintio gyda COVID-19
Ymarferoldeb rhoi strategaethau atal y pandemig ar waith
Newyddion ffug a diffyg gwybodaeth gywir am COVID-19.
Er gwaetha'r heriau hyn, mae yna resymau dros obaith. Gall gwledydd Affrica ddefnyddio eu profiad yn ymateb i HIV-AIDS, TB, malaria ac Ebola. Mae arbenigedd o ran profion, sgrinio ac olrhain torfol, cryfhau gallu diagnostig a pharatoi adnoddau cymunedau, yn eang.
Mae'r rhan fwyaf o arweinwyr Affrica wedi gweithredu'n gyflym i baratoi isadeiledd a rhoi systemau ar waith e.e. cau ffiniau, ysgolion a swyddfeydd. Gyda 3% yn unig o boblogaeth y cyfandir dros 65, mae rhai'n dadlau y bydd y ffaith fod poblogaeth Affrica mor ifanc yn lleddfu cyfradd gyffredinol y marwolaethau.
Ond mae'r peryglon yn aruthrol. Gallai COVID-19 atal cynnydd o ran dileu epidemig HIV-AIDS, TB a malaria. Wrth i weinidogaethau iechyd sydd eisoes wedi eu llethu baratoi adnoddau i frwydro yn erbyn y bygythiad newydd, rydym eisoes yn gweld gweithwyr iechyd, adnoddau a sylw'n cael ei ddargyfeirio.
A shared learning seminar looking at the state of COVID-19 in Africa. Addressing some of the challenges and opportunities for Wales-based NGOs and how we can assist our partners in combating Covid-19.
From sending accurate information, financial support or technical support, we hope this session will address some these issues through the expertise of health practitioners (Wales, UK & Africa) and community activists in both Wales and Africa.
Speaker expertise includes experiences in tackling Ebola in Sierra Leone & Liberia and will share some tools and resources used to combat the disease.
It is believed that unless extremely fast action is taken, the prospect of an imminent COVID-19 catastrophe in Africa will become real. Despite registering low figures so far, the trajectory and impact of COVID-19 could be far worse – much harder to contain and causing far more death and damage to communities.
Various factors play to this assumption, these include:
Weak health systems currently overstretched with patients from other diseases e.g Malaria and HIV
Limited intensive care capacity for treatment of severe COVID-19 cases
Misdiagnosis risk and confused messaging e.g. malaria or tuberculosis and COVID-19 symptoms may overlap
Not seeking treatment for fear of being contaminated with COVID-19
Feasibility of the pandemic suppression strategies being applied
Fake news and lack of accurate information on COVID-19.
Despite these challenges, there are reasons for hope. African countries can leverage their experience in responding to HIV-AIDS, TB , malaria and Ebola. Expertise in mass testing, screening and tracing, in strengthening diagnostics capacity and in mobilising communities is widespread.
Most African leaders have acted swiftly in preparing infrastructure and putting systems in place e.g. closing borders, schools & offices. With only 3% of the continent's population being over 65, some argue that Africa's relative youth may dampen the overall fatality rate.
But the dangers are tremendous. COVID-19 could stop progress towards ending the epidemics of HIV-AIDS, TB and malaria. As overstretched health ministries mobilise to counter the new threat, we're already seeing health workers, resources and attention diverted.